Five Shows To See In Las Vegas This Summer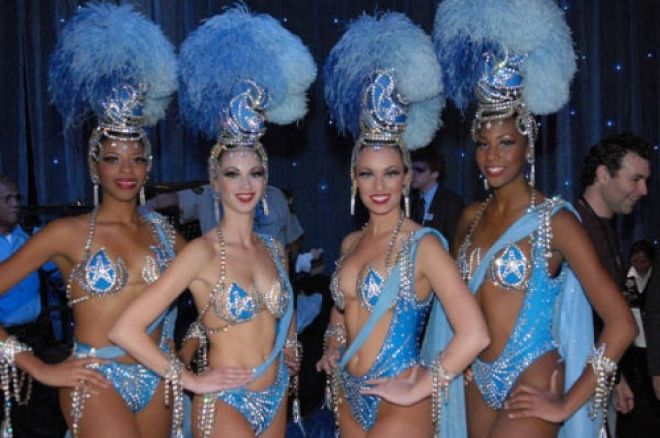 The 2015 World Series of Poker is right around the corner, and while players are waiting with bated breath to see if their dreams will come true, it's important to remember Las Vegas has plenty more to offer than just poker.
Of course every poker player hopes they won't have time for a show — everyone wants to make multiple final tables, right? But, the hard truth is that more times than not you're going to find yourself with some extra time on your hands. Maybe you'll be tilted, or maybe you'll just need a break from the Rio. Whatever the case, Vegas shows are a great way to relax and get away from the poker grind, if only for a couple hours.
Here's a list of five shows we recommend you check out this summer during the 2015 WSOP.
1. Cirque Du Soleil Shows
Since 1993, which is when Mystere premiered at Treasure Island, Cirque Du Soleil has been the gold standard of shows in Vegas. Right now, the company, which was started in Quebec back in 1984 by street performers Guy Laliberte and Gilles Ste-Croix, offers eight shows in Vegas — "O," Michael Jackson ONE, Mystere, The Beatles LOVE, Zumanity, CRISS ANGEL Believe, Zarkana,, and KA.
Each show offers a little something different, and ticket prices vary. We recommend you take some time to explore each show at CirqueDuSoleil.com and find the one that's best for you.
2. Reba, Brooks, and Dunn: Together in Vegas
Back in 2010, Country music's greatest duo, Brooks and Dunn, announced their retirement. Both Kix Brooks and Ronnie Dunn went on to release solo albums, but haven't played together since. That'll change this summer in Vegas. That's because the duo will join together, along with long-time collaborator Reba McEntire, for 12 announced dates at The Colosseum at Caesars Palace.
The show opens June 17, and while tickets are available online, in person at The Colosseum or by calling 1-888-929-7849, they're going fast. Rest assured, these shows will sell out. Shows will be on Friday and Saturdays on the following dates — June 19 and 20, 26 and 27, and July 3 and 4.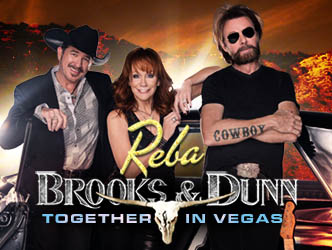 Quick Info
3. Absinthe
"Imagine Cirque du Soleil as channeled through 'Rocky Horror Picture Show' and painted by George Grosz. A blend of skill, erotic innuendo, and zaniness. The memorable moments make a jaded audience literally gasp."
That's how The New York Times described Absinthe, a Spiegelworld show inside Caesars Palace. According to their website: "Absinthe features outrageous comedy and a cast of wild and outlandish acts performing amazing feats of virtuosity within mere feet of the audience."
It really has to be seen to be believed, but trust us, it's worth it.
Quick Info
For more on Absinthe, check out this trailer:
4. Million Dollar Quartet
This show, located in Harrah's, doesn't have the glitz and glamour of some Vegas shows, but it does have an intriguing story and some great music. Million Dollar Quartet (MDQ) is a Tony Award-winning musical that is set on Dec. 4, 1956, the day four larger-than-life musicians — Johnny Cash, Jerry Lee Lewis, Carl Perkins, and Elvis Presley — all got together for an impromptu jam session. Granted, the show takes certain liberties and embellishes on what really happened that last night (which is strongly debated), but it's still incredibly entertaining as the actors belt such hits as "Blue Suede Shoes," "Walk the Line," and "Great Balls of Fire," just to name a few.
If you're a fan of old school rock 'n' roll, then this is the show for you.
Quick Info
5. Penn & Teller
Granted, this one won't get you out of the Rio, but it'll save you the cost of a taxi. That's because the Penn & Teller Theater, which can seat 1,475 people, is literally located just up the hall from the WSOP.
For nearly four decades, 21 of which have included a Vegas show (they've been performing at the Rio since 2001), Penn & Teller have been entertaining audiences with their unique blend of magic and comedy. You've no doubt seen Penn & Teller on such things as their Showtime series, Penn & Teller: BS!, SyFy's Wizard Wars, and on The Simpsons (among many others), but trust us, there's nothing quite like seeing them in person.
To top it all off, both Penn & Teller, who have appeared on Late Night with David Letterman more than 25 times, head out to the lobby after each show for a meet-and-greet with their fans. It's a great opportunity to say hello and snap a quick pic.
The Los Angeles Times has called Penn & Teller "...the single best show in Vegas." It's definitely up there, and for any fan of magic and comedy, it's a must see.
Quick Info
Had the chance to check out any Vegas shows? Have any recommendations? Let us known on Twitter @PokerNews.com.
Get all the latest PokerNews updates on your social media outlets. Follow us on Twitter and find us on both Facebook and Google+!