Confident Men: Mercier and Zinno Discuss Starting the 2015 WSOP on a High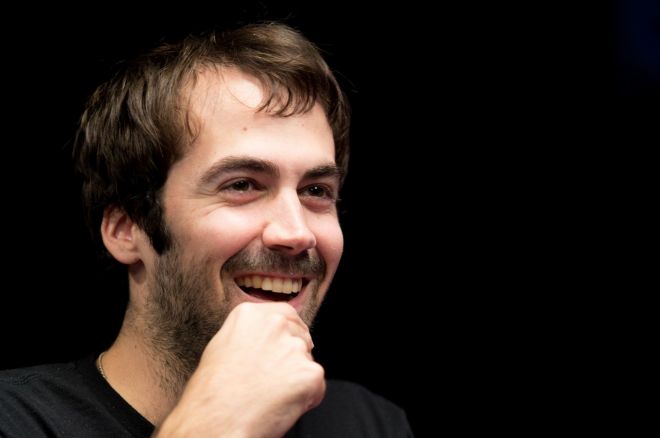 It's one of those chicken or the egg kind of things. It's poker's proverbial question. Does winning create confidence, or do you need to be confident to win?
Team PokerStars Pro Jason Mercier seems to know a lot about both.
He's coming off a massive PokerStars Spring Championship of Online Poker where he made five final tables, booked three titles, and banked a total of $319,323.55 en route to a Player of the Series title. Thursday, as the 2015 World Series of Poker kicked off, he late-registered Event #2: $5,000 No-Limit Hold'em, brimming with confidence.
"I think that this is probably the most excited I've been coming in since my first World Series," Mercier told PokerNews. "Things just went really well the last couple of weeks. I won three different types of tournaments and the World Series is really the place where you get to test your skills in all the different games. So I'm just really looking forward to seeing how I can do this summer, and hopefully I can get that third bracelet."
But will Mercier's confidence play that big of a role on the felt? He certainly seems to believe it will.
"I think it's definitely important to be confident in poker," he explained. "Thinking you're going to win and having a positive attitude and mindset is key.
"I feel like I've done a lot better when I was feeling better and feeling confident, as opposed to when I was going through a rough time personally. When you're not feeling confident you may be making decisions based on that. A lot of it is stuff you can't really analyze, but it comes through in the results. One of the most difficult things in poker is going through a downswing and still being confident in your game. A lot of times even just a day of things going bad can hurt a player's confidence, especially a long string like that can really test a player's mettle."
If there is a player coming into the 2015 WSOP hotter than Mercier, it might just be Hublot World Poker Tour Season XIII Player of the Year Anthony Zinno.
After winning the 2013 Borgata Poker Open last season, Zinno added back-to back wins at the 2015 Fallsview Poker Classic and the 2015 L.A Poker Classic this past February. He also posted five other deep finishes in WPT events on the way to earning this season's POY title.
According to Zinno, the confidence bred from a year like his can be the best performance-enhancing drug a poker player can cop.
"If you're thinking positively, like you're going to win, or just play well, all these things release good brain chemicals and can actually help you think more clearly," he told PokerNews. "Psychologically speaking, if you're kind of down in the dumps you're probably not going to be on your A-game and not realizing it either.
"The beauty of poker is that there's the logic and the math, but there's also this huge psychological factor and you might not be aware that you're off your game because of a lack of confidence or momentum. And at the other end of it, if you have all the momentum and confidence coming in, your mental clarity is at 100 percent. You just feel in the zone. There's a lot to it psychologically."
Zinno also says the kind of confidence big wins breed can really change the dynamic at the table.
"When you're coming off a big win you're going to be confident that you're playing your A-game and you're going to have people at the table that are more aware that you've recently won a big one and they're not going to want to tangle with you too much," he explained. "You can be confident they're not going to be bluffing you too much and knowing that, you can take advantage of it."
Of course, Zinno says the fields in high-stakes events are filled with fearless players who could care less what you've just won, but he says they may be the ones he targets to pay him off when he makes a big hand. For the remainder, he is in pure attack mode.
"It's like they don't really want to get involved with you and if you have that, you feel like a lion at the table," he said. "A lot of players don't want to admit they they are being evasive of you, but you can sense it, and once you sense it, you can attack.
"The most important thing in poker is being well aware of what your image is at the table at any given time. You have to be aware of what each individual player's image of you is, and having confidence, it's a huge factor in all of that."
Of course, there's a fine line between confidence and over-confidence. Zinno says he's seen players come off big wins and lose the value of a dollar, spewing chips in lower buy-in events only to teach themselves what builds into an expensive lesson.
"Some players with a lot of money suddenly don't seem to care as much and they'll sling chips around thinking they could be playing in some high-stakes cash game elsewhere," he said. "Over the years, I've conditioned myself so that even if I'm playing a $2K buy-in, which if I would lose wouldn't effect me at all financially, I still want to play my best.
"If you're trying to play your A-game, you can't be thinking about how much money you've already made and that you just don't care about the buy-in, no matter how small."
Like Mercier, Zinno is riding a huge wave of confidence heading into the World Series and ready to prove the confidence that comes from winning will breed even more success.
"I always knew I was good," Zinno said, "but I think after this year I started to realize that I really do have what it takes to be one of the top guns someday. Once that light bulb clicks, you have even more motivation to play even more. The momentum for this year is huge, I feel like I'm going to have a huge year and I will be disappointed if I don't."
Get all the latest PokerNews updates on your social media outlets. Follow us on Twitter and find us on both Facebook and Google+!