Main Event Champs Jacobson, Riess, and Merson Excited to be Back at the WSOP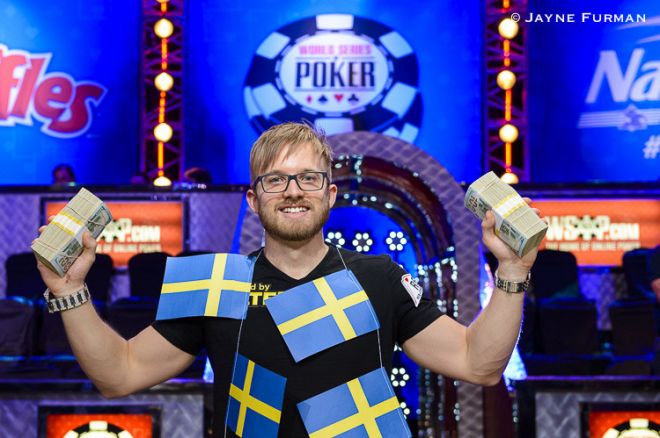 "Excited." That is the word we most frequently heard today from a group poker tournament heavyweights — including the last three World Series of Poker Main Event champions — after asking for their thoughts about what it felt like to be back at the WSOP for the $5,000 no-limit hold'em event.
Of course, "excited" is an understatement if we consider their facial expressions and the way they said it, because those shouted "AWESOME" more than anything. The players shared more even-tempered thoughts, too, however, as they recognized how the WSOP is mentally the toughest time of the year to be a poker professional.
Jacobson Excited to be Back
"I can't believe it's been a year, and it feels great to be back," reigning Main Event champion Martin Jacobson told us with a smile while squinting his eyes in the already blistering Las Vegas sun.
"Technically it hasn't been a full year since the Main Event ended, but it also doesn't feel like it's been a year since I played my first event here in 2014. Time goes so fast — it's crazy, but a lot of fun," the champ added.
Jacobson went on to explain that he looks to play a similar schedule compared to last year, which comes down to all no-limit hold'em events. The champ is ready, and so are his predecessors, Ryan Riess and Greg Merson.
Riess Carries Confidence into the Summer; Merson
"It feels amazing to be back, it's so unreal. I even got here at one o'clock to get a box and get everything ready for the summer. I'm very excited and I'm ready," Riess said to us with a huge smile on his face.
The 2013 champ has plenty of reason to smile, as he's coming into the summer with confidence after winning the $2,000 six-max event at Seminole Hard Rock just a month ago for $63,891. The man known as "Riess the Beast" looks to play a similar schedule as Jacobson's, but for now he remains undecided on the $111,111 One Drop tournament.
It's been three years since Greg Merson took down the Main Event, but goosebumps still run wild when he looks back at his emotional victory. The WSOP clearly holds a special place for the 2012 champ who loves being back.
"It doesn't feel real that it's back," said Merson. "And it doesn't feel like it has started yet. It's very exciting."
Merson, who also earned 2012 WSOP Player of the Year honors after winning the Main Event, looks to play around 15 events with some pot-limit Omaha events part of his schedule.
Realistic Looks from Rettenmaier and Flowers
Meanwhile two-time World Poker Tour champions Marvin Rettenmaier and Randal Flowers also made sure to not miss the first big event of the series, but when asked about coming back to the WSOP they voiced some different sentiments while also stating their ambitions.
"I'm very excited to be at the WSOP again," said Rettenmaier. "It would mean a lot to win an event. The first couple of days are always great because I get to catch up with a lot of friends."
"But then of course it turns into complete torture," Rettenmaier cracked, alluding to the toughness of grinding at the WSOP.
Randal Flowers shared that same sentiment, saying he felt "grungy" and "dirty" about being back at the Rio. We all know how grueling the WSOP is for players playing a big schedule, and Flowers got straight to the point.
"Unfortunately I'll be playing as much as humanly possible, and I might sleep a little bit sometimes," Flowers said, although added a positive twist by saying that he will likely win the $1,500 event with extended levels. Indeed, almost all of the players we talked to were extremely upbeat, something Flowers also noticed.
"This is about as positive of a room with poker players you'll see all summer," referring to the fact that they had just reached the first break of the first big tournament of the series.
Max Silver and Stephen Chidwick, who were standing with Flowers, both laughed while sharing their excitement for the WSOP, but they were also quick to point out that the grind isn't easy.
O'Brien and Shorr All Smiles on Day 1
Dan O'Brien and Shannon Shorr likewise were carrying around some of the biggest smiles at the Rio All-Suite Hotel and Casino today. In fact they seemed almost giddy when we asked what it felt like to be back playing.
"It feels good to be back and to be able to grind a bunch of poker tournaments," said Shorr. "It's something I love doing, and I love that I get to be around friends. The weather is also good and there's a lot to do in Las Vegas, so I'm excited about all of it," he added.
O'Brien said, "Love it! I'm excited and I'm having a great time so far," before adding that he's looking forward to the $10,000 Razz Championship and the $565 Colossus in particular.
"It's a stupid tournament," O'Brien laughed about the Colossus. "But it will be so much fun, and it's nice to be able to be part of poker history."
Almost every pro we questioned mentioned that they are already looking forward to the Main Event as their main target, but the $111,111 One Drop event and the $500K High Roller at the Aria were also frequently mentioned.
Byron Kaverman confirmed to us that he will play the $500K at the Aria, and that event looks to draw a big crowd of top pros. But we're still a long way away from those three marquee events during this poker summer in Las Vegas.
All in all the summer will be packed with excitement, emotional roller coasters, big winners and sore losers. There's no getting around the fact that this string of events all over town, and the WSOP in particular, will create some great storylines. And the chances are good that the pros we talked to today will be featured in a lot of them.
Get all the latest PokerNews updates on your social media outlets. Follow us on Twitter and find us on both Facebook and Google+!