Considering the Colossus: Matt Stout On Strategy for the New $565 WSOP Event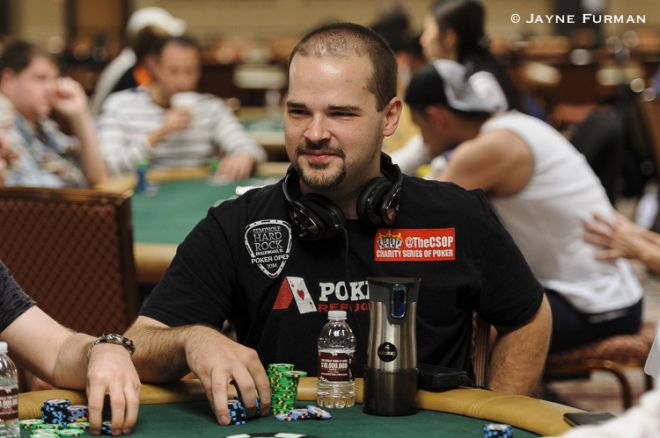 There is little doubt that over the past few years the trend towards reentry events has changed the tournament poker landscape significantly.
Add in multiple starting flights and field sizes and prize pools have increased dramatically, allowing even the smallest buy-in tournaments across the poker world to make six- and sometimes seven-figure guarantees without fear of an overlay.
In comes the Colossus.
This summer the World Series of Poker will seek to put an exclamation point on the multiple starting flight reentry event trend during its opening weekend with the Colossus (Event #5), a $500+$65 buy-in no-limit hold'em tournament that will feature four starting flights, two on each of two starting days May 29 and 30. Players who are eliminated from one flight (or who surrender their stack) may reenter another flight, giving each up to four chances to take part.
The Colossus is a bracelet event, and despite the buy-in being the lowest offered in the modern era, the WSOP is guaranteeing a minimum prize pool of $5 million.
The tournament has been dubbed "The Colossus" for good reason as organizers expect it to set new records and become the largest poker tournament ever in terms of field size. In fact, while all is speculation at this point, several WSOP insiders are setting the over-under at a whopping 20,000 entries.
When it comes to considering strategy for this unique event, Las Vegas-based pro and New Jersey native Matt Stout is a good source to consult as one who certainly knows his way around big field tournaments.
In addition to a tournament poker career littered with major accomplishments — including having collected just over $3 million in live tournament earnings and more than $3.6 million online — Stout has made three WSOP final tables in the $1,500 and $1,000 buy-in events that have traditionally drawn the largest crowds.
Additionally, back in January Stout took 15th in what was basically the Borgata's version of Colossus, the $500+$60 Borgata Million which drew 4,179 entries (including reentries over multiple starting days), creating a $2,089,500 prize pool.
Stout, who offers one-on-one poker training through his website, says his basic advice for players entering a huge field event like Colossus is to avoid thinking too much about the big numbers.
"Take it one table at a time and don't overwhelm yourself with the thought of trying to beat out thousands of players" advises Stout. "If you just focus on what's going on at your table, you won't believe how fast the competition seems to disappear."
"Don't trick yourself into thinking that you need to drastically change your style in order to accumulate because the field is so big or anything like that. Just play your game and focus on what you can control."
A number of players will come into the Colossus with a plan to fire multiple bullets, looking to gamble early to build a stack or reenter in a later flight if things don't work out. Stout says there are a number of factors to consider first before taking this approach.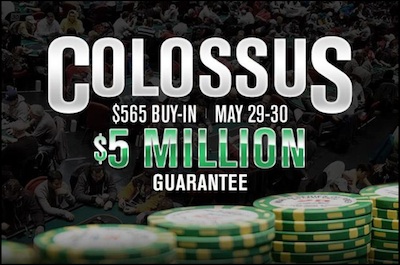 "It depends on your goals and bankroll," he says. "If firing over $2,000 into that event is going to sting, you may want to play it a bit more like a freeze out."
"By gambling to accumulate, you sacrifice a bit of expected value almost by definition, because it involves adding volatility and playing hands differently than you would generally believe to be optimal. However, there's also a good argument on the other side that even though my return on investment for flight A may be slightly lower due to my inclination to gamble, the fact that I will end up playing a larger number of flights on average increases my long-run expectation, since I play more flights and have more total buy-ins with which to attempt to realize my equity/return on investment."
On a personal level, Stout says he may be willing to fire as many bullets as necessary.
"[Entering multiple times] also obviously leads to a larger percentage chance of me making the final table, and even though it's going to cost me more in buy-ins, there is a lot to be said for the intangible value of a bracelet, especially for me" he explains.
It's a real minefield out there in big field events and luck and variance play an even bigger role than normal. But Stout says that's not something with which players should concern themselves too greatly.
"You should just focus on what you can control in a tournament," says Stout. "Wasting time and energy thinking about things you can't control like luck and variance is logically ridiculous, even though explaining this to your emotions can be a bit difficult at times. I'm not very religious, but I'm becoming tempted to quote the Serenity Prayer now."
Stout credits a number of lifestyle strategies for having contributed to his success in big field events, strategies which those taking part in the Colossus might do well to follow.
"Making sure I'm well prepared, especially during the WSOP" is important, he says. "I get to bed at a set hour unless I'm still in a tournament, get 7-8 hours of sleep, get a massage, have breakfast and coffee, and arrive at the Rio on time ready to battle."
"Despite the fact that all of my poker friends are in my hometown, you will almost never see me out getting hammered in Vegas during the WSOP... okay, maybe once or twice after a final table. Also, really dedicating myself 100% to whatever tournament I'm playing, even if it's a relatively small buy-in, and trying to play my A-game."
Several players have expressed concern that the lower buy-in for Colossus serves to downgrade the value of the WSOP bracelet, but Stout disagrees.
"I'm not especially thrilled that they're doing an open event below the previous lowest price point of $1,000, but that being said, I think the tiny-field WSOP APAC events that were paying $40,000 to $60,000 for first place degrade the bracelet far more than a $565 NLHE event at the actual WSOP in Vegas that will pay close to seven figures for first, if not over."
Come May 29, Stout's plan is to show up guns blazing in the battle for this bracelet.
"I will be firing on all cylinders for the Colossus, if I'm not still in the $5,000 NL or $3,000 NL Shootout."
Get all the latest PokerNews updates on your social media outlets. Follow us on Twitter and find us on both Facebook and Google+!