Ask The Pros: Eight Essential Characteristics for Navigating Large Tournament Fields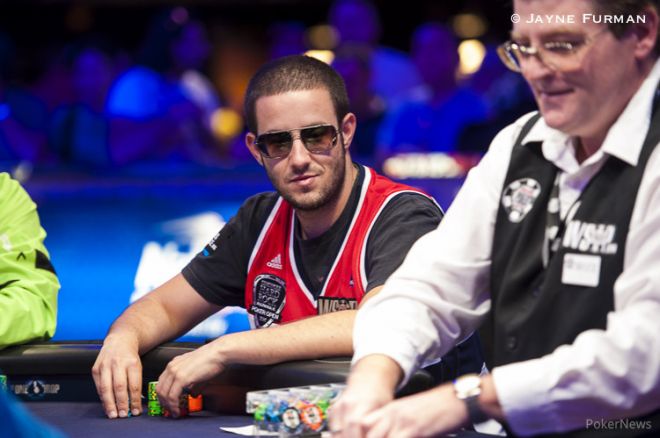 One of the reasons that the game of poker attracts people from all over the world with varied skills and interests is that it's a game that mentally challenges you to be your best. To be successful in poker — specifically in large-field tournaments --you have to have patience, resilience and fearlessness to take advantage of the opportunities that present themselves.
Knowing that bad beats will happen, bad play will get rewarded and variance can creep up anytime, what does it take to last? We went on a quest to find out what qualities a poker player should possess to make it through a large-field tournament such as the World Series of Poker Main Event.
Patience
Probably the most obvious and most important characteristic to learn and implement as a poker player is patience. If you ask anybody who regularly plays the game what is needed to play consistently good poker, patience will be at the top of their list.
Some players regard patience as being passive but actually patience puts you in a position of power. Just like any skill, patience takes practice and with practice you can eliminate or at least curb, the desire to play every pot, allowing you to wait and watch giving you the control over when to act that benefit you the most.
Actor and poker player James Woods said it best: "Don't get too nervous and don't get too eager too fast. You have plenty of time."
Focus
You have to keep your eye on the game at all times and no, that doesn't mean the latest World Cup match. With every action at the table, you have a chance to pick up information that will help you make better decisions.
Poker player, sideline reporter for ESPN at the WSOP and partypoker ambassador Kara Scott added, "There are so many things that can distract us from the game at hand. Walking around in a big poker tournament, you'll probably see more players focusing on their phones than on the game. There is so much information out there to be learned from your opponents and you're going to miss that if you're constantly checking your twitter. I'm bad for this one myself and it's something I'm working on!"
Awareness
Right on the heels of focus comes awareness. You can be laser-focused at your table but if you aren't able to pick up on subtle actions that can provide valuable information, it will all be for nothing.
About awareness, veteran tournament player Eric Baldwin said, "Stay alert and aware so you recognize the spots. It's easy to get caught up in playing robotic and ABC poker and when you do that you miss out on so much. If you just pay close attention and become really aware of what is happening, you start to pick up better reads on people. Then it seems as if spots become more available. It also makes the game much more fun."
Adaptability
The ability to change your aggression level, bet sizing, and whatever else is necessary in order to put yourself in a position to make better decisions is a key component to lasting in any tournament field.
According to last year's November Niner JC Tran, "Your ability to read players is important because you are going to be playing with a bunch of people you haven't ever played with before. Then once you get a read on them it is even more important to adjust to them as far as bet sizing, when to bet, raise and when to just call. Be ready to adjust to every table because there is going to be a lot of tables breaking."
Confidence
When it comes down to it, you can have all of the traits listed above but without confidence in yourself and your abilities, the other traits won't do you any good. You have to come into any tournament believing you can win because if you don't, it won't take long for the sharks to circle.
Donnie Peters, Editor-in-Chief of PokerNews has watched players navigate large tournament fields at the World Series of Poker for the last seven years. He said, "I believe confidence plays a large factor in a Main Event run. One will never be on his or her A-game if he or she isn't confident in the plays he or she is making — whether that be calling, raising, or folding."
An important ingredient to a confident poker player is the ability to control emotions. In a game where you can be on extreme high one hand, and the lowest of the low the next, it would be virtually impossible to remain confident without maintaining some emotional control.
Scott believes maintaining an even temper is very important trait to possess saying, "You really can't be getting all excited or tilted or jubilant or angry. Not only are those kinds of emotional swings bad for playing your A game but they're also going to be exhausting by the end of the long days. You need to conserve your energy and keep your focus on the playing, no matter how exhilarating it feels to be sitting in the biggest event in poker."
Resilience
Unlike adaptability, in which you are required to change up your play based on how your opponents are playing, resilience requires you to return to your A-game in spite of what is happening around you. Suffering a bad beat or losing a huge pot can shake anyone's confidence. It is the players that have the ability to shake it off that will position themselves for deeper runs.
When talking about resilience, Peters said, "The Main Event is very long and so much poker is being played that it's inevitable that bad things will happen, a few cards may not fall your way, and obstacles will regularly be put in your path. That said, one must remain resilient throughout and be able to spring back from any setbacks that may be encountered."
Former Main Event champion Greg Merson echoed that sentiment: "Things aren't always going to go up. It is such a long tournament you should expect to go through some downswings along the way and you have to immediately being able to turn the page and move on."
Fearlessness
Fearlessness defined means the strength to carry on despite danger. Every successful poker player learns to take risks and deal with losing when those risks fail to pay off. Merson, who knows a thing or two about making it through a Main Event field, said of fearlessness, "When you start to play for a lot of money you can't be afraid. You have to just apply pressure when it's needed."
Baldwin went on to say, "Sometimes spots are a lot more important than cards. You have to be able to pull the trigger when those spots are there."
Aggression
Similar to being fearless, your aggression level can put you in control of your table. Aggression doesn't necessarily mean playing every hand or four-betting every pot; it simply means taking control of the action with the hands you decide to play. Aggression is no stranger to recent bracelet winner, Paul Volpe who said, "You can't play too tight especially in the later stages. You have to be able to find the spots to steal pots and stealing requires you to play aggressively."
With two WSOP final tables this summer, Jeff Gross is more than qualified to add to conversation when he says that adding aggression carefully based on opponent selection is extremely important. "Try to play aggressively against weaker opponents because they are generally going to make bigger mistakes than someone who plays tournaments regularly and is fundamentally sound."
Honorable Mention: Run Good
While technically not a "trait" there is no denying that some run good is needed to get through any large field. The diversity on display at the WSOP makes that statement even truer. As the founder and managing partner at The Social+Capital Partnership, former Vice President of Facebook and co-owner of the Golden State Warriors, high-stakes cash game player Chamath Palihapitiya has a realistic view of what is really needed to win a tournament of this size.
"Anybody who tells you they are going to win a tournament like this without getting some fantastic cards at key moments is lying. You just must have good cards and you can't get coolered. The people that consistently win play great and then in very specific spots have massive run good. They get lucky and more importantly, they don't get unlucky."
The traits listed here will not only benefit you at the poker table but they are good life skills to have as well. You can't control every aspect of the game or life for that matter. In fact, the only thing you can control is your action and reaction to what is happening around you. Having your head in the right place and understanding your surroundings, gives you the best chance to capitalize on opportunities as they arise. While it won't ensure your success, it can certainly help stack the deck in your favor.
Check out more of our great interviews in the video section. And be sure to follow us on Twitter and find us on Facebook and Google+!