Actor James Woods Topples Doug Polk in Epic Heads-Up Match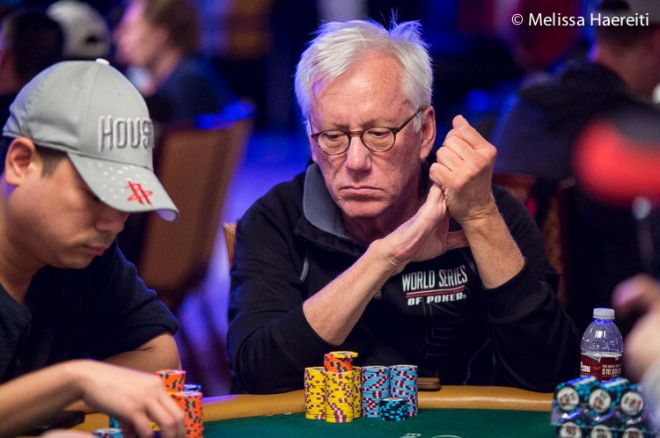 You can't beat Novak Djokovic in a tennis match. You can't outbox Floyd Mayweather. And no matter how many times you try, if you and Usain Bolt take off sprinting at the same time and stop at 100 meters, he's always going to get there first.
But one of the great beauties of poker, and something that undoubtedly contributes greatly to its magnetism, is that if the cards break right, you could beat one of the best players on earth in a heads-up match. James Woods did just that, triumphing over Doug Polk to win his second-round table on Day 2 of Event #4: $3,000 No-Limit Hold'em Shootout. The famed actor, perhaps best known for a turn as Lester Diamond in the Martin Scorsese classic Casino, advanced to his first World Series of Poker final table.
"He's a stunningly great player," Woods said of his adversary. "I played Johnny Chan heads up for three-and-a-half hours. He was tough, but Doug is the toughest I've ever played against. I'm very, very proud of this victory because I really feel I've earned it."
That may be in large part because Woods' win didn't come after a cooler or a lucky draw shipped him a huge pot on the wave of variance. Instead, it came after an epic heads-up battle that saw both players hold huge leads only to see the other claw back from the brink of elimination.
Additionally, with each table starting four-handed and deep-stacked, heads-up play saw both players holding more than 60 big blinds. Plenty of lesser-skilled players have toppled goliaths in short-stacked shove fests, but Woods was forced to actually play poker. Furthermore, Polk is revered as one of the best heads-up poker players in the world. The match ended up lasting more than four hours, with several huge swings.
Polk said he approached the match like any other, planning on playing his standard game against his amateur foe. Woods echoed that strategy, saying he wouldn't have been comfortable making drastic changes to his game despite the difficulty of his task.
At first, the mood seemed jovial as the players exchanged plenty of laughter and banter, keeping the atmosphere light-hearted. Things took a turn for the serious when Woods declared he was done talking, for fear of giving too much information to the vastly more experienced Polk.
"It was a little cold, but he was just doing his thing," Polk said. "I think he really just wanted to give it his best shot, and I understand that."
Polk nearly ended things early on when he decided to gamble and call Woods' overbet shove for 138,000, nearly triple the pot, on a
flop with the
. Polk's outs were all clean as he was against
, but the last two streets bricked off.
That put Polk at nearly a 3-1 deficit, one he wasted little time erasing. Things were back to even when another massive pot developed. At Level 27 (4,000/8,000/1,000), Woods fired 22,000 on a
flop and got a call. He checked the
turn, and Polk bet 42,000. Woods announced 62,000, an illegal raise that became 84,000. Polk called and then faced a 114,000-chip shove on the
river.
"Devastation," was Polk's immediate response as he thought things over. Eventually, he folded, only to see Woods slam the
onto the felt and exuberantly celebrate with his comrades on the rail.
"That's how you win a f***ing bracelet!" Woods yelled.
His success was short-lived, as even having Polk down to 10 big blinds didn't change the fact that Woods was still dealing with one of the world's best. Polk turned the tables until he was the one holding the massive lead and Woods had just a handful of blinds remaining. Now, though, Polk was at the mercy of variance with just 40 total big blinds in play. Two preflop all-in pots later, and Woods had booked his final table seat after the
held against the
.
Polk reflected on the match after his elimination.
"Just because you're the best, doesn't mean you never lose," Polk said. "They're still chips, it's still poker. He played well, and he deserved to win today."
Woods appreciated Polk's ability to take defeat in stride and lose with class.
"He's an incredibly nice guy," Woods said. "He was very respectful to me. I'm an amateur and I had my little fist pumps and he never took it personally. It was a privilege playing with him."
Not only a privilege, but a massive learning experience, according to the actor, who said he learned as much playing with Polk for 11 hours as he had the rest of his life. He'll need all of that knowledge and experience and more when he faces off with a tough final table on Saturday featuring formidable foes like Nick Petrangelo, David Peters, Leo Wolpert, and Polk's fellow high-stakes grinder Jason Les, who watched much of the epic heads-up along with a cluster of railbirds.
Brimming with confidence, Woods says he's ready.
"They're gonna need a miracle to beat me tomorrow," he said.
Want to stay atop all the latest from the 2015 WSOP? If so, make sure to get PokerNews updates on your social media outlets. Follow us on Twitter and find us on both Facebook and Google+!