Hellmuth & Tony G Push for David "Devilfish" Ulliott Poker Hall of Fame Nomination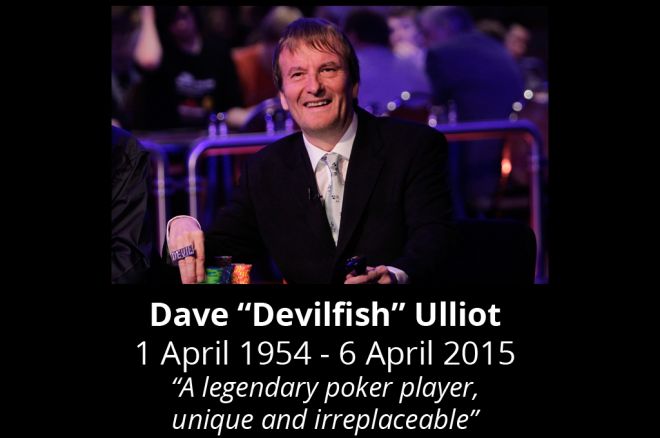 The Poker Hall of Fame (PHoF), established in 1979, honors the game's best players and most influential contributors. Each year either one or two nominees are inducted to join the 48 members currently enshrined in the PHoF, and this year several poker players are making a push for the late David "Devilfish" Ulliott to receive a nomination.
Public nominations for the Class of 2015 are expected to open during the 2015 World Series of Poker. For more on the PHoF, including a list of inductees and nomination criteria, click here.
"This will be about six weeks earlier than we normally do it," the WSOP's Seth Palansky told PokerNews. "The goal was to try and take advantage of the added traffic we get during WSOP to give more public awareness to public nomination process so all candidates get best chance of being considered."
Ulliott is a candidate many feel deserves to be on the shortlist of nominees. In April, the Devilfish, who had been diagnosed with terminal bowel and liver cancer earlier in the year, passed away at the age of 61. The poker veteran from Hull, United Kingdom was one of the most acclaimed and celebrated poker players of his country. He boasted tournament winnings in excess of $6.2 million (the second-biggest winner of all time in the UK behind Sam Trickett).
Ulliott also won the first-ever edition of Late Night Poker in 1999, was a poker pioneer in the UK, and won both a WSOP bracelet and World Poker Tour title. He's also had two books written about his remarkable life.
"The Devilfish is a total legend," Trickett told PokerNews. "I have to say without him poker wouldn't be as popular as it is today, and I wouldn't be where I am today. He is dearly missed and it would be a scandal if he missed out on the Hall of Fame."
Trickett's sentiments have been echoed by dozens of poker pros, many of who shared their thoughts with PokerNews:
Phil Hellmuth

: "Devilfish 100% should be nominated for the Hall of Fame. He has one bracelet and two second-place finishes as he often told us, and a WPT title. One of the most accomplished Europeans with that résumé alone in the US, but he also won more tournaments in Europe, as he often told me, than any other player. We don't have enough Europeans in the Hall of Fame, and so Devilfish would be a great addition. He's very deserving."

Tony G

: "Devilfish going into Hall of Fame has to be a no brainer - he was the original poker TV star."
Simon Trumper: "Dave was unique and irreplaceable, a good friend and mentor to me, larger than life and lived it fast whether playing high stakes poker around the world or entertaining with jokes and songs while playing guitar or piano. He will be sorely missed and fully deserves his overdue place in the Hall of Fame.
Joe Beevers: "Truly a unique character and a poker legend. It is fitting that he should be the first European to get into the Poker Hall of Fame. He is getting my vote and I hope he gets yours too. Let's get Devilfish in now!"

Vicky Coren

: "Devilfish, the first winner of Late Night Poker, captured the imagination of the British public. The whole massive subsequent poker craze was at least partly down to his wit, charisma and magnetism. He was an unforgettable performer, a loyal friend and - of course - a brilliant poker player. A very special man. Obviously he should be in the Hall of Fame, that's a no-brainer."

John Duthie

: "There can be few poker players more deserving of entry into the Poker Hall of Fame than Dave Ulliott. He lived and breathed poker. He was kind, generous, extraordinarily funny and ferociously intelligent. He survived as a professional player for decades and was a formidable opponent. His personality drew new players to the game. Let's finally reward him for this contribution and raise a glass to a man who never failed to make an impression. If you love poker nominate 'Devilfish.'
To help support a Devilfish PHoF nomination, some players from the UK contingent including Joe Beevers, Jon Kalmar, Simon Trumper and a crew from Dusk till Dawn crew will wear t-shirts with a picture of Ulliott (see lead photo) throughout the 2015 WSOP.
Not only are players turning up in force in support of the Devilfish, his family is also pushing for the man they love to be enshrined.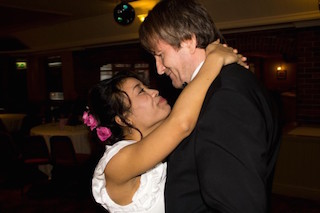 "I have been interviewed many times about my husband since he sadly passed away and I have spoken of how he was loved by us all and what a great family man he was, but I have not spoken of how he loved poker and what it meant to him," Ulliott's wife, Anpaktita, told PokerNews. "He always said how lucky he was to be able to play in the great tournaments, how lucky he was to have found friends and fans through poker. Whilst my husband may have come across to some as a very loud, outspoken and comical character, at home he was a quiet, kind and loving man. He often spoke of how he owed a lot to poker and every time he met someone who wanted to chat or have a photograph he would give as much time as he could. To be recognized by his fellow players and his fans and to be accepted into the Poker Hall of Fame was very important to Dave and now that he is no longer with us it is important to his family that one of his last wishes could be granted."
Ulliott's sons also released a joint statement supporting their father's PHoF nomination:
Growing up it was obvious our dad was an influential person, everywhere we went people would recognize him and being the friendly man he was, he was happy for them to start a conversation. The amount of times he would get stopped on our family vacations regardless of country always amazed us and made us feel very proud. Our dad lived his life as an entertainer and shone brightest when telling a story or up on a stage playing an instrument and singing. And, what a storyteller our dad was and he had the stories, a claim backed up by two books and countless articles.

We love him so much and not hearing his voice is the hardest thing we've ever had to deal with but it has all been made a little easier by the huge amount of support from his friends and fans. On the worst nights we've been able to surf the internet and find dozens of new articles from across the world and thanks to social media people can share their own stories, photographs and videos of their experiences with him and there are many and all so positive. We knew he was generous and loved but didn't realise the extent until after he had passed and it makes us proud to learn more about who he was. If our father was to be inducted into the Poker Hall of Fame it would bring us great pride and make us even more proud of our dad. It would also add to his ongoing legacy as a true professional and gentleman of the sport.

His achievements alone should justify him being placed in the Poker Hall of Fame, having hundreds of top finishes and playing consistently well throughout his career. But, it was his character on and off the screen that contributed so much to poker and influenced a generation of new players. Our dad played poker for 40 plus years. To say that our father played a pivotal role in the evolution of poker is an understatement, he added so much to the sport in terms of personality and charm, as well as his many achievements such as winning at the WSOP and WPT and captaining his country in the poker nations cup.

We truly believe that our father deserves a place in the Poker Hall of Fame, a chance to be noted in the history books along with the memories and achievements he left us all. He was a truly great man, and a man of the people.
Finally, Ulliott's daughter Kerry added the following:
"My dad lived his adult life devoted to poker, a truly dedicated man to a profession that he honored and adored, An outspoken, confident man who spoke only the truth - his love for the game lead him all over the world with many fans behind him. A legend in poker, a truly adored father and a devoted husband. Missed by all. Love you daddy."
Want to stay atop all the latest from the 2015 WSOP? If so, make sure to get PokerNews updates on your social media outlets. Follow us on Twitter and find us on both Facebook and Google+!