Doug Polk Hopes Legacy Comes from High-Stakes Online Cash Games, Not Live Tournaments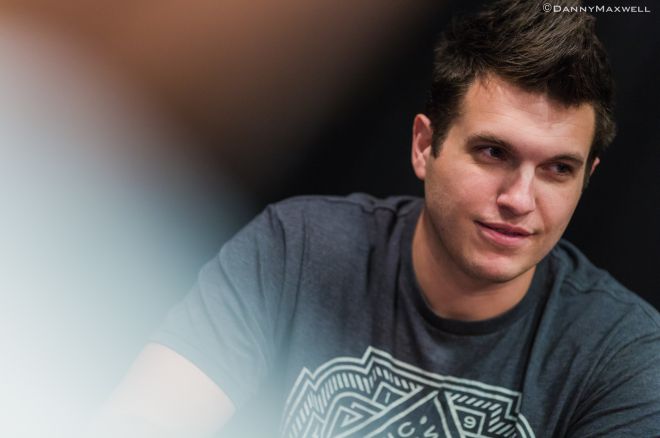 When you play online heads-up at the highest stakes against the best players in the world on a regular basis, the swings can be astronomical. In a single session, or even a single hand, you might win or lose the same cash the top prize pays in a World Series of Poker bracelet event.
For such players, who could be earning their usually high hourly cash game rate online, or playing big cash games across Las Vegas throughout the summer, finding the motivation to grind tournaments at the WSOP can be a problem.
But that's simply not the case for Doug "WCGRider" Polk, who sat among the chip leaders at the final table of the 2015 WSOP Event #37: $10,000 No-Limit Hold'em 6-Handed Championship Friday.
"You're not really giving up too much hourly in a tournament like this," he told PokerNews. "First place is going to be like $660k so it's not too much of a trade off there. That's more of a factor in 1ks or like 1,500s."
In fact, Polk says he might actually enjoy the experience of playing WSOP events over big time cash games these days.
"You know what I like, I like showing up and getting to play," he said. "In cash games its not like that. There's politics and being friends with the right people and you have kind of schmooze your way in, and I don't really like to have to do that. I like tournaments, you can just show up and play, and it's kind of cool right, you're trying to win all the chips. I enjoy the whole experience."
There's also the chance to chase WSOP glory, etch your name into the annals of poker history and build the kind of legacy the poker world won't soon forget.
But for Polk, who won his first bracelet in the 2014 WSOP $1,000 Turbo No-Limit Hold'em, that may not be the kind of legacy he's interested in.
"I think its important to everybody to be known as a good player," he said. "You don't want to be the guy that everyone thinks, 'He sucks, he's just on a heater.' That's kind of insulting. In anything I look to pursue, I look to be top notch, but I don't think I need tournament poker glory to prove myself as a player or to prove who I am. I think this is a fun format and I think it does allow players to exploit their edges and show off their skill, but I don't think I need to be winning tournaments. I just like to play them because I actually get to play.
"Legacy is important to me, but to be frank, the legacy that I want to leave is that I played the toughest, most competitive forms of poker, online, at the highest levels, versus the top players. I don't want my legacy to be what tournaments I ran hot in and won a couple of flips."
Instead, years from now when it's all said and done, Polk hopes the poker world will remember him for his online prowess and his high six-figure success in his heads-up no-limit hold'em challenge on Full Tilt Poker against Ben "Sauce1234" Sulsky in 2013.
"In my career, the shining moment for me was when I played Ben Sulsky in our challenge," he explained. "I worked really hard and I beat him quite handily and I got a few congratulations here and there, but people didn't really care. Then I win a $1k turbo and everybody is coming out of the woodwork. People were messaging me that I hadn't talked to in years. The $1k turbo was a two day event where the average stack was like ten big blinds the whole time and I just went all in a lot and won a lot of pots. In the challenge, I worked really hard, got to play at a really high level and there were some hands I was really proud of based on the work that I had done.
"I think when we talk about legacy, I would want mine to be based on the merits of what I did online and how I became who I am, and not what tournaments I ran hot in."
Regardless, Polk said he's happy to be running deep in a prestigious event like the WSOP's $10k Six-Max Championship.
"This tournament does bring out a lot of great players and that really means I'm going to see a lot of my peers and people I've already formed relationships with. We can chat at the table and talk about things," he said. "I like the atmosphere and I like the fact that when you're in a hand everyone is taking it seriously and trying to do their best. The overall atmosphere is just a lot more enjoyable and it definitely feels like more of an accomplishment when you go deep versus world class players like this."
And as far as tournaments at the WSOP are concerned, one can expect to see even more of Polk on the felt, whether it has an effect on how the poker world sees him and his legacy, or not.
"It's for fun, it's for profit and I enjoy the experience, but its not for the legacy," he said.
Want to stay atop all the latest from the 2015 WSOP? If so, make sure to get PokerNews updates on your social media outlets. Follow us on Twitter and find us on both Facebook and Google+!