The Bleached Blonde Hair Bet and Other Props with Doug Polk and Pratyush Buddiga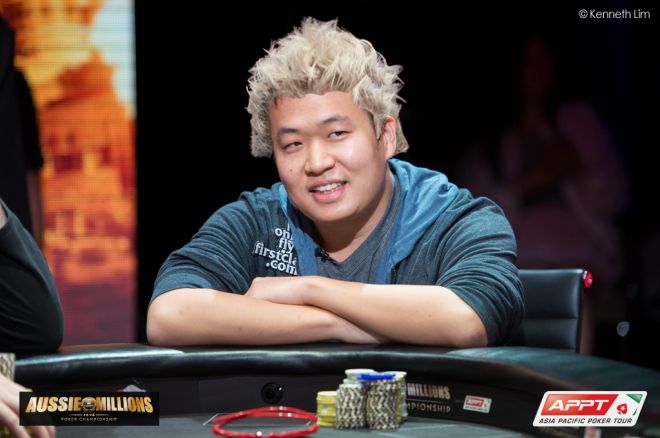 As if a $10,000 buy-in weren't enough to get the competitive juices flowing, high stakes regulars Doug Polk, Dong Kim, Jason Mo, Jason Les, Pratyush Buddiga and quite a few others decided to get some fun prop bets going alongside Event #10, the $10K Heads-Up No-Limit Hold'em event.
While most of these bets aren't for money, the amount of pride and joy at stake is probably worth a lot more. We spoke to both Polk and Buddiga before the Round of 128 draw, and discovered that besides the tournament's big prize pool, there's a ton of potential embarrassment on the line as well.
"If you lose to ElkY you have to dye your hair blonde for a week," explained Polk. "And that's pretty serious, especially for people that have darker hair."
"I don't think that's the worst for me... and let me just say that Asians with blonde hair is a good look," Polk added, struggling not to laugh uncontrollably as he pictured Mo, Kim, and Buddiga with blonde hair.
"This is my favorite event of the summer, there's no doubt," continued Polk, who had an early taste of spirited heads-up play at the end of the second table of the $3,000 NLHE Shootout, losing to James Woods following an epic heads-up battle between the pair.
"It's heads-up, and we were really trying to spice things up with our team of players. We have different bounties, and I guess you could say 'negative bounties' for losing against certain players," Polk laughed.
"Oh god, this guy!" Polk yelled, as Andy Philachack walked right into him. "He's getting on mah shit already!" Polk laughed, as he went on to explain that losing to Philachack meant wearing a hat for 24 hours, a bet inspired by the fact that he always wears one.
"We spent about an hour or two making this long list of different prop bets and it turned out great," Polk said, "For instance because Jason Les lost to Connor Drinan he will now have to wear sunglasses for an entire day, because Connor is always wearing the shades," Polk added.
Polk had played and won against Andrew "LuckyChewy" Lichtenberger in the first play-in round, and even that match had a bounty on it.
"If I would've lost I would've had to go to yoga with Chewy for three times in one week.... He even said that I could've [still] come with him if I won," Polk laughed, who explained that he nevertheless politely declined.
"We have a long list of good stuff, so I'm really excited," Polk said. Then he told us what the punishment would be for losing to Buddiga.
"For losing to Pratyush we thought about making that person eat something really spicy, since he loves that kind of food. But we settled on that you have to dress in a chili pepper costume for Day 1a of the Main Event," Polk said.
With so many fun bets going on, most of the talk continued to focus on the one anti-bounty for losing to ElkY, as the prospect of having to go blonde seems to have the biggest impact on some of the players' lives.
"In particular it would be great to see ElkY win a bracelet after running through three of my friends," said Polk. "That would be so awesome — to see ElkY win the bracelet and me having three new blonde friends," Polk chuckled some more.
It's annual hope @elkypoker defeats all of my friends day. #blondeshavemorefun

— Doug Polk (@DougPolkPoker)
Buddiga, who was listening along with a smile, put on a sour face when we asked him how good he would look with blonde hair.
"I would look so terrible, and I'm dreading it so much. If I draw ElkY I will be so scared, and I'll be nitting it up so hard," Buddiga cried out. He shuddered a little as he added, "I just can't have blonde hair!"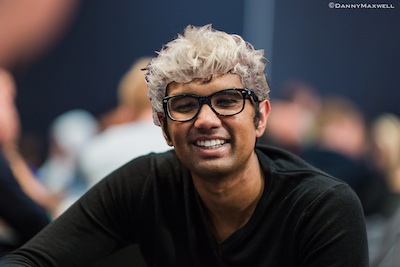 The only bet that was brought up that involved actual dollars was one involving Brian Hastings. Since Hastings has so many side bets of his own in which he's bet on himself at this year's WSOP, the player who beats Hastings here gets to collect $100 from every other player in the prop-betting group for every final table Hastings makes this summer.
The topic quickly changed back to ElkY, however, as Polk cried out, "This is the most intense moment of the WSOP, and I'm praying that I'm not seeing Bertrand Grospellier on the scoreboard next to my name, because that would be an intense match!"
Buddiga added, "ElkY is fully aware that the full squad is scared of him right now and if it wasn't for me being the guilty party, me having blonde hair would be the most fun one to look forward to. I just don't think anything can top that one."
"He also said that he would play the $10K heads-up every year for as long as we keep the bet going," Buddiga said, as ElkY probably enjoys the extra fold equity a lot.
Besides some serious hair coloring being at stake, there's one other prop bet that could be painfully tough to endure. While some of us enjoy grinding some low stakes in Las Vegas, playing a 24-hour session might be a bit tough. But if your usual stakes are 100 times bigger, all of a sudden such a prospect turns into a dreadful day of grinding poker, as Polk explains.
"Jimmy Chou is really famous for going to the South Point one day and grinding for 24 hours straight in their poker room. He just got up and went to the poker room because he felt like putting in a 24-hour session," said Polk.
"While he was there we were all betting on how many hours he would last, and people were taking the under on 16 hours. But it quickly went up to people betting on him lasting for a full day. So if you lose to him in this tournament you would have to go to South Point and play there for 24 hours straight, and I'm sure that will include playing some $2/$4 limit hold'em!"
Polk went on to explain how he barely dodged grinding away south of the Strip in 2014.
"Last year I drew him in the first round with the same bet in place and we got it all in with eights versus king-queen for the match. He flopped a king and I started yelling, 'Noooooooo!' and then the eight-ball hit on the turn. I got out of it then, and him losing to me meant that he had to wear a faux-hawk and wear sparkly clothes," Polk laughed.
As the draw was about to be revealed Buddiga remembered that there was also a bounty on losing to Isaac Haxton.
"Wear Harry Potter glasses and have a scar on your head for a week," Buddiga laughed, as the other players surrounding him started laughing as well, about having to dress up as a faux-Haxton.
Finally, a few minutes after four o'clock local time, the seat draw was at last posted on the big screen.
"Ooooh Jean-Robert Bellande! YES! Yes! What up! Oh my god, I run so hot," Polk jumped around in excitement.
Besides not having to play against ElkY, Haxton, Chou or any of the other players that had a punishment attached to losing, Polk drew a player who's more experienced in mixed games while he's one of the best heads-up players in the world.
Polk took care of Bellande pretty quickly to move onto the Round of 64. In fact, Bellande tweeted afterwards that "I'd have had an easier time playing tennis vs. Rafael Nadal."
Meanwhile other matches continue, and many bets are still alive for tonight. Unfortunately for all of us Buddiga did not survive the Round of 128, but the others are all still in contention for some serious cash and sweet suffering.
Want to stay atop all the latest in the poker world? If so, make sure to get PokerNews updates on your social media outlets. Follow us on Twitter and find us on both Facebook and Google+!