Phil 'OMGClayAiken' Galfond Says "Nosebleeds Have Gotten A Lot Worse"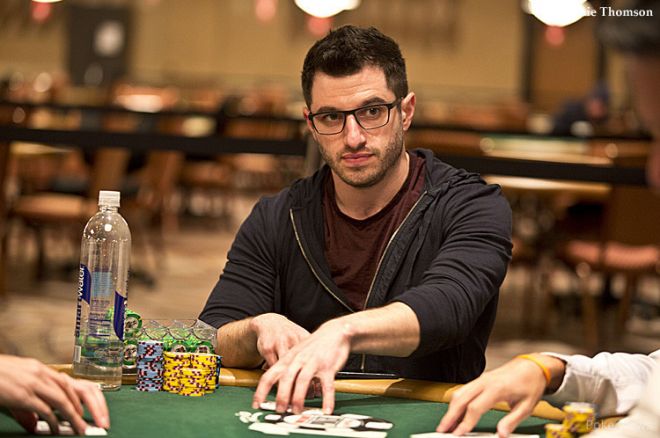 One year ago, Phil Galfond had a pretty decent summer cashing four times for $139,147 in the 2014 World Series of Poker. The biggest of those scores came early on when he finished sixth for $51,538 in Event #5 $10,000 2-7 Triple Draw. As it happens, Galfond waited for the same event to roll around before making his debut this year.
Last night, Event #7: $10,000 Limit 2-7 Triple Draw Lowball Championship attracted 109 players and created a prize pool of $1,024,600. As of the Day 2 dinner break, Galfond is among 18 players competing for the $322,756 first-place prize.
"I'd say at this point maybe my second-strongest game," Galfond told PokerNews about the variant. "I really like it in a tournament format, it's just a lot of fun. It's six-handed which is a bonus when it's a tournament. I love this event. I wish there were more of them."
Galfond's lust for 2-7 triple draw tournaments no doubt stems from the fact that he plays primarily cash games, and we're not talking about your run-of-the-mill games. Anyone familiar with Galfond knows that he's actually one of the world's most accomplished online players with lifetime earnings of 6,599,839 and $1,568,165 on Full Tilt Poker and PokerStars respectively, this according to HighStakesDB.
However, 2014 wasn't a banner year for Galfond, who plays under the screenname "OMGClayAiken" on FTP. That's because he finished as the fifth-biggest loser of the year, dropping $1,092,098 in 55,932 hands over 445 sessions (-$19.52 avg/hand). On top of it all, he spent quite a bit of time away from the virtual felt.
"Honestly, it was just time in the U.S.," Galfond explained. "I had holidays, and then I went to three weddings in the fall through winter. I wanted to be back and play, but I just couldn't find the time."
Galfond has been playing a bit more in 2015 – he's currently down $470,721 – on both PokerStars and FTP despite the games not being as good as they once were.
"The nosebleeds have gotten a lot worse," Galfond admitted. "It's very tough to get like a six-max triple draw game, and ring PLO doesn't run above, occasionally $100/$200. The $25/$50 Zoom has been good, pretty steady, so I'm happy with mid to high-stakes PLO. Mixed games run, but I don't really like mixed games because I'm not quite as good at all the games, plus it's difficult to multi-table so you're just aren't getting that many hands per hour."
Back in April, FTP announced major changes to its ring-game offerings, which included a culling of certain nosebleed stakes.
"It was a surprising change out of nowhere," Galfond said of the changes. "I was a little upset by it at the time because I was playing a lot of $1K/$2K triple draw on Full Tilt. I don't like PokerStars' triple draw software as much, so for that reason it was a little annoying at the time.
Galfond continued, "Everything still spreads on PokerStars that went away except some of the nosebleed stakes that were never running. It seems to me Full Tilt is probably going to do away with the remaining nosebleed stacks — assuming they don't pick up in a big way, and then PokerStars will be the higher-stakes site. Both have good software, and I'm fine with that."
The FTP nosebleed alterations weren't the only big changes in Galfond's life. Back on May 15, Galfond tied the knot with his long-time girlfriend.
"I mean day-to-day life isn't any different," Galfond replied when asked about being a married man. "It feels the same. It's funny, I kept saying to my now wife, during the wedding it just feels like you're going through all the motions that people do when they get married, but it just didn't feel real, like I'm walking down the aisle, now you're cutting the cakes, and then you're putting the rings on. It felt like, I don't know, it's kind of surreal."
As for this summer, Galfond revealed that he plans to play 15-20 events, so only time will tell if he can capture his second gold bracelet.
Want to stay atop all the latest in the poker world? If so, make sure to get PokerNews updates on your social media outlets. Follow us on Twitter and find us on both Facebook and Google+!