Over a Thousand Players Were Unable to Get Paid in Colossus Event for Several Hours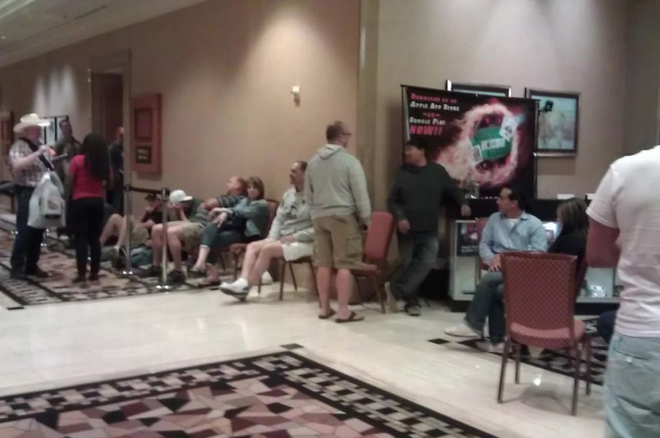 The Colossus tournament has inspired a bit of controversy once again.
After the first-place prize sparked outrage for a lackluster $638,880 first-place prize — just 5.7% of the $11,187,000 prize pool – some players who finished in the money are irate that they're unable to collect their cash.
Beginning around 10 p.m., a huge line formed down the hallway of the Rio All-Suite Hotel & Casino Convention Center, one comprised of what looked to be about 200 players. An hour and a half passed and the line didn't seem to be making much progress.
Apparently the backup was the result of a system lag in the payout system after 193 players had been paid out, that number according to tournament specialist Kyle Felleman. According to a World Series of Poker official, it was a "bottleneck" of information they weren't prepared for given the unprecedented number of payouts. As a result, approximately 1,500 players were left unpaid.
Of the 22,374 entrants that entered The Colossus, 2,241 players were slated to get paid, nearly three times as many as the previous WSOP record of 873 payouts in the 2006 WSOP Main Event.
Per rules, players are allowed to come back at any time to collect their winnings, which many planned to take advantage of as they promptly stepped out of the line. However, dozens of players remained lingering in the hall.
Hours later, many players, most tired and impatient, had pulled out chairs in order to get off their feet. Others argued with security guards and any other Caesars employees willing to listen.
"Not one manager has been out here to give us details," said Matt Mitchell, who had busted in 1,275th place. "A suit said three minutes or three hours about an hour ago."
Mitchell was just one of many seeking answers.
"I can't get my money, the computers are done," interrupted Braxton Dunaway, who had busted in 1,463rd place. "It's just so unprofessional, it's crazy. They sure can take your money fast, but they can't give it to you."
Other players chimed in wondering why officials couldn't do the process manually.
"I mean the whole preregistration was half manual, half computer," said one player. "They got cardboard boxes with all the paperwork in it. Why can't they just do the same thing and then on their time they fix this, not on our time?"
Several people, Dunaway included, were particularly upset because they had looming flights.
"My flight leaves in six hours," said Dunaway. "They stated the obvious, that I can come back anytime. Thanks for letting me know that I can come back any time when I'm leaving in the morning. Granted, had I made it through, of course I would have made other arrangements but I have a flight already scheduled."
Several poker pros spoke out via Twitter on behalf of those waiting to get paid:
I feel conflicted about highlighting something bad about poker, but waiting 4 hours in line for a payout at 1am must be beyond infuritating

— Ben Yu (@professorben)
@professorben it's so embarrassing. The lack of preparation for this obvious situation is nothing short of a complete embarrassment

— David Baker (@audavidb)
These poor souls have been in line for 4 hours but the payout software is broken and WSOP won't do any payouts manually.

— Justin Bonomo (@JustinBonomo)
Update 2:15 a.m.: The payout systems appear to be back up and running as players are now being processed and receiving their money.
*Lead photo courtesy of Ben Yu twitter.
Want to stay atop all the latest from the 2015 WSOP? If so, make sure to get PokerNews updates on your social media outlets. Follow us on Twitter and find us on both Facebook and Google+!
Executive Editor US, PokerNews Podcast co-host & 2013 WSOP Bracelet Winner.