Max Silver Talks Aria $25K High Roller VIII Win and $125 Nightly Party Crasher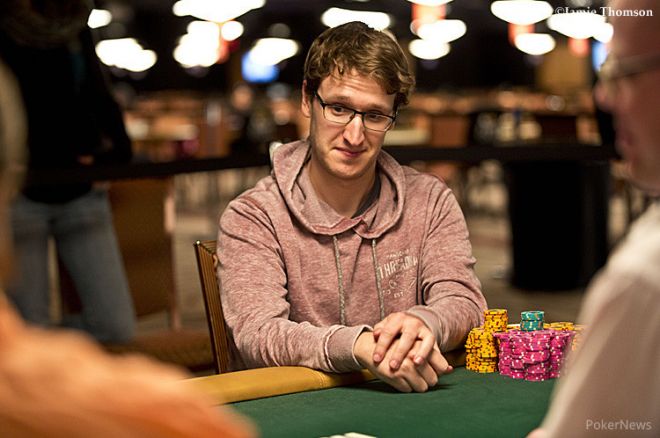 What would you do if you bought into a $125 buy-in nightly tournament and found yourself seated in a $25,000 high roller? Would you say anything? Maybe try to freeroll your way into a six-figure score? On Friday night, one player apparently tried to do the latter.
While amateurs packed the Rio All-Suite Hotel and Casino for The Colossus event, some of poker's bigger names headed over to Aria, which is where one of their regular one-day $25,000 High Roller tournaments was being held. All was par for the course, until a mystery interloper, whom the forums have dubbed "Curly," crashed the party.
"Seven hours into this $25k tourney and a player was just escorted out," Justin Bonomo tweeted. "He paid for the $125 tourney, got the wrong ticket, and kept quiet. The player had a lot of chips when he was disqualified. Chips removed from play after a few orbits of blinding down."
PokerTelegraph was live reporting the event, and briefly touched upon the situation explaining that the cage issued the mystery player an incorrect seating card. The player then took his seat and proceeded to play for many hours before the cage discovered the error, the result of a prize pool discrepancy.
"As soon as the error was discovered, the player and his chips were removed from play, and the player is now likely to be barred from MGM properties," PokerTelegraph reported.
Despite "Curly" busting three players – Tom Marchese, Jason Mercier, and Jake Schindler — during his high roller foray, the tournament, which had attracted 41 entries and created a prize pool of $1,023,360, proceeded as scheduled. It was a controversial ruling with many forum members suggesting the Aria should have either cancelled the tournament, issued refunds, or ate the difference.
In the end, the aforementioned Schindler, who had reentered, ended up making money by finishing in third place for $147,600, while UK's Max Silver and online star Dong Kim battled it out in heads-up play.
According to PokerTelegraph, the final hand came when Kim shoved his stack all in from the button and Silver snap-called.
Silver:

Kim:
Silver was ahead, and he maintained the lead after the board ran out a safe
. With that, Silver became the Aria $25,000 High Roller VIII champ.
Final Table Results
| Place | Player | Prize |
| --- | --- | --- |
| 1 | Max Silver | $432,960 |
| 2 | Dong Kim | $246,000 |
| 3 | Jake Schindler | $147,600 |
| 4 | Conner Drinan | $78,720 |
| 5 | Dan Shak | $49,200 |
| 6 | Did Not Report | $29,520 |
PokerNews actually caught up with Silver during the 2015 World Series of Poker to talk about the controversy, his big win, and more.
PokerNews: How did it feel to win the Aria High Roller?
Silver: Great. Definitely different than any other kind of win I've had before in terms of normally it's a multi-day experience. To have it all done in one day was kind of surreal. I guess it hasn't really sunk in yet. Obviously I'm absolutely delighted, really happy.
Was that the first $25K you played there?
That was my first one at the Aria. You can just show up and play as long as you have $25,000, or in this case $125 [laughs].
Lets talk about that. What exactly happened?
I was on his first table actually. He came a bit late and just sat down. Seemed to be just a recreational player, which I assumed played pretty loose. He won quite a few pots off me early on. Then we got moved, he was also at my second table. He busted Jake Schindler aces versus kings.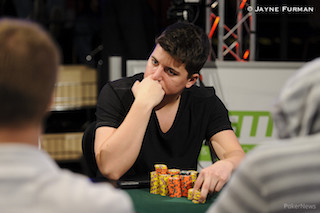 After that I got moved off his table. I then heard some commotion from the other table. I didn't see it firsthand, but other players told me basically security came and said they would like a word. Apparently he seemed to already know what was up. He seemed like he was ready to go. They then removed his chips from the table and he was gone.
In your opinion, or from what you heard from other players, do you think this player knew he was playing in the wrong event?
I don't necessarily know his intention in the first place, but he had to of known once he sat down. There was no way he couldn't have worked it out, but I guess when you're playing a $125 buy-in, which is pretty small, and you're suddenly given a chance to a huge freeroll, there's a pretty big upside to staying on, so I understand why he did it.
Rumor has it he was going to get barred from MGM properties. Do you feel that's a fair punishment?
Yeah, I think it's fair. What he did was definitely, at the very least, unethical. For sure I think a ban is in order. Whether or not anything is going to happen in terms of legal, I'm not sure.
What was the reaction of the other players after this went down?
I didn't hear anything about the tournament being tainted. I didn't hear anyone say it should be cancelled. I guess it was more the guys who kind of got messed over, like Schindler who busted and reentered. I think those are the players who have the most call for conversation.
At the very least the money should be put into the prize pool or given to those three busted players in some way because it's pretty unfortunate to be busted by a player who shouldn't be there in the first place.
There is another $25K scheduled for Saturday night, is that right?
There is. I managed to have probably the worst night's sleep in my life, which was strange considering I was really happy, but I just slept really badly. I decided if I wasn't playing on my A game, I wouldn't show up. There are awesome players in there, and if you're not going to play well, it's not worth it. I decided to take it easy, take a nap, and play The Colossus.
Any chance we'll see you play the $500,000 buy-in Super High Roller at the Aria later this summer?
Not right now ,but if you're rich and have some money, come find me and I'm sure we can work something out.
You've now got a big score right at the beginning of the summer. Granted, it's not a WSOP event, but still a great way to start, no?
Yeah, it's a pretty good feeling knowing that pretty much whatever you do you can't lose money this summer. That's a pretty great feeling.
On Saturday, Bonomo updated the poker community revealing that the three busted players would be receiving some sort of compensation:
Looks like Aria is going to comp the players that busted to Mr. $125. Not the full $25k, but some real value (3-5kish). Very solid IMO.

— Justin Bonomo (@JustinBonomo)
Meanwhile, PokerNews, who also have feet on the ground half a world away at APPT Macau, asked noted tournament director Danny McDonagh what he would have done in that situation:
Want to stay atop all the latest in the poker world? If so, make sure to get PokerNews updates on your social media outlets. Follow us on Twitter and find us on both Facebook and Google+!