Colossal Stacks No Cause for Celebration After Day 1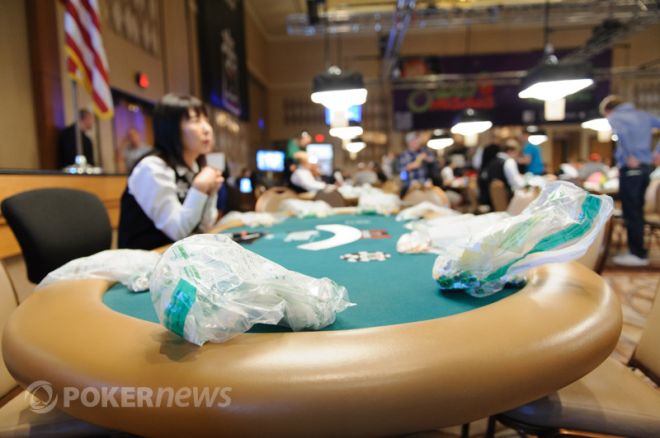 Bagging heaps early in a tournament can be a double-edged sword. On the one hand, you've got a leg up over the majority of the field and have put yourself in great position to hit a big score. On the other hand, you've often had some positive variance go in your favor, and if the fickle pendulum of randomness swings the other way, it can be a frustrating slide back to the pack that feels like an opportunity lost.
What about bagging a massive stack in one of the biggest live tournaments poker has ever seen?
The 2015 World Series of Poker Event #5: The Colossus $565 No-Limit Hold'em lived up to expectations and then some, drawing a field of 24,000 paid entrants according to the official WSOP twitter feed, though that number is pending voids for players who have bagged and will receive refunds.
With such a massive prize pool brewing, and the opportunity to win one of the most groundbreaking tournaments in poker history looming, one might expect players who crushed it in their starting flights to be brimming with excitement. Yet, that's hardly the case for Steven Geralis, who ran up a stack of 159,000 from his 5,000 starting stack in Day 1c.
"There's a long way to go, so I'm not trying to get too high right now," Geralis said. "It feels good to have the opportunity to possibly win some serious money."
Geralis, a California native who considers himself a semi-pro player, has racked up just under $100,000 in tournament cashes, with the largest of those being a $42,000 score in a $375 DeepStack event at Thunder Valley Casino Resort in Lincoln, Calif. For a player grinding it out on the low-stakes tournament circuit, a win in the Colossus would be a life changing event indeed.
For Simon Deadman, on the other hand, success in big tournaments is part of his everyday work as a professional. He has banked nearly $1.9 million in live cashes, the biggest of which came nearly one year ago when he topped a field of 692 in the Hollywood Poker Open Season 2 Main Event at The M Resort Casino Spa here in Las Vegas for $351,097.
The British pro managed to bag a stack of 125,000 at the end of Day 1c of the Colossus, ranking him near the top of the counts as well. Like Geralis, he's taking the long view.
"You're going to have to run super good for four days in this to do anything," he said. "I'm not going to make a big deal out of it yet."
Almost anyone who runs up a stack that massive has his or her fair share of good fortune, but sometimes getting a friendly table draw is an underrated part of luck. In such a titanic field, getting dealt a table with more than one recognizable face would be bad fortune indeed. That wasn't an issue for Deadman.
"I had a couple of good tables where I could open a lot without much resistance," Deadman said.
Geralis echoed that sentiment, saying he had exactly one person throughout multiple tables whom he recognized as a tough opponent, that being pro Roberto Romanello. That didn't last long, however, as Geralis said Romanello was eliminated in less than half an hour.
In addition to what he called a series of soft tables, Geralis said an opponent overplaying a second-best hand helped propel him forward.
"The flop came
, and the turn was a
," he said. "He had
and I had
, and we ended up getting all in on the turn for about 40,000. That put me up over 100,000."
Still, both the seasoned pro and aspiring grinder know they have plenty of work left ahead.
"It's a good start, but that's all it is," Deadman said. Official chips counts for The Colossus won't be available until late Sunday, while payouts are expected to be released at 5 p.m. local time.
Get all the latest PokerNews updates on your social media outlets. Follow us on Twitter and find us on both Facebook and Google+!