How a Life-Changing WSOP Score Didn't Change Billy Pappas' Life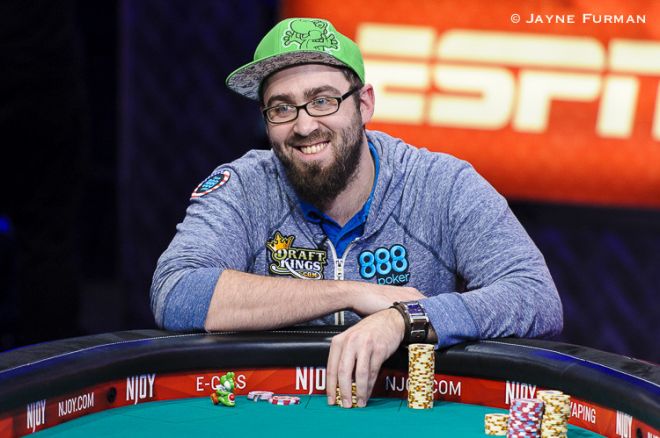 $20,141.
That was the total amount William Pappaconstantinou had cashed for leading up to last year's World Series of Poker Main Event. During that Main Event, he became Billy Pappas, and ultimately he took home $2.1 million for his fifth-place finish.
Flash forward a few months and we spotted Pappas wandering through the Amazon Room, the place that changed his life for good. We can only imagine the thoughts running through the foosball world champion's mind, back in the place that flipped his life upside down, and we cornered him to catch up.
"It's a trip man," Pappas said about being back inside the Rio with his big trademark smile across his face. "Just seeing all these people playing in the Amazon Room made the memories come back right away. Your heart definitely starts beating faster when you walk into this room, and I hope it's the same for other people as well, but then again I'm kind of a kid."
He went on, "There are so many people in the Colossus, and it makes me excited about playing the whole series. I have never done this before, playing for two tournaments for two months, but I'll be playing about 15 events this year."
Last year Pappas had a day job as a poker dealer, and he only played the Main Event, admitting that before it a $500 tournament would make him nervous. The nerves no longer seem to be there, but his excitement for the game that made him one of the fan favorites last November is.
Pappas' story resonated with a lot of amateur players last year, and he showed that dreams do become reality sometimes. After dreams turned into real life for the man from Massachusetts, Pappas did not go back to dreaming.
Many players who hit a big score will overextend themselves and play bigger buy-ins, buy fancy watch, or purchase a big house. But Pappas still wears the same green Yoshi hat he wore during his epic run, and the rest of his attire didn't seem to get too much of an elaborate upgrade.
"I will take out some money for poker this year," Pappas said. "I'm not sure how much yet, and I for sure won't go crazy or anything like that. I won't play a $25,000 event, but you will see me in some $1,500 events. I will invest my money smartly."
Even though Pappas plans on being smart with his money, the feeling of having the money is all too real for him.
"It's really weird having money, because I can now pass almost any store and be like, 'Yes, I can buy that, I can buy that, and I can also buy that,'" Billy Pappas giddily said. "I can almost buy whatever now, it's cool, but I'm not going to blow it all away expect from gambling a lot."
And if you're wondering what goals Pappas has set for himself coming into this summer?
"I'm going to focus on bagging chips every night, that's all."
After Pappas finished in fifth place in last year's Main Event, we didn't hear from or see him much, and he explained how he's mostly been relaxing leading up to this year's Series.
"Things weren't as hectic as I'd thought they would be," he commented. "It was quite calm and I actually played a little bit of foosball and a little bit of poker. I've been relaxing basically, and the taxes were the only hard part. That was dirty."
After being on ESPN for hours every week, and basically the entire day on Nov. 10, a lot has changed in poker as well for Pappas.
"Poker has been tougher for me after being on TV, and I really notice that people play back at me a lot more," Pappas said. "I'm getting recognized a bit as well, and today for instance was pretty hectic. I had four random people in a row ask me if I still play foosball. I've been getting a lot of foosball questions, and that's a funny thing."
Pappas is a former No. 1 in the world of the game, and, finally, we wanted to know whether or not he now sees himself as a poker pro.
"Poker pro?" Papps asked outlaid, thinking about his response. "I'm gonna see how the summer goes, but I won't be making a decision based on the tournaments. I will play cash games and see how I fare in those. I don't live in Las Vegas, but if I do after the summer that would be a good sign."
Want to stay atop all the latest in the poker world? If so, make sure to get PokerNews updates on your social media outlets. Follow us on Twitter and find us on both Facebook and Google+!