Inside Gaming: Somerville, Negreanu Talk Online Poker in California; Amaya on NASDAQ; Strip Rebounds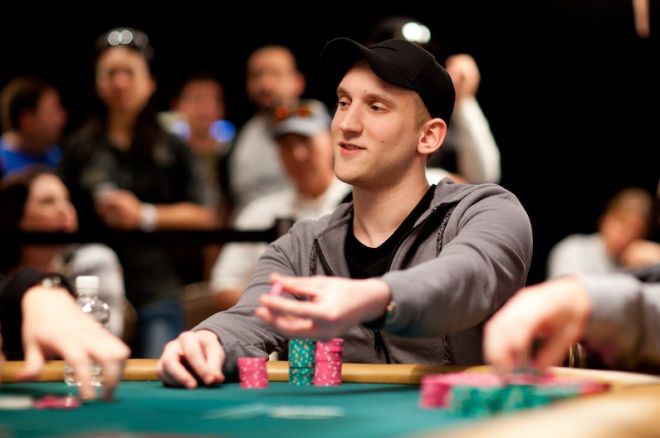 This week's installment of Inside Gaming shares news from the California online poker front, including the efforts of a couple of poker pros to help with those discussions. Also covered is a new stock exchange listing for Amaya, the Las Vegas Strip rebounding revenue-wise, and betting on the NBA Finals.
Negreanu, Somerville Meet with California Legislators to Discuss Online Poker
The 2015 World Series of Poker is already in full swing, and so, too, has the PokerNews Podcast returned with live episodes from the Rio All-Suite Hotel and Casino hosted by Remko Rinkema, Donnie Peters, and — when he's not too busy running it up in events (pun intended) — Jason Somerville.
Last week here at PokerNews we were reporting about plans for Somerville and his fellow Team PokerStars Pro Daniel Negreanu to meet with California lawmakers to discuss the prospects for online poker coming to the Golden State.
Those meetings indeed took place, and Somerville shared some impressions from them on Wednesday's episode of the PokerNews Podcast. Somerville explained how besides staging an online poker demo and playing a play money tournament, he and Negreanu additionally were able to have several one-on-one talks with lawmakers in Sacramento.
"Regulated online poker in America means a lot to me," explained Somerville, alluding to his decision a couple of years ago to move to Nevada to work with Ultimate Poker and further the cause. That said, he admitted to being initially somewhat pessimistic about the impact he might be able to have upon current conversations with those making decisions about legalizing online poker in California.
"But I was surprised to find out that I actually felt like I did [have an impact]. I got to talk to state senators, about eight Assemblymen, lobbyists, lawyers, [and] the chairwoman of one of the tribes" among others having "a role in influencing the discussion."
One big takeaway for Somerville was how much many of those making decisions about online poker's potential legality needed to be educated about what online poker is, how regulated online poker can work, and even the current status of online poker in the U.S.
In fact, in one meeting, a poker-playing state senator asked Somerville whether or not online poker was legal in California. "He didn't even know!" said Somerville. Nor did the legislator understand how legal online poker in Nevada wasn't available to players in California.
Another takeaway for Somerville was how it wouldn't even take that much raising of the issue by those interested in bringing online poker to California to get legislators' attention about the issue.
Meanwhile yesterday a bill to legalize online poker, AB 431, was approved by the Assembly Appropriations Committee by a unanimous vote, which means it will now move to the full Assembly for its consideration. Stay tuned here at PokerNews for more on that development.
Tune into to Wednesday's episode of the podcast, and starting at around the 12-minute mark listen what else Somerville had to say about going to California.
Amaya receives approval to list on NASDAQ
On Wednesday Amaya Inc., the world's largest publicly traded online gaming company and owners of PokerStars and Full Tilt, announced that it had received approval to begin trading its shares on the NASDAQ exchange starting June 8.
As Reuters reports, Amaya's stock will trade under the "AYA" symbol, the same used for Amaya on the Toronto Stock Exchange. Reuters additionally notes how Amaya is among those "now in the running to buy London-listed online gambling company Bwin.Party Digital Entertainment Plc."
As noted here last week, 888 Holdings has likewise made known its interest in potentially acquiring Bwin.Party, as has GVC Holdings.
It was during a March earnings call Amaya CEO David Baazov noted the company had applied for a listing on the NASDAQ Global Select Market. "As a global consumer internet company," said Baazov then, "we have determined the most appropriate location is on the NASDAQ in New York City."
According to the Toronto-based The Globe and Mail, over on the Toronto exchange "Amaya's share price nearly doubled in heavy trading ahead of the announcement and doubled again to more than $30 (Canadian) per share after the news broke."
Baazov referred to the NASDAQ listing as "an important milestone for Amaya and a testament to the tremendous progress we have made over our five years as a public company," adding that "the listing will provide greater visibility and better liquidity for our stock and help broaden our shareholder base."
For more on the new listing and surrounding stories regarding Amaya, visit The Globe and Mail.
Revenue Rebounds on the Strip in April
In news from this morning, the Nevada Gaming Control Board reported figures today showing that gaming revenue on the Las Vegas Strip was up nearly 7.8% in April following two months' worth of decline in February and March.
Sharing from the NGCB report, the Las-Vegas Review Journal notes that statewide Nevada earned $897.9 million in gaming revenue in April, up 5.39% year-over-year. South Lake Tahoe also enjoyed a big month with a 60% increase in revenue, thanks largely to the new Hard Rock Lake Tahoe casino (formerly the Horizon).
Expectations for May are sanguine as well thanks to the month kicking off with the big Floyd Mayweather-Manny Pacquiao fight which we've already reported here helped the Strip as a whole and its host the MGM in particular.
Check out the LVRJ as they update this devoping story.
Sportsbooks Expect Warriors Win, House's Hopes Less Optimistic
Finally, while the poker world is transfixed on the start of the WSOP, sportsbooks in Vegas are readying for next week's start of the NBA Finals between Western Conference champions Golden State Warriors and Eastern Conference winners Cleveland Cavaliers.
For those who have been following the playoffs, it should come as no surprise to learn that Golden State is the heavy favorite, as ESPN reports the Westgate Las Vegas SuperBook currently list them at 5-to-12 to win it all, with Cleveland getting 2-to-1 odds.
Interestingly, Cleveland didn't receive too much action in terms of futures bets early in the season, even after they secured four-time MVP LeBron James from the Miami Heat. And while Golden State got a fair share of interest throughout the season as they ultimately finished with the best record in the league, so, too, did the San Antonio Spurs and Los Angeles Clippers (both eliminated earlier in the playoffs) and even the Los Angeles Lakers (who finished the year with the fourth-worst record in the NBA).
Wynn Sportsbook Director John Avello says he expects to lose regardless of how the NBA plays out, an usual development given that most years the house is "going to win from one of the teams that are playing." This year, though, the betting has broken differently, including "bigger bets when the Cavaliers and the Warriors were closer to being the favorites."
Read more about Vegas's hoops hopes at ESPN.
Get all the latest PokerNews updates on your social media outlets. Follow us on Twitter and find us on both Facebook and Google+!