Inside Gaming: Skill-Based Slots to Nevada; Mayweather-Pacquiao Numbers; More Stress for Caesars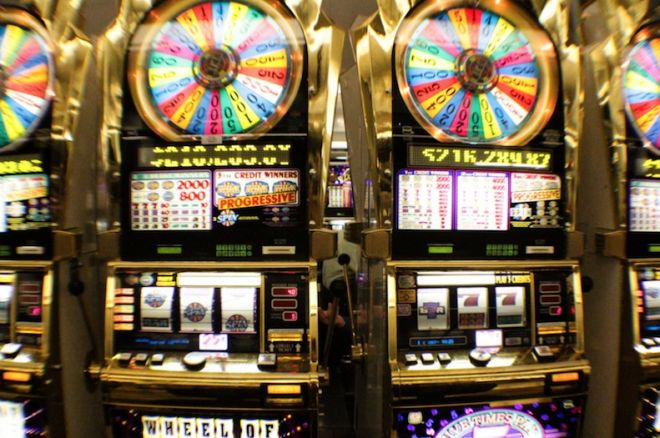 This week's installment of Inside Gaming considers skill-based slots coming to Nevada, a different tally from the Mayweather-Pacquiao fight than the judges' cards, and federal investigators citing trouble at Caesars Palace.
Nevada legislature paves way for skill-based slots
Some poker players — especially those who take the game seriously — like to point out how of all the gambling games available to play in a casino, poker is distinct from the rest because of its significant skill component. Indeed, many other games are entirely luck-based, with slot machines often being cited as an example of a game in which the player's "skill" is of little meaning.
Slots may no longer be the first example of entirely luck-based gambling employed in such arguments, however, thanks to a new bill proposed by the Association of Gaming Equipment Manufacturers (AGEM) passed by both state houses in Nevada this week.
Once signed into law by Governor Brian Sandoval (who has already expressed support of the bill), Senate Bill 9 will charge the Nevada Gaming Control Board to come up with regulations to allow for technology to be developed to create new types of slot machines incorporating skill elements.
In a release applauding the bill having been passed by both the Nevada senate (by a 20-0 vote) and the state Assembly (by 41-0), the AGEM reiterated its belief that "this innovative new direction... will inject new life into the slot machine segment of the gaming industry and attract younger players that are accustomed to the arcade experience and different forms of non-gambling games in their daily lives."
Many have described the idea as a kind of slots-video game hybrid that can incorporate arcade-style games with the traditional lever-pull or button-push of slots. Performing well at the game's video game element would increase a player's chances of winning, as the AGEM explains.
"Variable-payback percentages would, for example, give all players a base game with an 88 percent payback, but if you're particularly skilled at shooting down enemy planes in the bonus round or outracing your friends in a road rally, you could boost your payback to 98 percent, with the blended overall payback selected by operators falling somewhere in the middle. For the first time, players will know they can have a material financial impact on the outcome of the game."
Nevada Gaming Control Board Chairman A.G. Burnett voiced support of such innovation earlier this year during an appearance on Nevada public radio station KNPR in February. "Old-style gaming is going to have to make way for some new ideas," said Burnett, describing the new games as "hopefully" being "attractive to the younger demographic, which is now visiting in record numbers."
For more on the idea to build such slots-slash-shoot-'em-up games, press here to read the AGEM's release.
Mayweather-Pacquiao fight a knockout for MGM Grand
Dubbed "The Fight of the Century" and the "Battle for Greatness," the Floyd Mayweather-Manny Pacquiao welterweight title bout earlier this month may not have provided the anticipated thrills for the millions watching, but it did provide handsomely for its host, MGM Grand of Las Vegas.
As Casino Journal reports, a study by the independent execution broker and research provider ITG describes the generally positive effect the May 2nd fight won by Mayweather had on Las Vegas properties up and down the Strip, with overall game usage up 18% when compared to the first weekend of May from a year ago. Meanwhile MGM's strip properties experienced a 28% increase.
Further speculation by the researchers suggests the gain was even greater for MGM in part because of "MGM's allocation of 40% of the tickets to the fight, which allowed the company to invite and host its most valuable gaming customers." According to the study, more than 500 private planes arrived at McCarran airport in advance of the fight, compared to about 350 coming in before Super Bowl XLIX.
Punch on over to Casino Journal for further ringside analysis.
Caesars Palace facing money laundering allegations, possible fine
With Caesars Entertainment Corp.'s largest operating division having filed Chapter 11 bankruptcy back in January in an effort to restructure its industry-leading $18 billion-plus debt, more sour news emerged earlier this week regarding talks between Caesars and federal authorities over money laundering allegations at Caesars Palace which could result in the payment of as much as a $20 million fine.
The Las Vegas Review-Journal reports that Caesars disclosed those talks on Monday to the Financial Crimes Enfrorcement Network (FinCen), a bureau of the U.S. Department of the Treasury. According to the LVRJ, FinCen "said Caesars Palace was 'evaluating the government's proposals,' and a meeting was scheduled for next month 'to further discuss the resolution of these matters.'"
Investigations into possible money laundering by Caesars Palace surfaced last October when it became known that FinCen had alleged violations of the Bank Secrecy Act.
While certainly a concern, the fine — which could range from $12 million up to $20 million — is not expected to have much effect on Caesars's efforts to restructure and reduce its massive debt. Meanwhile speaking to the issue, NGCB Chairman Burnett said the Board was monitoring the situation carefully "and may become a part of it at some point."
For more on the investigators' inquiry, visit LVRJ.
Photo: Steven Depolo, Creative Commons Attribution ShareAlike 2.0 Generic.
Want to stay atop all the latest in the poker world? If so, make sure to get PokerNews updates on your social media outlets. Follow us on Twitter and find us on both Facebook and Google+!