Inside Gaming: Caesars Stock Slides After Extension Request; Sands Macao May Remove Tables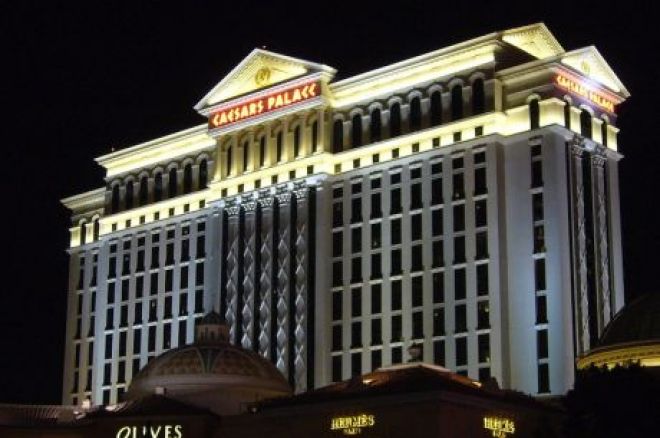 This week's installment of Inside Gaming includes stories concerning a couple of gaming businesses' efforts to thrive (and survive) by various means of reorganization. First up is Caesars Entertainment Corp. who has sought an extension before beginning the bankruptcy case involving its largest division, the news of which caused a precipitous drop in stock value earlier this week. Then we look at how Sands China Ltd., a subsidiary of Las Vegas Sands, is considering redeveloping one of its Macau casinos into a non-gaming property.
Caesars Stock Slips Following Extension Request
On Monday Caesars Entertainment Corp. saw shares of its NASDAQ-listed stock (CZR) decline sharply over the course of a heavy day of trading, opening at $11.67 per share and closing at $9.82 per share for a one-day decline of just over 17%.
The price has held relatively steady over the course of the week, opening today at $9.70 per share. The volume of trading has settled as well following that busy Monday when 3.32 million shares changed hands, well over its daily average of just under 800,000. The stock has endured a steady slide since March 2014 when it briefly traded for more than $26 per share.
All of that activity came in response to last week's news that Caesars Entertainment Operating Co. had requested more time to file its reorganization proposal in a U.S. Bankruptcy Court in Chicago. As reported in The Wall Street Journal, without an approval for the extension "Caesars' exclusive period to file a plan would run out on May 15, and the time to solicit votes on such a proposal would run out on July 14." The request asks to extend the deadline for soliciting votes on proposals to January 15, 2016.
It was back in mid-January that Caesars filed Chapter 11 bankruptcy on Caesars Entertainment Operating Co., its largest operating division. Last year Caesars restructured by separating into three divisions, with Caesars Entertainment Operating Co. being the largest and most debt-ridden, including 44 gaming and resort properties with Caesars Palace in Las Vegas and both Caesars Atlantic City and Bally's Atlantic City among them.
The other two divisions are Caesars Entertainment Resorts Properties and Caesars Growth Properties. Meanwhile the World Series of Poker and WSOP.com are part of the separate Caesars Interactive Entertainment. Nor is the Rio All-Suite Hotel and Casino, site of the WSOP, part of the CEOC division on which bankruptcy was filed.
Typically companies filing for bankruptcy have 120 days to start their case, but extension requests are common in such cases, explains the WSJ, "especially ones as complicated as that of Caesars, which is trying to restructure more than $18 billion in debt." Indeed in making their request Caesars noted the complexity of the case and how "the examiner's probe could take at least six months."
Complicating matters further for Caesars are a number of lawsuits filed by creditors objecting to the reorganization. The bankruptcy judge in Chicago has ordered an independent examiner "to look at any transactions or 'apparent self-dealing or conflicts of interest' for which creditors might bring claims against Caesars, including current and former officers of Caesars."
Industry observers are eyeing the CZR stock warily, noting the unpredictability of the coming months as the many lawsuits and the bankruptcy filing slowly begin to be sorted out. The Motley Fool notes that "Caesars Entertainment is a company that doesn't have any profit to fall back on and if its operating and real estate spinoffs are undone, the entire company could be pulled into bankruptcy," describing the stock as one to "stay far away from" because of "how much uncertainty Caesars has ahead." Advisors at The Street are also rating CZR as a "SELL," citing "a number of negative factors, which we believe should have a greater impact than any strengths, and could make it more difficult for investors to achieve positive results compared to most of the stocks we cover."
Read more about the extension request and Caesars' future at the Wall Street Journal.
Sands Macao To Become Mall/Hotel Complex, Says Report
We've been reporting on the ongoing slide in gaming revenue in Macau since last summer, with March marking the 10th straight month of declines after a 39.4% drop year-over-year. The trend has industry observers around the world paying close attention given the fact that many gaming-related companies have properties located in the Special Administrative Region. The six major operators of the 35 casinos in Macau are Galaxy Entertainment Group, Sands China Ltd., Melco Crown Entertainment, Wynn Macau, MGM China Holdings, and the largest, Sociedade de Jogos de Macau (SJM), with only SJM having its roots in Macau.
Las Vegas Sands is the parent company of Sands China Ltd., one of the operators especially hurt by the Macau decline which has been influenced in part by measures adopted by China's president Xi Jinping as part of a broader anti-corruption campaign that has affected various industries, including that of casino junket operators bringing high rollers over to Macau from the mainland. That said, only 17% of Las Vegas Sands' revenue in Macau has come from such VIP customers with the rest coming from mass-market gaming and non-gaming sources, as reported by Forbes earlier this month.
In fact, Las Vegas Sands is involved in many non-gaming ventures throughout Macau, including retail, dining, entertainment, and ferry services. Notes Forbes, "Las Vegas Sands currently gets 80% of all the non-gaming income out of 35 Casinos in Macau," and thus when looking ahead is thereby positioned relatively favorably amid the anti-gaming pressure being exerted on the region.
This week came news reflecting Las Vegas Sands' plans to develop its non-gaming operations in Macau even further via a report that Sands China Ltd. is considering transforming the Sands Macao casino into a mall and hotel complex, a change that would involve moving gaming tables currently located at the Sands to The Parisian, a new property currently under construction on the Cotai Strip and expected to open sometime later this year.
GGRAsia reported this week that a note from the Las Vegas and Macau-based equity research firm Union Gaming Research LLC includes reference to redeveloping Sands Macao "into a mall/hotel complex on the peninsula while reallocating table capacity to The Parisian." Such a reallocation of tables will need government approval to go forward, not necessarily a guarantee given current regulations.
Rumors regarding changes to Sands Macao date back nearly two years, prior to the current slide in gaming revenue in Macau. Sands Macao opened in 2004, the first built by Las Vegas Sands on Macau.
The note from Union Gaming Research LLC further speculates that both the Galaxy Entertainment Group and Melco Crown Entertainment might follow the lead of Sands China Ltd. and try to reallocate tables as they build their own new properties on Cotai, also due to open later this year. Even if a product of necessity, the building up of non-gaming sources of revenue by Macau-based companies such as represented by the apparent plans for Sands Macao "would certainly be viewed positively in light of continued government pressure to diversity the economy" explains Union Gaming Research LLC.
Learn more about plans for the Sands and other issues related to companies' efforts to survive in Macau at GGRAsia.
Photo: "Caesars Palace at night," Arnold C, Wikimedia Commons.
Want to stay atop all the latest in the poker world? If so, make sure to get PokerNews updates on your social media outlets. Follow us on Twitter and find us on both Facebook and Google+!