Inside Gaming: Native American Gaming Grows, the Strip Slips, and Sportsbooks Ready for NCAA Final Four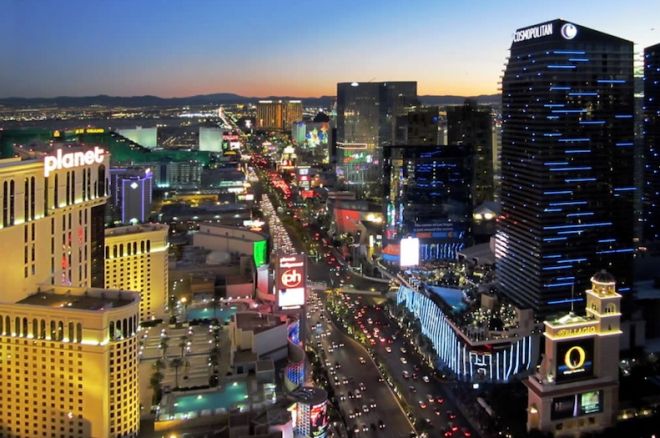 This week Inside Gaming talks gaming revenue numbers from a variety of contexts, including from Native American gaming facilities, the latest figures from Nevada, and another negative monthly report from Macau. We also look ahead to this weekend's NCAA Final Four to consider what the Nevada sportsbooks are hoping to see play out.
Fourth Straight Year of Growth for Native American Gaming in U.S.
Earlier this week Casino City Press issued its annual Indian Gaming Report, in which information regarding the 479 gaming facilities operated by Native American tribes in 28 states was painstakingly collected and presented by economist Dr. Alan Meister. After more than a year of data-crunching, the report presents figures for 2013, and shows Native American gaming revenue to have increased for a fourth consecutive year, growing 0.5% to an all-time high of around $28.3 billion.
The summary of significant findings provided by Casino City notes that the growth "was at a slower pace than in 2011 (3%) and 2012 (2%) due primarily to the sluggish economy." Both market maturations and increased competition are likewise cited as causes for the slowdown in growth.
Howard Stutz elaborated further on the report's findings for the Las Vegas Review-Journal, noting how it shows that California and Oklahoma alone accounted for more than a third (38%) of the revenue earned by Native American gaming facilities in the U.S. Texas, Nebraska, Montana, and North Carolina also reported "double-digit increases" during 2013.
As is the case throughout the industry, nongaming attractions are additionally becoming an increased focus for tribal owned gaming facilities. "That's a major theme throughout Indian gaming," Meister told LVRJ. "The casinos need to reach out to access new customer segments in order to compete. In every state, the vast majority of the expansion projects are in nongaming."
Visit LVRJ for more reporting on the report.
Revenue Decreases in Nevada, on Strip for February
Sticking with the subject of revenue reports, on Tuesday the Nevada Gaming Control Board released its gaming revenue report for February, with the always helpful UNLV Center for Gaming Research soon afterwards sorting through and summarizing the figures. Interestingly, while many areas around the state reported year-over-year growth for the month, the Strip was down with its total win falling by 10.95%.
According to the Center's analysis, the decrease on the Strip "was really about less play," with baccarat in particular representing "a more extreme example of this pattern." "In order for the Strip to return to growth," the analysis continues, "either baccarat play will have to return to its previous levels or an alternate area of growth must be found."
By contrast, downtown Las Vegas enjoyed a small increase in revenue (less than 1%), the Boulder Strip was up 10.59% in total win, and Washoe County also was up 3.38% in total win.
The Center's summary of the last six months notes that in Nevada gaming revenues are down 2.17%, with the Strip also performing less well comparatively, being down 5.26% for that period. Again, though, the Strip "has more extreme variations in its monthly results, thanks to the volatility of baccarat," explains the report. "This speaks to the growing importance of table games in general and international high rollers specifically for Nevada gaming."
Check out the Feb. report, the 6-month report, and more from the UNLV Center for Gaming Research.
Macau Down Again in March
Speaking of international high rollers and their effect on gaming revenue, the news from Macau for March isn't much better than it was for February, with the Gaming Inspection and Coordination Bureau reporting a 10th-straight month of decline. After falling a record 48.6% in February, the numbers for March showed a 39.4% decline year-over-year for the Special Administrative Region's 35 casinos which earned 21.5 billion patacas (about $2.69 billion USD), down from the almost 35.5 billion (about $4.45 billion USD) of March 2014.
The totals weren't unexpected, and according to Forbes were in fact received favorably by investors as reflected by small stock gains for Sands China, MGM China Holdings, and Wynn Macau. As noted here before, a major cause for Macau's gaming slide has been the anti-corruption campaign of China's president Xi Jinping and its slowing effect on casino junket operators' ability to bring high rollers to Macau from the mainland.
Find more at Forbes about how the Macau slide has affected major casino operators there.
NCAA Final Four: What the Sportsbooks Want
The NCAA Division I Men's Basketball Tournament — a.k.a. "March Madness" — comes to an end over the holiday weekend as the 68 teams who made the tournament have played down to a Final Four. The Michigan State Spartans and Duke Blue Devils meet in the first semifinal late Saturday afternoon at Lucas Oil Stadium in Indianapolis, the Kentucky Wildcats and Wisconsin Badgers will clash in the nightcap, and the winners of those games will play for the championship on Monday night.
Kentucky enters the weekend with an unblemished 38-0 record after narrowly escaping defeat in the Midwest Regional final versus Notre Dame where they beat the Irish 68-66 as a 10.5-point favorite. The Wildcats hope to become the first team since Indiana in 1976 to run the table and go undefeated on their way to a championship — a result some Las Vegas sportsbooks are hoping does not occur.
For example, months before the 2014-15 season began, the William Hill sportsbook in Nevada offered 50-to-1 odds that Kentucky would go undefeated, with many placing bets on the then-longshot. According to CDC Gaming, the sportsbook is facing a "a high six-figure loss" should Kentucky win its last two games.
But while the sportsbook faces a significant loss should that prop come through for bettors, they'll still be fine as players hedge their bets and others bet on Wisconsin this Saturday as a five-point underdog against the Wildcats.
Meanwhile David Purdum of ESPN reports that a Kentucky championship wouldn't hurt everyone. "The Westgate SuperBook, the Stratosphere and sportsbook operator CG Technology all said they would post a profit if the Wildcats won the tournament," writes Purdum. He reports that CG Technology did take a couple of big bets on Duke to win it all, making a Blue Devils championship undesirable for them.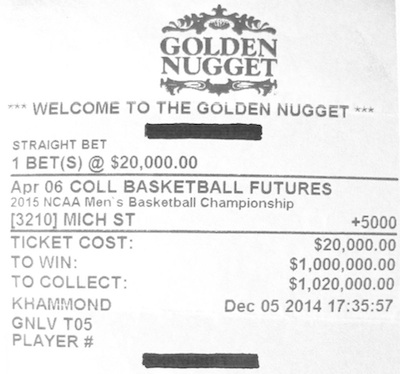 Finally, Derek Stevens, CEO of the D Las Vegas and Golden Gate, bet a hefty $20,000 back in early December that Michigan State would win it all, getting 50-to-1 odds. The lone team not seeded #1 left in the tourney, the #7 seeded Spartans are a five-point underdog versus Duke on Saturday and would likely be a bigger dog on Monday should they win, but if the unlikely comes through Stevens will earn a $1 million payday from the Golden Nugget.
"Several casinos weren't willing to take a bet of this magnitude until in the spirit of friendly downtown competition my friend and Golden Nugget owner Tilman Fertitta had the guts to take the wager," Stevens told the Las Vegas Sun this week. The Nugget's race and sports book director Tony Miller described the bet as "courageous," noting how it would "elevate the excitement and anticipation in downtown this weekend."
Should Michigan State win Saturday and reach the final, Stevens has already said he'll hedge with a signficant wager on the Spartans' opponent. He's also indicated an intention to reward all of his employees with bonuses and donate significantly to area charities as well should he win the bet, which should inspire others to root for the Spartans.
Bounce over to ESPN to learn more about how Vegas will be following the Final Four.
Photo: "Las Vegas Boulevard South," David Stanley. Creative Commons Attribution 2.0 Generic.
Get all the latest PokerNews updates on your social media outlets. Follow us on Twitter and find us on both Facebook and Google+!