Hellmuth Putting the "Phil" in Philadelphia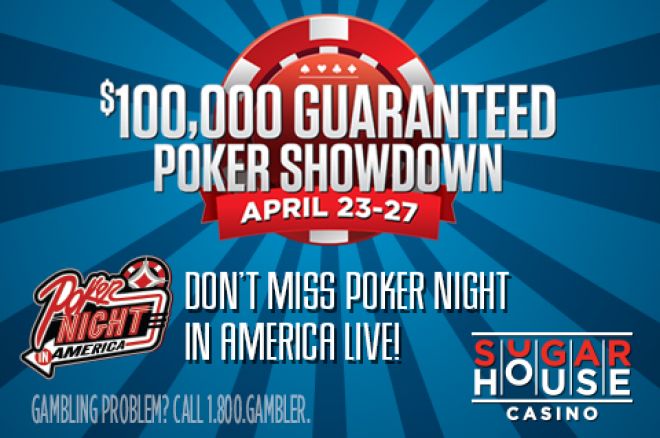 Phil Hellmuth, Jr., poker's all-time World Series of Poker gold bracelet leader, will be one of the highlights at SugarHouse when he arrives at the Philadelphia casino in late April.
Hellmuth, affectionately known as the "Poker Brat," will be appearing on Poker Night in America, the weekly hit television show, and be on hand for SugarHouse's first-ever major poker tournament, the $100,000 Guaranteed Poker Showdown.
"We're extremely excited to have our first multi-day tournament at SugarHouse," said Rose Cook, vice president of gaming at SugarHouse Casino. "And to have Phil Hellmuth here takes it to another level. We look forward to him putting the 'Phil' in Philadelphia."
The Poker Showdown runs from April 23-27 with a $280 buy-in and features six Day 1s to accommodate what is expected to be a large turnout. Hellmuth could potentially play in the tournament, before moving over to Poker Night in America cash games, which will be recorded for TV and live streamed April 26-28.
"I'm looking forward to spending time at SugarHouse in Philadelphia," said Hellmuth, who will be making his third appearance on Poker Night in America. "It will be great to play alongside the local players, as well as mixing it up in the cash games."
In addition to Hellmuth's appearance, the TV show will include Ladies Night II, the wildly popular, ladies-only televised cash game. The list of confirmed women in the invite-only cash session includes
Philadelphia natives Jennifer Shahade and Beth Shak, along with New Jersey poker pro Jamie Kerstetter.
As Philadelphia's first and only casino gears up for the SugarHouse Casino $100,000 Guaranteed Poker Showdown, here's more of our conversation with Rose Cook.
What does it mean for SugarHouse to host the $100,000 Guaranteed Poker Showdown?
Cook: It's a first for us and we're very excited. This is not only our first multi-day tournament, but the first one in Philadelphia. We want to introduce the poker room to those who haven't visited yet and keep those who have been here coming back. Hosting Poker Night in America and Phil Hellmuth is a great way to do it. Our inaugural event will be one to remember.
What can Philadelphia poker players expect to see with Phil Hellmuth in town?
It's great that Phil could potentially play in the $100,000 Guaranteed Poker Showdown. He'll be side-by-side with our local players and it will be a thrill for them. If he plays, the tournament will be meaningful for him, as we saw in Pittsburgh when he won the event at our sister property, Rivers Casino. But when he's in the televised cash game, Phil will be more relaxed. I've been with him in a previous televised event and he's very gregarious. I even assisted him with a baby costume he had to put on when he lost a friendly bet against fellow poker pros. He has a great sense of humor.
What will Poker Night in America bring to SugarHouse casino?
Poker Night in America is bringing a full television crew, and we're excited to show them not only our poker room and casino, but the city of Philadelphia. The show will be taping in our poker room, so our live cash games and tournament tables will be next to the set. We don't know the full list of pros that will be part of Poker Night yet, so stay tuned for who will show up for the cash game. The pros will be taking breaks and get to mix and mingle with our everyday players.
As for the city, we're in the process of getting some representatives of recognizable cheesesteak establishments to be part of the show. We expect the TV crew to follow the pros to Geno's, Pat's, and Tony Luke's, and those guys will have a chance to play against the pros in the cash games.
How will the $100,000 Guaranteed Poker Showdown be setup?
We're going to have six Day 1s, two each on April 23, 24, and 25. We expect April 25 to be the busiest day. We'll have limited seating, so we encourage players to sign-up for the 11 a.m. or 7 p.m. flights on the other two days.
SugarHouse poker has only been available for less than one year, how has it been going?
The $100,000 Guaranteed Poker Showdown will give us an opportunity and gain more exposure to grow the room. We're able to spread any game that players want and our philosophy is to win people over, one player at a time, one table at a time. We have guaranteed daily tournaments and recently added a bad beat jackpot with quad sixes as our qualifying hand.
What's the future of SugarHouse poker?
We're really excited about our permanent poker room, which will be part of the casino expansion, scheduled to open by yearend. We'll continue to have a street-level entrance with surface parking, which players love. We'll have 28 tables, just steps from the casino floor, but with the privacy you expect in a poker room. The room is being designed with the players' feedback, which we know is important, because the room is all about the players. All of the current amenities in the temporary room — plush chairs, individual phone charging stations, and text-to-order food — will all be in the new room. We'll build on that with expanded dining options and fulfilling as many other player requests as we can.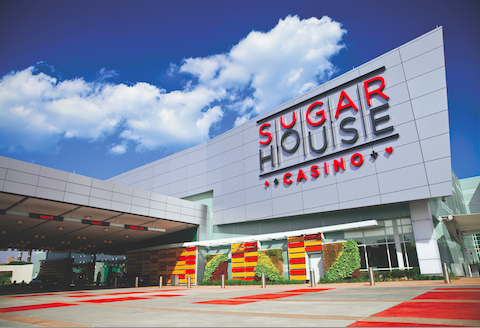 SugarHouse Casino Event Details
$100,000 Guaranteed Poker Showdown, April 23-27, 2015:
$280 buy-in: 25,000-chip starting stacks, 30-minute levels
For more information, please visit the SugarHouse website.
Poker Night in America, April 26-28, 2015
Episode features: The second installment of Ladies Night follows the highly successful debut of the first-ever, ladies-only, televised high-stakes cash game, which took place in December 2014. Hellmuth's appearance during the three-day taping will be his third appearance on Poker Night in America. The complete lineup of players will be announced soon.
In addition to recognizable pros, new names will be invited to appear on the show. At least two players are expected to appear via show sponsor 888poker. Other players will be picked from Poker Night in America's open casting call, which gives relatively unknown players a chance to appear on national television for the first time and play against some of the game's most accomplished legends.
Episode venue: SugarHouse is Philadelphia's first and only casino and is located along the Delaware River with panoramic views of the Ben Franklin Bridge. The casino will celebrate its five-year anniversary this fall and is in the midst of a $164 million expansion project. New dining options, an event center, and a new home for the poker room are just some of the additions that will be unveiled by yearend 2015.
Philadelphia joins other major poker markets in the Northeast that have hosted Poker Night in America shows. Other regional locations visited by the television production include Baltimore (Maryland Live!), Pittsburgh (Rivers Casino), and Central New York (Turning Stone). Each of these other casinos have hosted the television show twice.
Get all the latest PokerNews updates on your social media outlets. Follow us on Twitter and find us on both Facebook and Google+!