Asher Conniff Plays with the Pros on Poker Night in America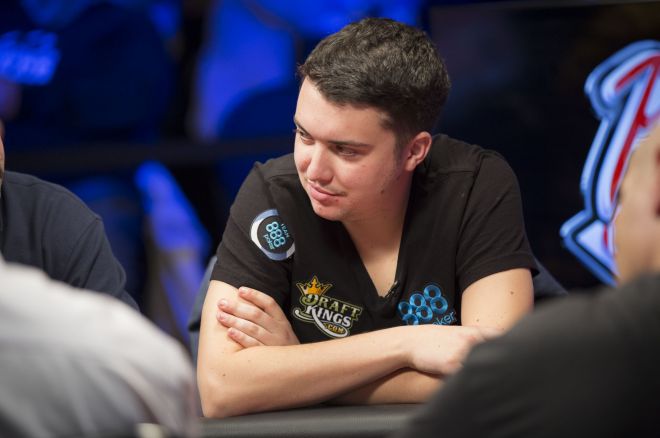 A decade ago, poker boomed on the back of tournament competition, as the World Series of Poker and the World Poker Tour combined to usher that variant of the game into mainstream consciousness. For a few years after Chris Moneymaker became a made man, televised poker was presented solely through the prism of tournament play to casual fans, with equal starting stacks, elimination hands, and the crowning of a champion each appealing to the uniquely American sporting sensibility.
All along though, true poker aficionados knew the score: Tournaments were entertaining, and occasionally quite lucrative, but the real game began when high rollers and hotshots busted out. By bringing their bankroll to bear in the biggest cash games around, and competing against longtime friends and foils alike, poker's elite endured a seemingly endless session — one defined by six-figure pots and severe swings — privately and without fanfare.
In 2006, the veil was lifted on a once secluded cash game domain when High Stakes Poker debuted on cable TV's Game Show Network. The brainchild of hole-card camera inventor Henry Orenstein and poker media impresario Mori Eskandani, High Stakes Poker revolutionized the way an increasingly poker-savvy public absorbed the game. By inviting viewers to watch poker's original crop of superstars pony up their own dough and duke it out, both for bragging rights and big bricks of bundled cash, the landmark production soon became a fixture on every poker fan's programming schedule. Throughout its wildly successful seven-season run, the show provided definitive proof that a massive market exists for televised cash games.
Today, despite a poker programming landscape laid barren by Black Friday, that market is now served by Poker Night in America, a production conceived by former Heartland Poker Tour head Todd Anderson. Currently filming its first season, primarily in casinos and card rooms across the East Coast, Poker Night in America airs original episodes every Sunday night on CBS Sports Network. Taking up the mantle left behind by its celebrated predecessor, the show features a revolving cast comprised of poker's most colorful characters — including Phil Hellmuth, Mike Matsuow, Phil Laak, Jennifer Tilly, Greg Mueller, Tom Schneider, Shaun Deeb, Will Failla, Layne Flack, Gavin Smith, and David Williams. Playing alongside aspiring young grinders who have qualified for the right to appear on each episode, these holdovers from the glory days of televised Texas hold'em have been filmed over the course of two-day sessions for the last year.
***
One of the young grinders to play their way onto the Poker Night in America set during the show's debut season was Asher Conniff, a 26-year-old native of Brooklyn, New York, who qualified for the show's most recent session via online poker site 888.com. Filmed at Rivers Casino Pittsburgh in mid-November during that venue's annual tournament series, the two-day cash-game session Conniff sat in featured an eclectic mix of well-known pros and poker enthusiasts, and to hear him tell the tale, he felt right at home.
"I've spent the past few months in New Jersey playing a truly massive amount of hours online, so I certainly felt prepared, or at least 'in the swing of things,'" Conniff said. "As soon as 888poker announced a series of 'step' qualifier tournaments, I told my roommates out here that I'd be winning a seat into Poker Night In America. I'm currently living in Brigantine, right outside of Atlantic City, so most of my time is split between playing New Jersey's online poker sites and traveling to play live tournaments."
One of those live tournaments recently brought Conniff tantalizingly close to reaching poker's pinnacle, as he finished 18th in the WSOP's $1,000 Turbo No-Limit Hold'em event this summer. Weaving through a field of more than 1,470 runners en route to reaching the final two tables of a bracelet event is something every young player envisions, but soon enough Conniff was prepping to play in another dream scenario.
"I've probably seen every episode of High Stakes Poker ever," said Conniff. "So playing with Hellmuth, Jen Tilly, and all the rest was definitely an experience, and it was a little surreal knowing I'm a part of something I grew up watching. I've got to say though, those guys were playing astronomically high, sitting with $500,000 or more at times, so it's harder to relate that to my experience."
The cash-game sessions filmed for Poker Night in America play at $25/$50 blinds, but straddling to $100 occurs often, and the buy-ins begin with a $5,000 minimum. Anderson wrote in a 2013 blog post that his vision for Poker Night in America was "creating a TV show for 'regular' poker players," and although the days of million-dollar pots being broadcast to the world may be over, the drama has actually been heightened for audiences as aspiring pros like Conniff put up portions of their personal bankroll to play.
"I made sure to go into this whole experience really relaxed," said Conniff. "Not 'Mark Newhouse play zero hands of poker in four months' relaxed, but I wasn't going to freak out or get nervous about the situation. I sold some action to the game in order to minimize my possible losses, involve some other people in this awesome experience, and hopefully make some more money.
"I sat with $10,000 on Day 1 and honestly expected two things. One was to sit down, take the experience in, play on the snug side in the beginning, and figure out the game. Watch these guys, how they play hands, and just observe how they're feeling, talking, and playing. My second expectation was to win a lot of money. In the end, neither of those expectations became remotely true!"
The paradox of poker, truly a tactician's game when played in the long term, is that no amount of planning and preparation can overcome the power of variance during short sessions. As such, Conniff was unable to transform his starting stack into a sizable score while filming Poker Night in America, but he preferred to look at the bright side during a postmortem of the experience. As it turned out, a fortuitous turn of fate before the first hand was even dealt allowed Conniff to begin the game without feeling out of place.
"The seating was randomly drawn both days," said Conniff. "And I drew the six seat before Day 1, right next to the only player in the game I had any previous relationship with, Matt Glantz. He's the poker ambassador for Parx Casino, which I frequent because it's nearby, and he's also just a really, really good dude. Having him there was actually super calming in its own way, as things felt just a bit more normal.
"The first day was anything but smooth sailing, though. I pretty quickly lost about $2,500 to Mueller with a set of jacks against his six-high flush, and then I folded pocket tens to him when he apparently had
. Not a great beginning. I later lost another $2,500 in a hand to Linda Kenney Baden, who is a tough cookie and one of the nicest humans I've ever met, in which the live stream misled viewers, and a lot of my friends, to believe I called off about $4,000 drawing dead! It was actually $400 to win a $5,000 pot. Eventually, I finished Day 1 down $6,400, but I felt great about my game and was happy I had another shot."
After weathering the storm of his first poker session in front of a film crew, Conniff returned with a $7,500 buy-in and big plans, but his second crack at the Poker Night in America cash game was nearly sunk on the first deal of the day. In a confrontation with Glantz, more than half of Conniff's starting stack was sent across the table courtesy of a cruel cooler.
"The first hand I'm dealt I look at the
and raise to $150 in late position," Conniff recounted. "I get three callers and the flop is
. I bet $425 and get two folds, with Glantz flatting from the small blind. The turn brought the
and Glantz check-called my $1,025 bet pretty quickly. The river came the
, giving me jacks full, and after he checked for the third time I bet $2,300. He snap-called me, and obviously I flipped my hand immediately, as anyone would assume it was the winner in that scenario. Glantz then flipped over the
for aces full of fives!
"I was stunned to say the least. Looking back, I actually thought I took the beat incredibly well and didn't let it get to me too much, but that was obviously a devastating way to start. After that my stack size left me handcuffed, and I largely had to fold my way to the end of the game, unfortunately unable to find any good hands or spots to accumulate chips."
Conniff remained upbeat following his two-day stint as a TV poker pro, and despite finishing in the red he still took care to soak in such a unique scene. Having learned the game from his father during childhood sessions of stud for nickel stakes, Conniff was keen to absorb as much knowledge as possible from the crew of decorated cardsharps he now found himself contesting pots against. But as he soon discovered, savvy veterans with hundreds of thousands of hold'em hands under their collective belt would just as soon sing the praises of poker's latest fad.
"First and foremost, most of the pros are deeply, deeply in love with open-face Chinese poker," observed Conniff. "Hellmuth, Deeb, and Mueller would play on dinner breaks, before the game, after the game, on their phones during the game... it was remarkable."
Even with an endless array of 13-card arrangements and the prospect of finding their way to "fantasyland" providing a constant distraction for the pros, Conniff found time to make a few friends along the way.
"I was pleasantly surprised with how cool all the pros were," he said. "Jen Tilly, Tom Schneider, Greg Mueller, Gavin Smith, Matt Glantz, Shaun Deeb; even Hellmuth was pretty chill once the cameras stopped rolling. The guy obviously plays a character on television, but when the cameras are gone he's just a normal, poker-obsessed weirdo like the rest of us!
"I was also wildly impressed by the Poker Night in America team," said Conniff. "They're the first ones to admit that the show is a work in progress, but they sure work hard as hell on that process. Nolan Dalla, Chris Hansen, Chris Capra, Todd Anderson, and the whole camera crew are a bunch of great people, and I seriously wish them nothing but success."
Conniff's outlook on poker has remained refreshingly positive in his time touring the circuit, and after a summer spent adding four WSOP cashes to his résumé, the upbeat attitude makes sense. Having committed himself fully to the tireless task of succeeding as a professional poker player, Conniff recognized the importance of sticking to the plan as a tournament specialist despite his brief time as a big shot cash-game player.
"Cash games have never really done it for me," he confessed. "The endgame and strategic elements of poker tournaments have always been my favorite part of poker. Over the years, I've played a ton of poker hands, all different disciplines and stakes, but over time I've settled into being a mid-stakes tournament player, one aiming to reach the top level. The depth and nuance of the game really intrigued from the very beginning, and I quickly started to realize the freedom this lifestyle could afford me as well.
"I plan on continuing the grind, traveling in 2015, and making sure life is as fun as possible. In the past two years, I've met and learned from so many amazing players, and I truly believe that no studying or learning will improve your poker game more than getting different points of view from different players, especially ones with different playing styles than myself. Recently, players such as Michael Azzaro, Justin Liberto, Chris Csik, and Christopher Horter have really helped me expand my game and get to where I have so far."
Lead photo courtesy of 888Poker and Poker Night In America.
Get all the latest PokerNews updates on your social media outlets. Follow us on Twitter and find us on both Facebook and Google+!