Jason Somerville Taking Live Streaming to New Heights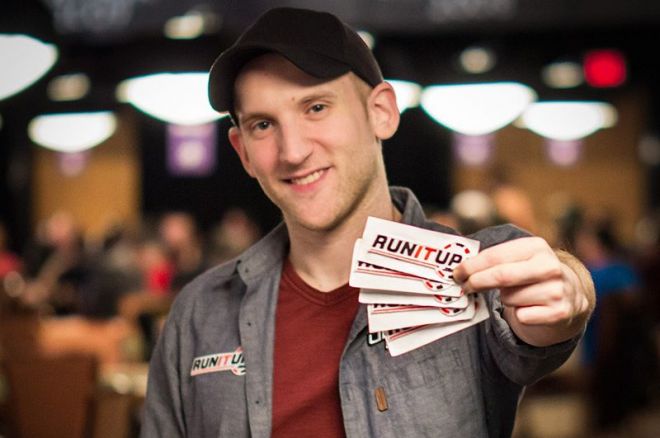 Jason Somerville is the best poker ambassador of his generation. It's a role he has grown into, but not without hard work and dedication to his craft. Sometimes referred to as a "mini Daniel Negreanu," Somerville is slowly building a strong personal brand that could eventually rival that of his mentor the more he continues to grind.
Whether it's serving as the resident pro on the PokerNews Podcast during the 2014 World Series of Poker, producing the popular web documentary series The Final Table that chronicled Russell Thomas' preparation for the 2012 November Nine, or live streaming his heart out via his beloved creation Run It UP, Somerville is as active and accessible as anyone we've ever seen in the poker industry.
"Run it UP began back in July of 2013," said Somerville about his successful ongoing series. "I'd been recently signed to a representation deal with Ultimate Poker and I knew I was going to be playing a lot on the site. Creating low-stakes bankroll challenge videos seemed like a fun and unique way to interact with both local and global poker fans and create compelling, interesting content, and I've continued to enjoy that challenge since."
While his deal with Ultimate Poker may have come to an end, it is his venture with Run It Up that has really taken off, as Somerville utilizes Twitch, the world's leading video platform and community for gamers, to broadcast his shows to thousands of viewers.
He recently stated, "My goals with Run It UP are to create the best poker content and poker experiences possible for our global audience." It seems Somerville has hit the nail on its head when it comes to achieving those goals, but that doesn't mean he isn't already looking ahead.
"I am very happy with the state of Run it UP right now," Somerville said. "I've learned many lessons in the last 18 months in both business and production — there is no chance I would've been capable of hosting shows at their current production level and quality even six months ago, just as I hope in six months I'll look back on these shows as comparatively un-evolved. It's been a very fulfilling journey so far, and my plan now is to finish up 2014 with our best live streams to date while continuing to lay the foundation for Run it UP's projects in 2015."
Speaking of those live streams, Somerville has at least six more scheduled for the remainder go 2015, and there are several different themes for each show, as you can see in the graphic below of the Run It UP live stream schedule: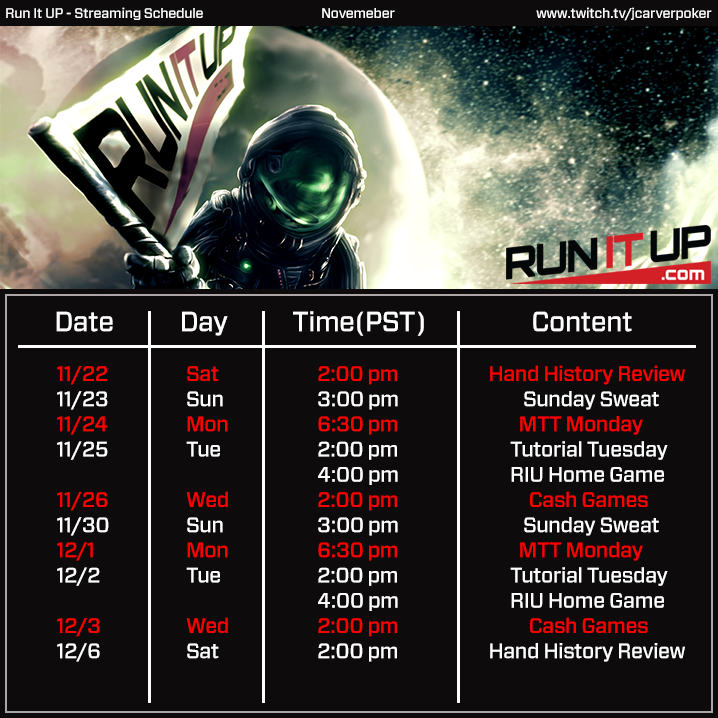 "Well-known figure or not, I don't believe anyone ought to feel an obligation towards poker," said Somerville when asked how important it is to stay actively involved in the community as a well-known personality. "Personally, I love the game and express that love through my current role as a poker tour guide for novice and veteran players alike on Twitch and YouTube. I stay involved in the game by streaming four or five times a week, creating enjoyable, diverse content, and working hard. I don't believe you have to frequently attend live tournaments or wade into heated debates in forum arenas in order to make a positive impact on the game."
Twitch, YouTube, and other forms of social media are great tools to connect with large masses of people on a global scale, and this practice is something that Somerville has come accustomed to. While streaming, he tries to read and respond to every tweet or message sent to him while he's on the air, and he's known to interact with his fans during his off hours as well.
On one of his most recent streams of Run It UP, Somerville mentioned that he would be going hard for the next couple of weeks before taking some time off. He added that he'll likely look into relocation abroad a couple months down the road, and if that plans goes through, we wanted to know his plans for Run It UP.
"I'm only committed to one thing right now in my life, and that's Run it UP," Somerville said. "I'm confident that 2015 will see our first officially branded Run it UP live events while we continue to pioneer poker streaming and content on Twitch, no matter where I end up moving. I'm lucky to have a few options right now for what exactly is next, but every path incorporates Run it UP in a big way."
If you were a fan of this summer's PokerNews Podcast, then you likely heard Somerville discuss his thoughts on what live streaming can do for poker, and he even specifically related it to the WSOP. We wanted to follow up on that, and asked Somerville now how important he feels live streaming is to the poker world, and how big of a role can it play in its growth moving forward.
"I believe that poker live streams are still in infancy status," said Somerville. "Organizations are quick to dismiss live streams as unimportant to anyone but the hardcore fans without realizing they doomed themselves from the start by building their show to be as unfriendly as possible to casual or recreational viewers. I believe poker streams have been built suboptimally from the ground up as a Frankensteinian amalgamation of what kinda worked in TV poker broadcasting and what kinda worked in poker training videos. Treating poker more like an e-sport, designing streams with the Internet viewer in mind, and embracing an element of entertainment may end up being responsible for a major shift in the poker world over the next few years."
To learn more about Somerville's Run It UP, check out the production's website or watch his videos on Twitch.
Get all the latest PokerNews updates on your social media outlets. Follow us on Twitter and find us on both Facebook and Google+!