Five Thoughts: A Look at the 2014 World Series of Poker November Nine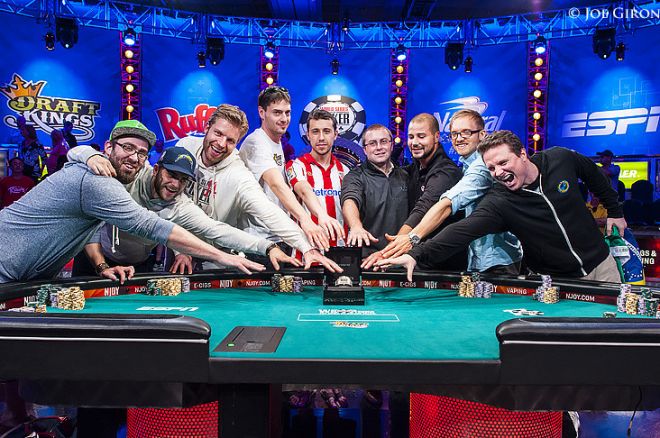 Roughly one week ago, Luis Velador was eliminated in 10th place of the World Series of Poker Main Event by Mark Newhouse, forming the 2014 November Nine. Newhouse, who vaulted to third in chips with 26 million after his pocket fives held up against Velador's pocket fours, reached the biggest final table in poker for a second consecutive year. He is the first player to do so since Dan Harrington finished third and fourth in the 2003 and 2004 Main Events, respectively.
Joining Newhouse at the final table are chip leader Jorryt van Hoof, Felix Stephensen, Andoni Larrabe, Dan Sindelar, William "Billy Pappas" Pappaconstantinou, William Tonking, Martin Jacobson, and Bruno Politano.
Newhouse's return to the final table is incredible, but he's not the only great story to write about. Van Hoof is just the second Dutchman to ever make the Main Event final table, Politano and Larrabe are the first players from their respective countries to make the November Nine, and Stephensen plans to use his success in this tournament to fight for legalization and regulation of poker in Norway.
The lede is of course Newhouse, whose back-to-back performance in the WSOP Main Event is utterly ridiculous.
1. Newhouse Returns
Just like LeBron James returned to Cleveland in early July, Mark Newhouse returned to the final table of the WSOP Main Event.
If we disregard skill, which is impossible because poker is of course a game of skill and a player like Newhouse has a bit of an edge, the odds to make the final table of the 2013 Main Event were 706-1. In 2014, with a bigger field, the odds were 743-1. If you multiply those two numbers together, then the odds to make both final tables were 524,558-1.
For Harrington, his odds were 92-1 and 286-1. Combined, it was 26,312-1.
To complete our very elementary comparison between Harrington and Newhouse's runs, if you divide the two combined odds you get 20. That means, without weighting odds for skill and field difficulty, it was roughly 20 times harder to final table back-to-back Main Events in 2013 and 2014 than it was a decade earlier in 2003 and 2004.
I'm not intelligent enough to weight the four fields mathematically, but I am very confident that the average no-limit hold'em tournament player is much more skillful in 2013/2014 than in 2003/2004. Likewise, I believe that the average player in 2004 may have been the one of the worst average players in the history of the Main Event.
Very few amateurs were willing to play for $10,000 prior to Chris Moneymaker's win in 2003, and as the 2000s came to a close, the average player had gotten much better.
Harrington's back-to-back runs were extremely impressive, but what Newhouse has accomplished is mind-blowing. He added that this year's run was a lot more fun because he had more chips throughout the tournament, and that he was, understandably, a lot more comfortable.
From his conversation with Sarah Grant, it seems like Newhouse really understood how much a return trip to the final table was actually worth. His name will now be etched in poker history forever, joining legends like Harrington, Johnny Chan, and Stu Ungar.
Newhouse plans to grind tournaments in Europe instead of cash games leading up to the November Nine, and he wants to stay far away from the Commerce Casino.
2. Hup Holland Hup
While not as statistically insane as Newhouse's back-to-back performances, the Netherlands is once again represented in the November Nine.
In 2013, Michiel Brummelhuis became the first Dutch player to reach the WSOP Main Event final table — Marcel Luske came close, but the "Flying Dutchman" fell short in 2004, finishing 10th — and now van Hoof represents the Oranje in the 2014 November Nine. Van Hoof is the chip leader with 38.375 million (96 big blinds), and has already more than doubled his career live tournament earnings by reaching the final table.
Prior to this deep run, van Hoof's largest score came in 2006 when he finished seventh in the LIDO Dutch Open for $67,790. He and the other eight finalists are guaranteed a minimum of $730,725.
Like dozens of other professional poker players, the 31-year-old played Magic: The Gathering at a very young age. He moved to poker when he picked up a few books and started discussing strategies with his friends. Van Hoof then took a few trips to the Aviation Club de France right on the Champs-Élysées to play in low buy-in freeze outs.
The Dutchman has resided in both Dublin and Malta, focusing most of his time on online pot-limit Omaha cash games. On the final episode of the PokerNews Podcast from the WSOP, Remko Rinkema said that van Hoof was an avid contributor to one of the largest poker forums in Holland and likely had the most posts on the site.
Van Hoof spoke with his fellow countryman the day after making the final table:
The Dutchman voiced a little bit of concern because Newhouse and Larrabe are on his direct left and both have huge stacks, and discussed a bit of his tournament inexperience. It will be interesting to see if van Hoof gets coaching from an MTT pro in the next four months — Brummelhuis ran a simulation or two with fellow Dutch players leading up to the 2013 final table.
3. Vamo!
Bruno Politano may be last in chips with 12.125 million heading into the final table of the 2014 WSOP Main Event, but the Brazilian will certainly have the loudest rail in the Penn & Teller Theater come November.
When Velador bowed out in 10th place a week ago, the Brazilians were ready, firing off confetti cannons and filling the Mothership with blue and green party paper. One of the supporters was even dressed like Scooby Doo(?), and all of the Brazilian contingent lifted Politano into the air and had him crowd surf around the ESPN stage.
While the tournament was playing down to nine, the Brazilians filled the Amazon Room with songs and chants. Even when Politano lost a pot, they would stand on their feet, clap their hands, and serenade their man with a catchy tune and fervent support. Live poker can be extremely tedious, but the Brazilian fans turned Day 7 of the Main Event into a South American party — I can only imagine what they will do in November.
Politano expects around 200 supporters to make the trip to Las Vegas for the final table, and although he is the short stack, 30 big blinds is plenty to maneuver with.
Also at the final table is Spaniard Andoni Larrabe, who bagged nearly double (22.55 million) Politano's stack. Larrabe's rail wasn't as crazy as Politano's, but the poker climate in Spain is similar to that in Brazil. Both countries have a very large amount of new players that are excited about poker, but both lack a Daniel Negreanu-type leader. Of course, there are very few Negreanus floating around in the world, but with a stage as big as the Main Event final table, Larrabe and Politano can certainly vault into the spotlight.
Personally, I think a win from Politano could have a big, direct impact on the 2015 WSOP.
4. Felix Fighting for Legitimacy
Prior to the 2014 WSOP Main Event, Felix Stephensen only had two live cashes for a combined €16,285. Like van Hoof, the Norwegian focuses primarily on online cash games, playing under the screen name "FallAtyourFeet."
Stephensen will enter the final table second in chips with 32.775 million, and is already asserting himself as an ambassador for the game in his home country.
"I really hope I can make poker a more accepted sport or profession in Norway, and I'd like to be a good ambassador for the sport," said Stephensen. "I've been doing this for a living for years, so people will see that it's not all luck, it's actually something you can be pretty good at and you'll get results if you work hard."
According to online tracking records, the Norwegian is up over $300,000 playing online poker since 2011.
Stephensen's friend and fellow countryman Ola Amundsgard, a regular at the $25/$50 pot-limit Omaha tables online, was on the rail on Day 7, and he too has challenged the Norwegian government to reform their outdated online gambling laws.
In late 2013, he offered a challenge to any member of the Norwegian parliament to a million-kroner ($170,000) heads-up freeroll. If any member of the government could successfully defeat Amundsgard over 10,000 hands, he would pay the sum from his own pocket. The Progress Party's Erlen Wiborg took his shot in the challenge, saying he would donate any winnings to charity, and the two met in Oslo in December.
It only took seven hours and 1,056 hands for Amundsgard to bust Wiborg.
"This was much harder than I thought," Wiborg said at the time. "I'm really exhausted now."
I am very happy to see Stephensen taking a stand for the legitimacy of online poker and fighting for the rights of individuals in the comfort of their own home. He will have a great opportunity over the next four months to have a positive impact in his home country.
5. The Misclick Heard Round the World
OK, maybe Martin Jacobson's misclick wasn't that crucial, but his accidental limp from under the gun at the start of the unofficial final table of 10 put the final nail in Team Media's coffin for the 25K Fantasy League.
When Andrey Zaichenko busted in 17th place, Team Media needed Jacobson to finish sixth in chips to break even or fifth in chips or better to make a little bit of money. The Swede entered the final day as the chip leader, but took a few small hits and slid back into the middle of the pack.
At the start of the unofficial final table, Jacobson was fifth in chips, but the gap between him and Billy Pappas (seventh) was just 13 big blinds. On the fifth hand, Jacobson limped from under the gun, Tonking completed from the small blind, and Sindelar checked his option in the big blind. The flop came down
, Tonking checked, Sindelar bet 500,000, and Jacobson raised to 1.75 million. Tonking moved all in for 4.675 million, Sindelar folded, and Jacobson called.
Jacobson:

Tonking:
Tonking had flopped the nuts, but Jacobson could still eliminate him with a club on the turn or the river. They could also chop if a nine came. Fortunately for the New Jersey native, he survived as the board completed with the
and
, and Jacobson slipped to seventh in chips.
The Swede finished the night eighth in chips, and the next day admitted that he meant to raise from under the gun rather than limp. Crushing. Absolutely crushing.
Someone tweeted at me asking me if I was mad at Jacobson, and the answer is unequivocally no. We wouldn't have even drafted him if he wasn't kind enough to answer my direct message the day of the draft, and he was keenly aware and excited about representing a team in the league. Jacobson is also a very genuine, stand-up person who would need to do a lot more than simply commit a misclick for me to "hate" him.
With the November Nine set, here are the final standings for the league courtesy of 25KFantasy.com:
| Place | Team | Points |
| --- | --- | --- |
| 1 | Team Gypsy | 777 |
| 2 | Team Brunson | 755 |
| 3 | Team Waxman | 612 |
| 4 | Team Gorodinsky | 595 |
| 5 | Team Media | 576 |
| 6 | Team Mercier | 530 |
| 7 | Team Mizrachi | 473 |
| 8 | Team Kroko-Ushan | 464 |
| 9 | Team Negreanu | 463 |
| 10 | Team Martin | 353 |
| 11 | Team Fleyshman | 349 |
| 12 | Team Steven | 220 |
It was a fun ride. The ending was heartbreaking, but at least we got a nice little sweat out of it. Congrats to Team Gypsy and everyone else who cashed. We'll see you next year.
Get all the latest PokerNews updates on your social media outlets. Follow us on Twitter and find us on both Facebook and Google+!