Ola "Odd_Oddsen" Amundsgard Offering Politicians One Million Norwegian Kroner Freeroll

Until recently, the man behind the screen name "Odd_Oddsen," one of the most accomplished online players in the world, opted to remain a mystery. In fact, when PokerNews interviewed him this past summer, "no_Ola" (as he's known on PokerStars) asked that we not use his real name. Now Ola Amundsgard has opted to give up the veil of anonymity to help raise awareness of Norway's outdated gambling laws, which he's done through a truly unique challenge.
The challenge, which Amundsgard issued in an interview with NutBlocker, looks to legalize poker in Norway.
"In order to drive the point home I would like to challenge all members of the Norwegian parliament to play a Heads-Up freeroll of 10,000 hands, where the prize money is one million Norwegian kroner ($170,000), paid from my own pocket, should any of the politicians beat me."
"I make this offer to demonstrate that poker isn't merely a game of luck (which is the status of the game according to the current legislation in Norway), but a mind sport based on skill, like chess and bridge."
The details of the challenge are as follows:
The players will play 10,000 hands or until one is broke;
The players must complete a minimum of 20 hours of play each month;
They will play two tables simultaneously;
Whoever has the most chips when 10k hands are up wins
Amundsgard's challenge gained a lot of attention, and it didn't take long for a politician to take him up on the challenge.
The Progress Party's Erlen Wiborg, who believes online poker should be legalized, accepted the challenge when he posted in his blog: "Poker player Ola Amundsgård challenges all Parliament members on a game of poker. His goal is to focus on the need to legalize poker as it is a game of skill. Both I and the Progress Party agree with him and therefore, I am pleased that the new government will soften the rules and make sure to allow poker in a controlled manner."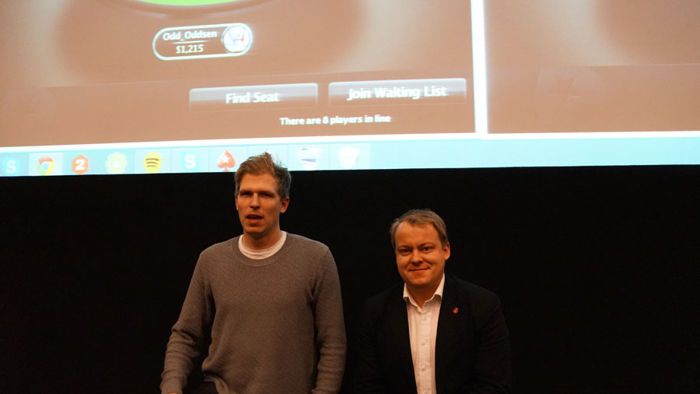 On Saturday, Dec. 7 at 11 a.m., Amundsgard and Wiborg, who stated he would donate any winnings to charity, met at Felix Konferansesenter in Oslo to commence the challenge. With plenty of spectators, the two battled on their computers for approximately seven hours. It took Amundsgard just 1,056 hands to dispatch his opponent.
"This was much harder than I thought, and I'm really exhausted now. Ola says he could have kept going all night, but I have to get back home to the sofa and recharge," Wiborg said via a press statement released by Norsk Pokerforbund after the event. "Ola was simply too tough. His superior skills clearly showed, and I didn't have a chance. No million for me, but we clearly demonstrated the core principle here, namely that poker is a skill game."
"I was in total control throughout the match, and I feel I accomplished what I wanted today; showing that poker is a game of skill. Erlend never had a chance to win today, and my million was never threatened," Amundsgard said after the match.
PokerNews recently spoke with Amundsgard about his challenge, which is open for politicians through May.
PokerNews: Have many politicians expressed interest?
Amundsgard: Only one so far.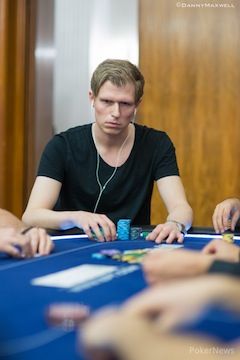 Why have you chosen to play PLO as opposed to NLHE?
PLO is by far my best game, so since I'm offering a $170k freeroll I want to play my own game to prove it's skill and not luck. I also want to get some light on PLO, so when (or if) it's legalization time in Norway, PLO will hopefully be one of the allowed games, and not only no limit hold'em.
How did you go about determining the terms of the duel?
Since there is obviously a lot of short-term variance in poker, I wanted 10k hands so that there will literally be no variance versus inexperienced players.
What has been the reaction in Norway to your challenge? Is it gaining the exposure you hope?
There has been a lot of media attention here in Norway regarding the challenge, and mostly positive. I really think the challenge was successful in putting poker at the daylight for the government.
PokerNews will keep you updated if and when Amundsgard receives anymore challengers.
Get all the latest PokerNews updates on your social media outlets. Follow us on Twitter and find us on both Facebook and Google+!
Executive Editor US, PokerNews Podcast co-host & 2013 WSOP Bracelet Winner.