Five Thoughts: Dewey Tomko's Alleged Impostor, Longest EPT Final Table Ever, and More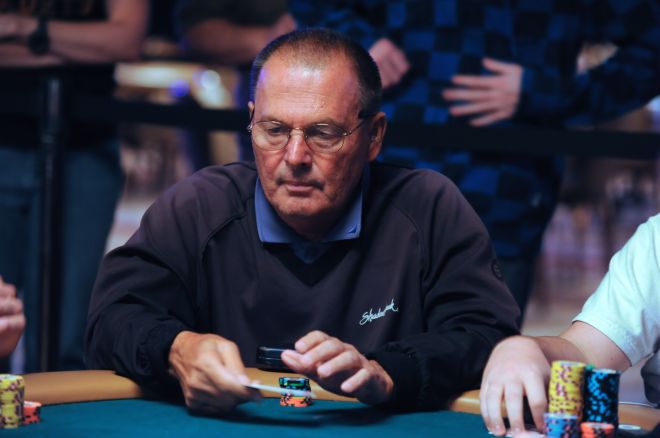 If you've ever received an email from a Nigerian prince looking for money, shared an Onion article thinking it's a proper piece of journalism, or perused through a Photoshop thread on TwoPlusTwo, then you know that not all virtual content can be trusted.
Some content, like the purposefully satirical articles and doctored photos, is enjoyable because we know that it's meant to be ridiculous. We know that the Pope didn't actually pursue a sinner across Vatican City rooftops, so we can howl at the ridiculous, Photoshop'd image and accompanying tale of His Holiness getting his Bruce Wayne on.
Email spam is becoming a bit funnier because Internet users tend to be more savvy now than they were during the days of dial-up, but I'm sure there are still a few "West African princes" with fat pockets out there. Some Neteller users were targeted in a phishing scam in January where hackers sent out fake emails pretending to be the company, looking to gain personal information. Popular email services like Gmail now allow their users to report phishing incidents along with unnecessary spam.
Unfortunately, there are still reliable news stories and sources that get duped. During the last few months of 2013, several news outlets across the country started warning their readers and viewers about the "Knockout Game," where youths would walk around and simply knock ordinary citizens out. There was even a report in the Milwaukee Journal Sentinel, claiming "dozens to hundreds" of youths attacked people at a fair, as if a witness was unable to clarify whether or not there were 24 or 100 "assailants." All of these reports and stories were produced without hard data, and the trend was finally debunked.
A little over a month ago, the poker world was evidently tricked as well when Poker Hall of Famer Dewey Tomko and Bill Byers co-wrote an op-ed for Press of Atlantic City. In the piece, Tomko and Byers shared their concerns about cheating and online poker, saying that, "regulators and organizations purporting to protect the interests of players have not addressed the issue."
The two did say they "fully support the legalization of Internet poker."
This story didn't sit well with Nolan Dalla, who decided to call Tomko on Sunday to investigate, and according to him Tomko never wrote the piece.
"I have no idea what you're talking about," Tomko told Dalla. "You know me. I don't write columns to newspapers."
The plot thickens.
1. Tomko's Ghost Writer?
Dalla listed a few more parts from his conversation with the Poker Hall of Famer. Here are the cliff's notes:
Tomko knows Byers, but hasn't talked to him in 10 years.
Tomko was never asked about attaching his name to the editorial.
Tomko didn't know about the editorial until Dalla called him.
Tomko has never played online poker. "Not even once."
Tomko is "totally in favor of online poker."
Press of Atlantic City hasn't amended their article or released any statements in the aftermath of Dalla's blog post.
This publication has been both trustworthy and accurate throughout the online gaming regulation process in New Jersey, so this is very surprising. Someone isn't telling the truth.
Byers is described as a "poker pro" by both Press of Atlantic City and Jim Thackston of The Hill, but there are only six cashes on his Hendon Mob profile and he hasn't recorded a result in over a decade. Compared to his alleged co-author, Byers is as much as a poker pro as Dan Bilzerian.
After the Restoration of America's Wire Act — a federal bill to ban online poker — was introduced to both the U.S. House and Senate, the aforementioned Thackston released an investigative piece with Byers. Byers, described as a credible expert with 40 years of experience in poker, volunteered to use Thackston's "hacker technology" to demonstrate that geo-location in New Jersey and Nevada is ineffective.
Thackston writes, "New Jersey regulators have failed to take seriously the legitimate concerns raised by credible experts after fewer than six months of legal internet gambling."
Thackston's anti-online gambling stance is unsurprising. In January, acting as a member of the Sheldon Adelson-backed Coalition to Stop Internet Gambling, he wrote an op-ed in the USA Today titled "Online gambling a bigger risk than you think." The word "terrorists" appears in the lede. Splendid.
Something really stinks here, and it's not just Thackston's Adelson-backed fear mongering. Dalla deserves a lot of credit for picking up the phone and dialing Tomko, and I hope we learn a bit more about this alleged trickery and chicanery the further we dig.
Update (11:08 p.m. EST): Thackston has informed me on Twitter that Tomko willingly shared the byline with Byers after sitting down with Thackston and reviewing edits:
@RichTRyan I'd like to take an opportunity to clarify the events surrounding the Tomko-Byers op-ed.

— Jim Thackston (@pokerbank1729)
@RichTRyan I sat down with Dewey at his office to discuss the op-ed.

— Jim Thackston (@pokerbank1729)
@RichTRyan He pointed out the changes that should be made and, with the condition that edits were made he agreed to author the piece.

— Jim Thackston (@pokerbank1729)
@RichTRyan I asked him if he was willing to share the byline with Bill Byers and have Bill submit it.

— Jim Thackston (@pokerbank1729)
Update (Wed. 9:55 a.m. EST): Press of Atlantic City removes the Tomko/Byers op-ed from their website.
Update: @ACPressTopNews has removed Dewey Tomko money laundering/collusion article

— Steve Ruddock (@SteveRuddock)
2. Buonanno Defeats Salter in Marathon Heads-Up Match
After Vicky Coren-Mitchell made history at EPT Sanremo, becoming the first ever two-time champion on the European Poker Tour, Antonio Buonanno and Jack Salter etched their names in the EPT record books in the PokerStars and Monte-Carlo® Casino EPT Grand Final Main Event.
Buonanno wasn't the first Italian to win an EPT title when he finally defeated Salter, earning the €1.24 million top prize, rather the two played the longest heads-up match in the history of the tour. In total, the final table lasted 311 hands and nearly 18 hours. Buonanno tried to do a deal with Salter on several occasions, but the Brit refused.
"Even chop," Buonanno asked as they neared 300 hands and were dead even in chips.
"No," Salter responded simply.
Buonanno was the only player at the final table who didn't qualify for the event online, and at the start of the final table he doubled into the chip lead through Salter with a set of nines. Salter moved all in with a pair and a flush draw on the turn, but the river was a brick.
Prior to the final table, the Italian had one other significant score, earnings $231,147 for finishing fourth in a bracelet event at the 2013 World Series of Poker.
EPT Grand Final Results
| Place | Player | Prize |
| --- | --- | --- |
| 1 | Antonio Buonanno | €1,240,000 |
| 2 | Jack Salter | €765,000 |
| 3 | Malte Moennig | €547,000 |
| 4 | Mayu Roca | €419,000 |
| 5 | Magnus Karlsson | €332,000 |
| 6 | Sebastian von Toperczer | €258,300 |
| 7 | Kenny Hicks | €188,500 |
| 8 | Sebastian Bredthauer | €128,800 |
| 9 | Martins Seilis | €102,000 |
I was lucky enough to be watching the EPT Live stream from the U.S., and I sympathize with those who were covering the marathon final table. At the 2012 WSOP, Mickey Doft and I covered the nine-and-a-half-hour Warwick Mirzikinian vs. Aubin Cazals semi-final match in the $5,000 mixed max, the longest heads-up match in the history of the WSOP. Mirzikinian limped every button blind, and he and his opponent Cazals gave a new meaning to the term "small ball."
Then there was the three-handed marathon between Jake Balsiger, Jesse Sylvia, and Greg Merson at the 2012 WSOP Main Event final table. That trio battled for nine hours and 247 hands before Balsiger busted in third place. Three-handed play lasted so long that the WSOP and ESPN opted to play until heads-up play on Day 8 of the 2013 WSOP Main Event.
The ridiculousness of this long back-and-forth between Buonanno and Salter was golden entertainment, however. Joe Stapleton, James Hartigan, and Marc Convey were funnier than usual thanks to the craziness that accompanies day-long shifts, and the hard-working people behind the scenes, most notably "Graphical" Nick Pryce, kept the broadcast entertaining with random tidbits. Comedy gold oozed from the broadcast every other hand.
I also have to show some love for Frank Op de Woerd and Chris Hall, who soldiered through the final table for PokerNews, doing hand-for-hand coverage. Yes, every single hand. Bravo, gentleman.
3. Gruissem Bulldozes the EPT Grand Final High Roller Final Table
Philipp Gruissem entered the final table of the €25,500 EPT Grand Final High Roller in the middle of the pack, and in roughly four hours he was the champion.
After a heads-up deal with Scott Seiver, Gruissem walked away with €993,963 and Seiver €857,637. The two went all in blind on the final hand, with Seiver showing
and Gruissem tabling
. The queens held up as the two players shared a laugh, and Gruissem was officially the champion.
| Place | Player | Prize |
| --- | --- | --- |
| 1st | Philipp Gruissem | €993,963* |
| 2nd | Scott Seiver | €857,637* |
| 3rd | Davidi Kitai | €526,400 |
| 4th | John Juanda | €426,800 |
| 5th | Byron Kaverman | €337,650 |
| 6th | Martin Finger | €256,400 |
| 7th | Stephen Chidwick | €187,200 |
| 8th | Chenxiang Miao | €136,900 |
| 9th | Pascal Lefrancois | €113,250 |
Gruissem now leads the all-time German money list with over $9.4 million in career live tournament earnings, passing 2011 WSOP Main Event champion Pius Heinz. This was his third seven-figure score since October of 2013 and fifth win in the last 12 months.
If the German players wait until the end of the WSOP to cross the pond like they did in 2012 and 2013, then we won't see Gruissem and his cohorts in meaningful live events until the $1 Million Big One for One Drop. In the meanwhile, you will find them grinding the Spring Championship of Online Poker.
The absence of the Germans is a shame, because beyond being excellent poker players, they're all very fun and brilliant individuals. They are also very interested in charity, as Jennifer Robles found out in Monaco:
4. Main Event Mania
As someone who aspires to play in the WSOP Main Event one day, the availability of both live and online satellites is important. I am fortunate enough to live in New Jersey and have access to WSOP.com, but for the 48 other states in the Union, winning entry into the most prestigious poker tournament in the world is a bit more difficult.
Well, starting in May, casinos across the country will begin running satellites to the WSOP Main Event, which bolsters a guaranteed $10 million top prize this year. The following casinos will be taking part in Main Event Mania:
The Bicycle Casino in Las Angeles, CA
Canterbury Park in Shakopee, MN
Foxwoods Casino & Resort in Mashantucket, CT
Harrah's New Orleans in New Orleans, LA
Harrah's Rincon in Rincon, CA
Horseshoe Bossier City in Bossier City, LA
Horseshoe Cincinnati in Cincinnati, OH
Horseshoe Council Bluffs in Council Bluffs, IA
Horseshoe Hammond in Hammond, IN
Palm Beach Kennel Club in West Palm Beach, FL
For a full schedule of events click here. For more information, including structures, click here.
This is a great way for these properties to generate some buzz during the WSOP and give their local players an opportunity to compete in the greatest tournament in the world. I'm actually surprised that more casinos didn't contact Caesars to take part in this win-win promotion, especially ones that are close to or located within Las Vegas. Obviously the majority of them are working against Caesars in some way shape or form, but if the WSOP succeeds, then the entire poker scene succeeds during the summer.
The WSOP is fully committed to making this one of – if not thee – largest Main Events of all time. The reintroduction of online satellites and a revamped approach to live satellites around the country just might do the trick.
5. Massive Losses for Chun Lei Zhou
In a time where some online poker players are opting out of results on HighStakesDB and PocketFives, Chun Lei Zhou stepped into the limelight and revealed his identity to our very own Chad Holloway.
"Yes 'patpatpanda' is me, 'samrostan' is me," Zhou told Holloway. "I played for a long time, and lost some money. Then I changed my account to 'samrostan.'"
According to HighStakesDB, "samrostan" is the fourth-largest online loser of all time, down $6.2 million. The other account, "patpatpanda," is the 12th-biggest loser of all time, down $2,608,781. Altogether, Zhou is down more than $8.8 million.
In 2014 alone, Zhou is down over $2.3 million, second only to Gus Hansen.
"I never sleep, it's sick," Zhou said, claiming to have played a 40-hour session once.
If Zhou's multi-million dollar failures were actually successes, Holloway's story would've been met with angst rather then praise. Zhou says that he switched accounts because he was losing – does that mean there will be a third account created once his total losses dip into eight figures?
Allowing the perceived "fish" in the game to bend the rules isn't out of the ordinary. If a player is going to lose money in the long run, then those that stand to profit are OK with letting things slide from time to time. If a winning player or a player that "doesn't give action" or is a "nit" tries to do the same thing, then there will be problems.
This double standard is just that; standard. For better or for worse, players that tend to lose also tend to be allowed to push the statutes established. It's when they start to turn a profit that things change. I don't know if Zhou will ever become a consistent winner in the games that he plays, but if he does these findings are sure to resurface.
Get all the latest PokerNews updates on your social media outlets. Follow us on Twitter and find us on both Facebook and Google+!