Online Chat: Macau's Chun Lei Zhou Steps Out as Man Behind "samrostan" & "patpatpanda"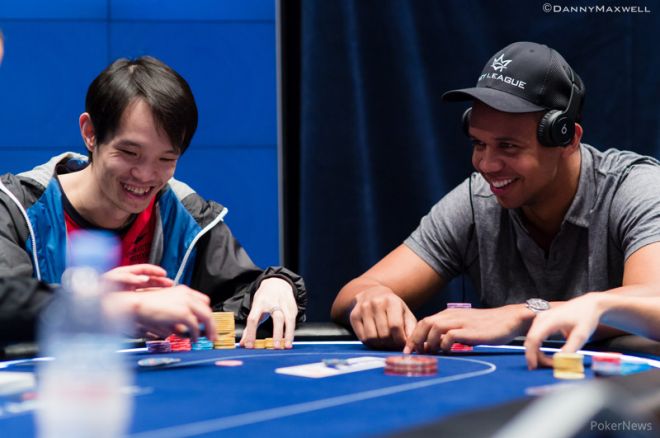 For years, "Isildur1" was the biggest enigma in online poker. Eventually, the mystery man behind the avatar revealed himself as Viktor Blom, who is now a regular at the nosebleeds along with other known players such as Ben "Bttech86" Tollerene, Phil "OMGClayAiken" Galfond, and Ben "Sauce1234" Sulsky. But what about the remaining anonymous high-stakes players?
Not long ago it was revealed that German Christoph Vogelsang is "Tight-Man1," but others such as "MalACEsia" and "samrostan" were a mystery — until now. PokerNews can confirm that Macau high-stakes player Paul Phua is indeed "MalACEsia," while Chun Lei Zhou has stepped out as "samrostan," the player formerly known as "patpatpanda."
"Yes, 'patpatpanda' is me, 'samrostan' is me," Zhou, who speaks little English, told PokerNews. "I played for a long time, and lost some money. Then I changed my account to 'samrostan.'"
According to HighStakesDB, "samrostan" (pronounced "Sam-Rostan") is the fourth-biggest online loser of all time, down $6.2 million in 165,873 hands across 1,369 sessions. Throw in the "patpatpanda" account, which is the 12th-biggest loser of all time with $2,608,781 in losses, and Zhou is down more than $8.8 million.
That amount would spell financial ruin for most players, but not Zhou. When asked what toll the disappearing millions have taken on him, he responded sincerely and cheerfully. "It's OK. Before I only played no-limit hold'em games. Sometimes no one played me, so I learned other ring games and I lose a lot of money. I love to play poker."
While Zhou may be a big loser online, that doesn't stop him from playing. Thus far in 2014, he has played 40,972 hands over 306 sessions, during which time he's lost $2,367,039 (second only to Gus Hansen).
"My favorite game? I like all games — Omaha, 8-game, mixed games. I don't want to play no-limit hold'em," Zhou admits. Indeed, if Zhou is able to find an opponent, he'll play any game for as long as they like. "I never sleep, it's sick," says Zhou, who claims to have played for 40 hours straight one time.
Oftentimes, the player who steps up to the plate is the aforementioned Blom, who has earned the respect of Zhou.
"He's a good player. He never sleeps, like me," says Zhou. "[Sometimes] I'm so tired, but I keep playing, that's when I lose a lot. Sometimes you have to know when to quit, but I never quit. When I'm winning, I want to bust them. Sometimes I'm running good and they quit. A lot of people quit, but when I lose money they will stay and play. I will play, too. When they quit I'm still play, play, play. If I'm winning, I still play. If I lose back, maybe I'll go to sleep."
Zhou may be a lesser-skilled player in the eyes of many, but he has earned the respect of the game's best, including Phil Ivey who he met while playing the Big Game in Macau. It's a game Zhou, whose day job (if he has one) remains a mystery, plays frequently, and more times than not he leaves with more money than he sits down with.
"I like to play online because it's fast and you can play more tables," Zhou says when asked if he prefers playing online or in the Big Game. "Live game is boring, but the live game is easy — lots of bad players."
In addition to playing live cash games, Zhou has ventured into the tournament realm. He plays most stops in the region, including the World Series of Poker Asia-Pacific and local Asia-Pacific Poker Tour events, and recently ventured to his first European Poker Tour as part of a Macau high-roller junket that included Phua, Winfred Yu, and Richard Yong.
"I always play 100% of myself. I still lose a lot, always lose," Zhou says of his tournament play. "When I lose a tournament, I always have nut-nut, but I always get bad beat (laughs)."
Zhou may be laughing because he knows that's not true, and that fact was put on display in Level 5 of the 2014 PokerStars and Monte-Carlo® Casino EPT Grand Final €100,000 Super High Roller. On the river of a
board, Philipp Gruissem bet 55,000 and Zhou moved all in for about 240,000. Gruissem called instantly. Zhou looked sheepish as he turned over the
having tried to double-float the German and bluff-shove. Gruissem then tabled the
for a royal flush.
Gruissem turned to Ivey, who was at the table, and said, "You said he's a nit!"
"I was joking," replied Ivey.
Zhou ended up reentering the event and did much better on his second bullet, even knocking out Dan Smith and Justin Bonomo. He made a deep run, but ultimately fell short of the final table.
For now, Zhou will enjoy his time in Monte Carlo before heading back to Macau for more cash games both live and online. While many of his colleagues will be heading to the World Series of Poker, Zhou has no plans to attend (he's never been to Vegas). Instead, he'll be giving action online to anyone that wants it. Just search for "samrostan."
As a bonus, check out the biggest pot "samrostan" has ever won online, which was a $264,210 monster at the $300/$600 pot-limit Omaha tables:
Get all the latest PokerNews updates on your social media outlets. Follow us on Twitter and find us on both Facebook and Google+!
Executive Editor US, PokerNews Podcast co-host & 2013 WSOP Bracelet Winner.