Inside Gaming: IGT Begins Trading After Completed Deal; Delaware's Online Game Still Struggling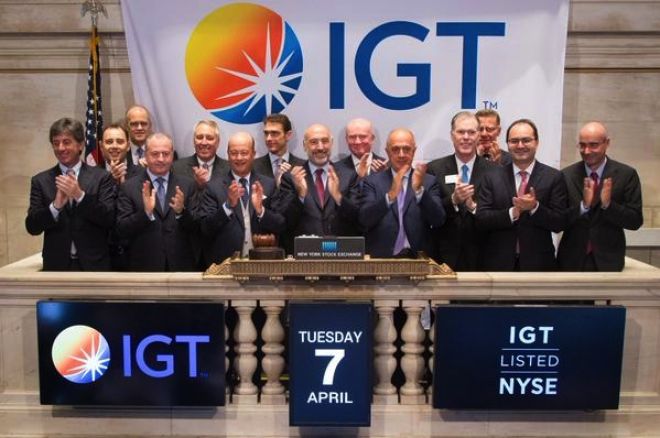 This week's installment of Inside Gaming reports on the finalization of the industry-shaking merger between GTECH and IGT and the new company's debut on the New York Stock Exchange. We also look in on Delaware's experiences thus far with online gaming.
Acquisition Finalized, IGT Begins Trading on Wall Street
In late February we reported how the Nevada Gaming Commission had issued its approval of the huge merger between Italian gaming group GTECH and the U.S.-based developer and distributor of slot machines, International Game Technology (IGT), thereby paving the way for GTECH's $6.4 billion acquisition of IGT to countinue through a few final steps before being finalized.
Those last hurdles have now been cleared and the merger of the two industry giants has been completed, with the newly-formed group now moving forward under the IGT name and a new logo. On Tuesday the company began trading on the New York Stock Exchange (as "IGT"), ending that first day up from $17.68 to $20.08 a share, a gain of 13.6% amid heavy trading.
"We are pleased to welcome IGT to the NYSE," NYSE Group President Thomas Farley was quoted as saying in a press release announcing the completion of the deal and the start of trading. "IGT is a premier global gaming operator shaping the future of entertainment and gaming, and an excellent addition to the NYSE's community of world leading companies."
Marco Sala, CEO of IGT — who had the honor of ringing the opening bell to start trading on Wall Street Tuesday — added similarly sanguine comments to mark the occasion, assuring that the newly-merged company "will provide top-performing content across multiple platforms enabling players to experience their favorite games across all regulated segments and channels," and emphasizing as well the combined group's "truly global reach" and experience in multiple fields and many geographical areas.
Prior to the merger, GTECH served more than three-fourths of U.S. state lotteries as well as 27 more countries' online lotteries around the world. Meanwhile, IGT had provided about half of all slot machines in the U.S. while being a leader in casino gaming entertainment in many other countries as well.
The new IGT "is now positioned number one both in lottery and gaming machines," notes the release, being "the preferred gaming and lottery partner in more than 100 countries around with world with combined revenues of approximately $6 billion."
Speaking with the Las Vegas Review-Journal, Sala explained how IGT's Rhode Island offices would manage the company's U.S. lottery operations. He also explained that IGT was "not worried about the United States not embracing Internet play since the company is well-positioned in other parts of the world," adding that IGT "does not intend to enter the political fray over Internet gambling."
Read more about the IGT deal and its implications at the LVRJ.
Difficulties in Delaware Continue
Speaking of online gaming in the U.S., we frequently hear status reports on two of the three states which have passed legislation to permit those within its borders to gamble online. As reported back in January, New Jersey exprienced an unexceptional first year when it came to online revenue, not coming close to the optimistic projections made prior to the passage of legislation and its launch in November 2013.
Nevada had beaten New Jersey to the punch, passing legislation sooner and having its first online poker site (the now-defunct Ultimate Poker) going live in late April 2013, but the Silver State has also enjoyed only modest revenue thus far, with revenues sliding consistently over the last six months. (See Online Poker Report's recent assessment of the current status of online gaming in Nevada.)
Meanwhile Delaware often gets overlooked as the smallest market by far. There, too, the story has been of especially limited returns since going live in late 2013. According to the Delaware Lottery's report of Igaming Net Proceeds, February saw the state generate $143,101.39 in online gaming revenue, up slightly from January but down significantly from the peak of just over $240,000 from last spring (April 2014). A total of $34,526.78 of that February total came from online poker, the most collected by the state's three poker sites since last August.
As was the case in New Jersey, Delaware's projections prior to launching online gaming were much higher than the actual revenue turned out to be. A target of $5 million had been a goal to reach for the first eight months concluding the fiscal year in June 2014, but the total only came in at approximately $1.37 million. A projection of $3.3 million was then made for the following fiscal year (July 2014 to June 2015), although after eight months that total has only reached just over $1.24 million — less than was taken in during the first eight months.
Delaware Online reports that the nascent industry's growth has been "stifled" in the state thus far by "small player bases and technological hiccups." Additionally, "some financial institutions... have been wary to process transactions between the online casino and a player's bank account," with some banks also apparently being "apprehensive, partly because they believe the Wire Act is unclear on whether such transactions are actually legal."
Two-and-a-half weeks ago Delaware and Nevada entered into a soft launch period for the sharing of online poker player pools, a development that has provided some hope to officials in the state and should positively affect revenue figures for online poker. "It's a big accomplishment to be able to get this up and running," said state finance secretary Tom Cook.
On the other hand, Ed Sutor, chief executive at Dover Downs Hotel and Casino, downplayed the significance of that development given the relatively small impact online gaming is having in the state generally, and the non-impact it has had for the state's casinos. Since the state collects 100% of revenue from online gaming up to the first $3.75 million each year, casinos have yet to see any benefit at all from it and likely will not see any soon.
"It's not something that the industry is overly concerned about because of the little to no economic benefit we get out of it," Sutor told Delaware Online. "It's a nonevent."
Drive over to Delaware Online for more on the current and future prospects for online gaming in the state, as well as to learn what state officials are saying about the efforts of some legislators pushing for the Restoration of America's Wire Act.
Photo: @NYSE.
Get all the latest PokerNews updates on your social media outlets. Follow us on Twitter and find us on both Facebook and Google+!