Inside Gaming: Harrah's New Orleans Fights Smoking Ban, Revel Deal Nixed, GTECH-IGT Moving Forward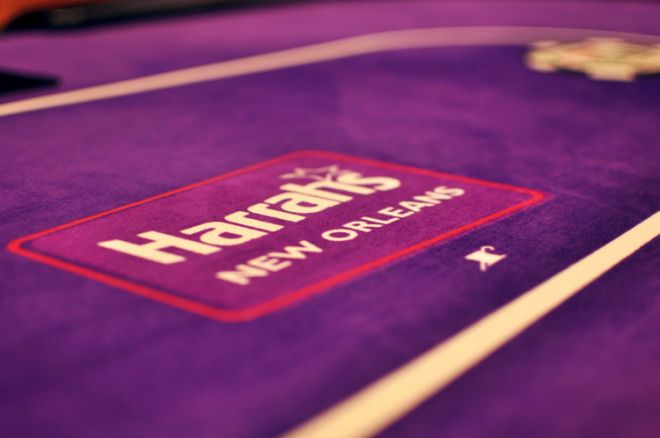 We have a number of different industry-related stories and updates to share in this week's installment of Inside Gaming, including Harrah's New Orleans attempt to fight a newly-instituted smoking ban, another failed try to sell the Revel Atlantic City, the big GTECH-IGT merger moving a step closer to completion, and commentary on the gaming revenue decline in Macau.
Harrah's New Orleans Seeks Exception from Citywide Smoking Ban
In January the New Orleans City Council voted unanimously in favor of passing a ban against smoking in the city's bars, restaurants, and other establishments, with casinos also listed among the places affected. The ban scheduled to take effect on April 22.
Caesars-owned Harrah's New Orleans had unsurprisingly objected to the ban prior to the Council's vote, noting how it could potentially cause as much as a 20% decline in revenue for the property should it pass. On Wednesday Harrah's issued a press release announcing its intention to request permission to keep a smoking section on its gaming floor.
NOLA.com reports how the release reiterates the argument made previously by Harrah's that the ban would reduce the casino's revenue while also adding how that decline would negatively affect the city as a whole, "cut[ting] yearly sales tax collections by $500,000." The release "also claimed the law could jeopardize the $3.6 million in gambling money the state sends to the city to cover some public safety and sanitation costs and another $13.6 million in annual lease payments the casino pays to New Orleans."
In making the request, Harrah's additionally promises "to offer programs to make patrons and employees aware of the dangers of smoking and programs to quit smoking."
The Council will meet twice more before April 22 and can consider adjustments to the ban, although the ban's principal author, Councilwoman LaToya Cantrell, sounds less than receptive to the casino's request, noting the intention to "stand tall" and resist efforts to compromise. Cantrell also cast a jaundiced eye toward Harrah's intention to introduce smoking-awareness programs, noting how "they don't mention the billions of dollars being spent on health care needs."
"They are third largest employer in our city," says Cantrell, "and yet they're saying these lives don't matter."
Track the ongoing firestorm over smoking in Harrah's New Orleans at NOLA.com.
Revel-Straub Deal Nixed Again
A story that has surfaced more than once here at Inside Gaming has been the continued unsuccessful efforts for the Revel Atlantic City to find a buyer after having declared bankruptcy and closed late last summer. Most recently a second try at a bankruptcy sale failed last month after the Revel asked a bankruptcy judge to terminate a deal to sell to Glenn Straub's Polo North Country Club.
A possible $110 million sale to a Toronto-based entity had failed last October. The one in February to Straub's group had been for $95.4 million. Soon after that deal fell through, Straub and Revel soon agreed upon a new deal for $82 million, but last Friday that deal was also denied by bankruptcy judge Gloria Burns.
As reported by ABC News, in her ruling "Burns said she lacks jurisdiction to approve the $82 million purchase" while also noting "many aspects of the sale remain on appeal, and the changes made last month to the sale contract between Revel AC and Straub significantly changed the terms of the deal."
With no purchaser, the Revel faces the prospect of being foreclosed upon. The tallest building in Atlantic City, the Revel cost $2.4 billion to construct and was open for two-and-a-half years, steadily losing money before finally closing its doors in early September 2014.
For the latest Revel-related revelations, visit ABC News.
GTECH-IGT Merger Cleared by British court
We reported a month ago how the Nevada Gaming Commission had given its approval to the largest-ever merger for the industry's manufacturing sector, signing off on a $6.4 billion deal in which Italian gaming group GTECH would acquire the U.S.-based developer and distributor of slot machines, International Game Technology.
It's a blockbuster of a deal, given the huge market shares both companies enjoy with GTECH handling online lotteries around the world and IGT also a global leader in casino gaming, including making about half of all the slot machines in the U.S. As such the deal needs more approvals by various regulatory agencies around the world to be finalized, and on Monday it cleared another of those hurdles when the High Court of England and Wales issued an order approving the sale. The newly-merged company — which will proceed jointly under the IGT name — will be headquartered in Britain.
Anticipation builds as the High Court's approval now paves the way for the merger to be finalized on schedule early next month, pending the completion of the last few conditions of the agreement. iGaming Business reports that "GTECH will make an announcement as to whether these remaining satisfactions have been met by the time the Italian Stock Exchange opens on April 1."
Travel the information highway and merge onto iGaming Business for more on the current status of the GTECH-IGT deal.
Meditating over Macau
Finally, since last summer we've been chronicling the remarkable decline in gaming revenue being experienced in Macau, with February marking the steepest year-over-year drop to date of 48.6% — the ninth-straight month of declining revenue for the 35 casinos located there and their six operators, Sociedade de Jogos de Macau, Galaxy Entertainment Group, Venetian Macau, Melco Crown Entertainment, Wynn Macau, and MGM China Holdings.
We've noted how a major factor affecting Macau's gaming revenue cited by industry analysts has been China's president Xi Jinping's ongoing anti-corruption campaign. Measures implemented by Jinping's administration to cut down on governmental bureaucracy and other varieties of fraud have affected a number of different industries, including travel, catering, hotels, and high-end retail. But for Macau the biggest impact has come from limitations placed on the freedoms of casino junket operators who previously handled the moving funds, settling debts, and managing loans for high-rollers coming over to Macau. As a result Macau's VIP clientele has been reduced dramatically, thereby affecting overall gaming revenue.
Those interested in learning more about what has been happening in Macau and what may be coming should take a look at a recent column by Howard Stutz of the Las Vegas Review-Journal, "Chinese government almost seems to be purposely torpedoing Macau."
There Stutz addresses further measures from China to come that will likely affect Macau's casinos — including possible new visa restrictions — while also looking at the future plans of operators continuing to open new resorts there and contemplating the evolution of Macau into something other than strictly a destination for gambling, but for other types of entertainment.
Sail over to the LVRJ to get updated on Macau's current and future prospects as well as the SAR's place in the industry as a whole.
Get all the latest PokerNews updates on your social media outlets. Follow us on Twitter and find us on both Facebook and Google+!