Inside Gaming: Exploring Adelson's About-Face, Atlantic City Rebounds, and Riviera Closure Likely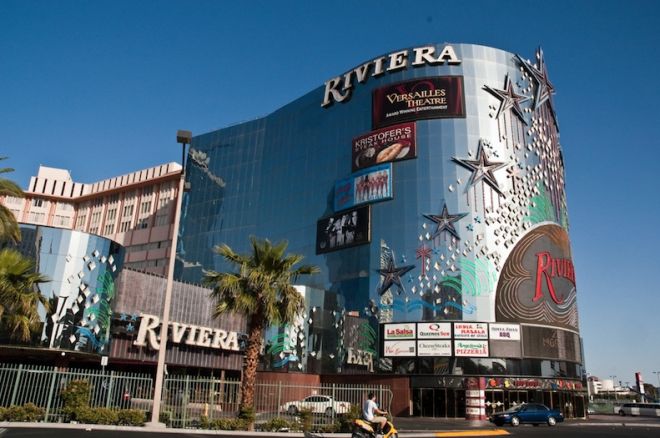 In this week's Inside Gaming, we review recent news regarding Caesars' change of thinking vis-à-vis PokerStars and the online gaming battle, with both parties' antagonist Sheldon Adelson also earning some coverage concerning his previously different stance on the issue. Also covered is some good news (at last) for Atlantic City and its revenue figures for January, and the likely closure and demolishing of one of the Strip's most famous hotel-casinos, the Riviera.
The Ongoing Online Gaming Battle and Adelson's About-Face
In recent weeks Inside Gaming has covered several Caesars-related stories including the Chapter 11 bankruptcy filing last month by its largest operating unit, Caesars Entertainment Operation Co., and the news of Gary Loveman stepping down from his longtime role as Chief Executive Officer, to be replaced by Mark Frissora on July 1.
This week PokerNews has been reporting on another big story involving Caesars' decision to change its stance regarding so-called "bad actor" clauses in online gambling legislation, thereby signaling an alliance with Amaya-owned PokerStars to help introduce and grow online gaming in the U.S.
"Caesars and PokerStars Join Forces to Promote U.S. Online Gaming Market" reports on the initial news of Caesars having altered its position, while "Caesars' Jan Jones Blackhurst Discusses Recent Alliance with PokerStars" presents an interview with a Caesars VP who provides further insight into the company's thinking with regard to PokerStars.
Additionally, earlier this week PokerNews reported on how New Jersey State Sen. Ray Lesniak believes Las Vegas Sands Corporation CEO Sheldon Adelson has been using his influence with Gov. Chris Christie to hold back PokerStars' efforts to reenter the U.S. market in the Garden State in "State Sen. Lesniak: Adelson, Gov. Christie Delaying PokerStars' Entrance into New Jersey."
Meanwhile a feature on Mother Jones this week brought some mainstream attention to the legislative battle over online gaming in the U.S. with a short feature outlining a different change of position, that exhibited by Las Vegas Sands Corporation CEO Sheldon Adelson.
In an article facetiously headlined "Casino Billionaire Sheldon Adelson Is Shocked — Shocked! — by Online Gambling," Sam Brodey summarizes the lobbying efforts of Adelson's Coalition to Stop Internet Gambling and his support for the Restoration of America's Wire Act bill reintroduced earlier this month in the House by Rep. Jason Chaffetz (R-Utah) and in the Senate by Sen. Lindsey Graham (R-SC).
Adelson's much-professed moral objections to online gambling are explained, as is the obvious pecuniary motive for Adelson to curb competitors like Caesars and others from building up their online units. Brodey then shares the story of Adelson's company's previously earnest explorations to become involved with online gambling during the early-to-mid 2000s.
Filings by the Las Vegas Sands with the Securities and Exchanges Commission in 2001-02 indicated how "the company [was] actively pursuing the possibility of developing and operating an Internet gaming site," and in 2003 a subsidiary of Sands obtained a license from the Alderney Gambling Control Commission. Sands also entered into an agreement with Cantor Gaming in 2006 to launch an online gambling site for players in the United Kingdom, a plan that was never realized.
A Sands representative commenting to Mother Jones on the company's earlier forays into online gambling tried to distance Adelson from those efforts, explaining "that Adelson was not particularly involved in the effort and that his advocacy [to oppose online gambling] has only developed recently."
Read more about the about-face of Adelson and the LV Sands at Mother Jones.
Good News (Finally) for Atlantic City, Revenue Up in January
The news was mostly negative for Atlantic City in 2014, but 2015 has begun on a better note. As NJ.com reports, gaming revenue for the eight remaining casinos was up 18.8% in January when compared to a year ago, taking in $197.5 million versus the $166.2 million of Jan. 2014. Taking into account the four casinos that closed last year — the Atlantic Club, the Showboat, the Revel, and the Trump Plaza — revenue is still up year-over-year albeit only slightly by 0.9%.
Matt Levinson, chairman of the New Jersey Casino Control Commission, was sanguine about the positive numbers in his comments to NJ.com.
"Seven out of them were up, and six reported double-digit increases," explained Levinson, noting how even considering the closed casinos, the overall total was still up from a year ago. "While it is always risky to say we've turned a corner or that there is light at the end of the proverbial tunnel, let me say that January's results are very encouraging," he added.
As Levinson notes, with less competition on the Boardwalk nearly all of the eight casinos showed an increase in January. The Golden Nugget was the biggest gainer with its $18.3 million for the month representing a 70% increase over the $10.8 million the casino earned in Jan. 2014. Of the eight only the embattled Trump Taj Mahal showed a decline, its revenue for the month down 21.2% from a year ago.
And speaking of online gambling, that, too, showed an increase in January for Atlantic City casinos who took in $11.5 million for the month, up from $10.7 million in December. The Borgata continues its lead there in the online realm.
Read more about Atlantic City's January rebound over at NJ.com.
Riviera's Days Likely Numbered
Finally, the famed Riviera Hotel and Casino — first opened in 1955 — is likely down to its final months of operation should its acquisition by the Las Vegas Convention and Visitors Authority be approved in a meeting scheduled today.
After declaring Chapter 11 bankruptcy in 2010, reorganization efforts by Riviera Holdings Corp failed to reverse a decline in revenue. As the Las-Vegas Review Journal reports, the acquisition being considered by the Las Vegas Convention and Visitors Authority is for $182.5 million, a figure that includes transaction expenses, legal fees, and business closure expenses.
Should the deal be approved, the Riviera will remain open through mid-August, then be demolished in order "to make way for a portion of the $2.3 billion Las Vegas Global Business District, a major expansion of the Las Vegas Convention Center to include new and upgraded facilities, a trade center and a multimodal transportation hub."
The first "high-rise" resort to go up on the Strip, the Riviera was the site of performances by Liberace upon its opening while also serving as a location for numerous feature films including the original Ocean's Eleven (1960), Casino (1995), Vegas Vacation (1997), 21 (2008), and The Hangover (2009).
Read more about the proposed transaction and the Riviera's storied history at the LVRJ.
Photo: "The Riviera," jgreenberg. Creative Commons Attribution ShareAlike 2.0 Generic.
Get all the latest PokerNews updates on your social media outlets. Follow us on Twitter and find us on both Facebook and Google+!