Inside Gaming: Ron Paul v. Sheldon Adelson, Caesars' Woes, and Failed Revel Sale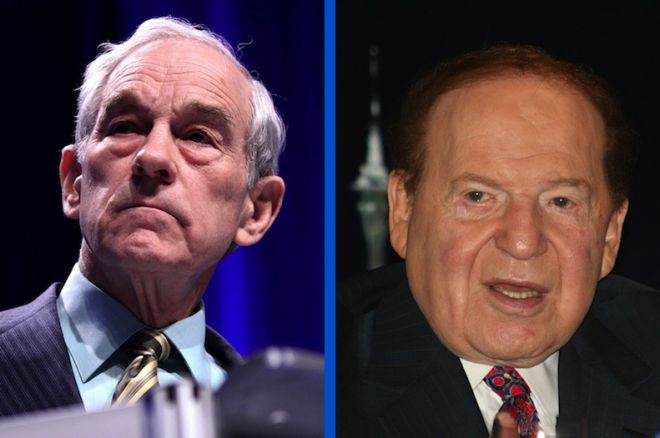 This week's edition of Inside Gaming looks at the latest in the battle over federal legislation regarding online gambling in the U.S., news regarding Caesars' financial troubles, and the sale of an Atlantic City casino falling through.
RAWA and Adelson's Ongoing War Against Online Gambling
The week began with reports of a possible hearing of the U.S. House Judiciary Committee to consider H.R. 4301, also known as the Restoration of America's Wire Act (RAWA). First introduced back in March in the House by Jason Chaffetz (R-Utah) and in the Senate by Lindsey Graham (R-SC), the RAWA intends to revise and restore the out-of-date Interstate Wire Act of 1961 that prohibits the use of wire communications to transmit bets or wagers across state lines.
If passed, the RAWA would "prohibit all forms of Internet gambling," thereby removing certain ambiguities caused by the earlier law's pre-internet language while also extending its reach beyond simply sports betting as underscored by a December 2011 opinion from then-Assistant Attorney General for the Criminal Division of the Department of Justice's Office of Legal Counsel Virginia A. Seitz.
RAWA collected several co-sponsors over the summer and fall — including many Republican members of the House Judiciary Committee — with anti-online gambling campaigner Sheldon Adelson's influence being felt in the form of donations from the billionaire chairman and CEO of the Las Vegas Sands Corporation (parent company of the Venetian Resort Hotel Casino and Sands Expo and Convention Center) encouraging legislators to get on board.
Even before the midterm elections on November 4, rumors circled that RAWA might get a hearing during this "lame duck" period prior to the new Congress entering after the start of the new year. Those stories intensified earlier this week, with former U.S. Congressman and presidential candidate Ron Paul weighing in Monday with a scathing criticism of both Adelson and legislators who have been influenced by his donations to consider RAWA.
"It is an open secret, at least inside the Beltway" writes Paul, "that this legislation [RAWA] is being considered as a favor to billionaire casino owner, Sheldon Adelson. Mr. Adelson, who is perhaps best known for using his enormous wealth to advance a pro-war foreign policy, is now using his political influence to turn his online competitors into criminals." Paul goes on to express skepticism about legislators' stated intentions regarding a possible Internet gambling ban, then argues further against the position as unduly infringing upon individuals' liberties.
By the end of the day on Monday, the Poker Players Alliance was tweeting "Inside info" that a possible House Judiciary Committee hearing to consider RAWA in December had been dropped from its agenda, at least for now:
Inside info, planned Internet #poker hearing in House Judiciary cmte has been pulled. Need to remain vigilant for other lame duck actions JP

— PokerPlayersAlliance (@ppapoker)
As the week progressed, further reports surfaced that Adelson's anti-online gambling agenda was starting to earn push back from members of both political parties, with a Washington Post feature noting "the hearing... was called off this week as conservative opposition began to emerge."
RAWA could still come up for review, of course, if not before the end of the year then by the new Congress in 2015.
For a comprehensive look at Adelson, RAWA, and the current state of federal-level debates about online gambling in the U.S., head over to The Washington Post.
Debt Concerns Cause Caesars to Contemplate Restructuring, Bankruptcy
Among other recent industry news from the week are reports of Caesars Entertainment Corp.'s efforts to assuage creditors via restructuring moves, including a plan to split its largest unit, Caesars Entertainment Operating Co., into two companies, one that would own its casinos and another that would manage them.
According to Bloomberg, "Caesars is trying to wrangle the support of dozens of creditors holding $18.4 billion of debt to try to push through a pre-arranged bankruptcy plan," noting how the casino operator "has lost money every year since 2009 and struggled to meet its debt payments."
As revealed in a regulatory filing with the Securities and Exchange Commission on Wednesday, without restructuring via negotiations with creditors or going the bankruptcy route, Caesars will be unable to repay debts by the last quarter of 2015.
Nevada public radio station KNPR reports that for the first three quarters of this year, "Caesars Entertainment Operating Co. spent $550 million and expects negative cash flow for the foreseeable future," Quoting from the filing, Caesars "does not expect its cash flows from operations will be sufficient to repay its indebtedness and will ultimately need to pursue additional debt or equity offerings or seek a refinancing, amendment, private restructuring nor reorganization under Chapter 11 of the Bankruptcy Code."
The report notes company-wide layoffs — "about 1 percent of its 68,000 workers" — and the expectation of a prearranged bankruptcy filing in January.
Read more about Caesars' current woes and efforts to combat them from Bloomberg and KNPR.
Potential Revel Buyer Bails
Finally, traveling back over to Atlantic City to consider other gaming-related financial troubles, on Wednesday a spokesperson for Brookfield U.S. Holdings LLC, the company which had been approved to purchase the now-closed Revel Casino Hotel, let it be known the company had decided against the purchase.
According to Press of Atlantic City, the decision was made after "bondholders refused to rework debt connected to the construction of Revel's power plant."
As the report spells out, Revel's 20-year-long arrangement with ACR Energy Partners LLC had proven especially damaging to the hotel casino's finances, "saddling Revel with more than $1.5 million in monthly power-plant financing fees before it paid a cent for actual energy used."
Costing $2.4 billion to build, the Revel closed its doors on September 2, 2014 after being open for less than two-and-a-half years. Other hotel casinos to close on Atlantic City's famed boardwalk this year include the Atlantic Club (in January), the Showboat (in August), and the Trump Plaza (in mid-September). The Trump Taj Mahal could become the fifth Atlantic City casino to close in 2014 thanks to ongoing financial difficulties and battles between management and its employees' union.
Incidentally, earlier this year Bloomberg reported Caesars Entertainment Corp. had considered adding the Revel as a property.
Visit Press of Atlantic City for more on Brookfield's decision to back out.
Get all the latest PokerNews updates on your social media outlets. Follow us on Twitter and find us on both Facebook and Google+!