Inside Gaming: Bankruptcy for Riviera, May Losses for Las Vegas, and Legal Fireworks for Station Casinos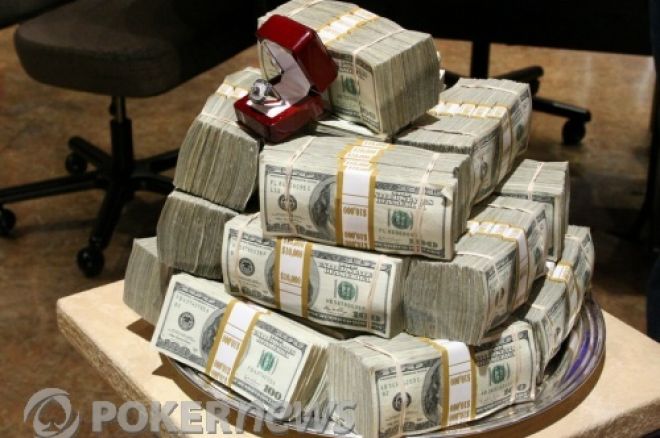 The heat has really been on the gaming industry in July, and casino executives haven't exactly been lying by their fancy pools sipping mai tais. After several years of decline, the Riviera finally filed for bankruptcy on Monday. That announcement came a few days after the Nevada Gaming Control Board released poor numbers for May, blaming lucky baccarat players for Las Vegas Strip casino losses. And although plenty of tourists turned out to celebrate July Fourth with Station Casino's elaborate fireworks display, the bright colors and loud noises were only a momentary distraction from the real fire — a new salvo in the fight over Station's proposed bankruptcy restructuring plan.
Riviera Files for Bankruptcy
Riviera Holdings Corp. filed for Chapter 11 bankruptcy on Monday. Two of its subsidiaries, Riviera Operating Corp. and Riviera Black Hawk Inc., also filed for reorganization in U.S. Bankruptcy Court. The subsidiaries own the historic Riviera Hotel and Casino on the Las Vegas Strip and the Riviera Black Hawk in Colorado. According to the filing, the Riviera's decision to restructure is supported by the holders of more than two-thirds of the company's debt. With their backing, it is likely that the hotel-casinos in both Las Vegas and Colorado will continue normal operations during the bankruptcy process.
Riviera Holdings reported $247.7 million in debt and $27.9 million of additional liabilities under a securities hedging agreement. The Riviera's filing says that thanks to the recession, the company's total assets are now worth less than its liabilities. "Debtors were faced with declining hotel and casino revenues based on reduced consumer spending, a tightening credit market, and an overall weakening economy," wrote Riviera attorneys.
Riviera Holdings lost $4.5 million in the first quarter of 2010, a drop of 36 cents per share. During the same period in 2009, the company lost 8 cents per share. The Las Vegas property, which has struggled to keep up with its strip competitors, said its room revenue fell by 18.4 percent. Although occupancy was slightly up, its average daily room rate dropped 20 percent. Learn more about the Riviera's woes here.
The House Always Wins, Except in Las Vegas in May
Casinos on the Las Vegas strip reported last week that their May gaming revenue fell by 6.4 percent, the largest monthly drop since last August. The decline was attributed to an unusual run of luck for high-stakes baccarat players and sports bettors. Gambling revenue across Nevada was down 4.7 percent in the state's third straight month of negative momentum.
Baccarat is traditionally a big winner for Las Vegas casinos, but the house won less than usual in May. "The players were luckier than the casinos," said Frank Streshley, a member of the Nevada Gaming Control Board. Players gambled 7.1 percent more on baccarat in May 2010 compared with the same month the previous year, but casinos' holds fell by 37.1 percent, accounting for almost $36 million of the strip casinos' monthly drop. They reported $450.2 million in May gambling revenue, a drop of nearly 6.4 percent from last May's $480.8 million. If baccarat results are removed from both months, Strip casinos would have experienced a gain of 1.2 percent rather than a decline, and statewide numbers would only be down 1 percent. Strip sports books also reported 42.2 percent less in revenue.
It wasn't all bad news for Las Vegas, however. Downtown casinos, not frequented by many high-stakes baccarat players, reported a .7 percent drop in revenue, the smallest decline since June 2008. Analysts suggest that downtown's stabilization is due to expansion of the Golden Nugget and other new renovations. Get all the details about May's numbers here and here.
Station Casinos Celebrates with Fireworks while Dodging Fire from Creditors
Station Casinos, Inc. celebrated July Fourth with a bang, hosting an extravagant nine-minute coordinated fireworks display across five of its Las Vegas properties. The company continued its annual tradition this year despite filing for bankruptcy a year ago and facing nearly $6 billion in debt. Station Casinos is in the middle of hammering out a controversial reorganization plan and says it is trying to keep its customers happy during the transition period.
"We have marketing money that we spend every month toward events to bring people to our properties," said Kevin Kelley, Chief Operating Officer of Station Casinos. "Just because we have a lousy corporate capital structure doesn't mean we stop running our properties...To us, it's a good business decision." Kelley started the fireworks display in 1997 as the general manager of Texas Station Casino.
Meanwhile, the holders of Station Casinos' unsecured debt have renewed their request to be allowed to sue. A group of bondholders who own over $2.5 billion in unsecured debt are unlikely to get paid under the current reorganization plan and have long been opposed to the current framework. As it stands, the plan would allow Station Casinos' current owners to retain control of five properties and bid for 11 more in an auction in August. Station Casinos was taken private in 2007, a move that the bondholders say caused its financial woes. Station Casinos, however, says the devaluation was caused by the recession, not the buyout. At the time of the leveraged buyout, it was valued at $8.8 billion. Its worth was assessed at $2.572 billion during the bankruptcy proceedings.
The bondholders allege that company insiders received hundreds of million in profit from the buyout deal thanks to insider trading information. The proposed suit says, "Various insiders clearly understood that the assumptions underlying Station Casinos' management projections were way off, but, because of their personal monetary interest in seeing the LBO transaction successfully closed (with all the risks on the backs of unsecured creditors), they ignored all the warning signs."
The bankruptcy judge, Gregg Zive, has not ruled on the bondholders' request to proceed with the proposed lawsuit, but a few months ago, he rejected a request for a similar suit against Herbst Gaming. Hoping to change Zive's mind, the lenders' new filing draws attention to several cases across the country in which creditors were able recover some of their losses in from debt-holding companies that had engineered leveraged buyouts before their bankruptcies.
Read more about the actual fireworks here and the legal ones here.
Follow us on Twitter for up-to-the-minute news, and also become our fan on Facebook.