Europe in Pills: PKR Leaves France, Austria to Block Unauthorised Operators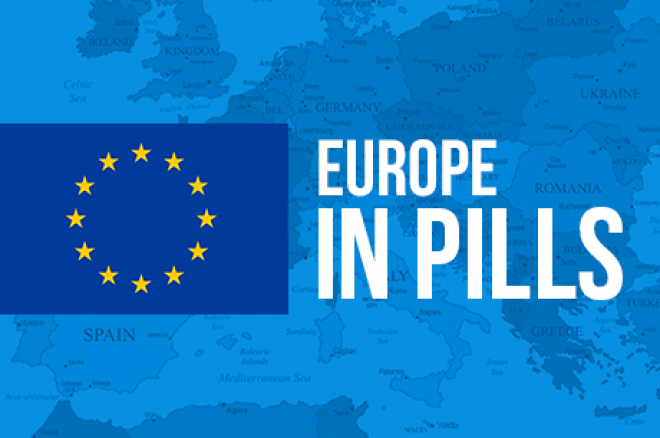 While the latest news from Italy — that they're cautiously open to the launch of international shared liquidity in Europe — France's poker industry continues to decline as more operators decide to leave and focus on more profitable markets.
At the same time, Lithuania talks about online gambling regulation and a new study commissioned by Austria's government may lead to the block of all offshore online operators currently active in the country.
PKR.fr to End Operations On July 22
The decline of France's poker industry made a new victim, as PKR Poker announced on Thursday they will close down their 'dot-fr' site.
In an email sent to their affiliates, the poker room explained that "unfortunately, the French market is no longer sustainable for PKR. That's why we have decided to shutdown www.pkr.fr and focus on the growth of www.pkr.com."
As PKR explains, the room will continue to offer poker games until July 22, although it will become impossible to open an account on the platform beginning on June 22.
"The closure of our French poker platform will become effective on July 22," PKR writes, "but we will not accept any new players from June 22. The French market has proven to be a very difficult one, and we have set ambitious growth targets for our core platform www.pkr.com during 2015 and 2016."
With a seven-day average of 24 real-money ring game players according to PokerScout, the poker room has been struggling to survive for a long time. As the numbers in the table show, during the last two weeks the room has never managed to reach a peak higher than 85 real-money ring game players, whereas the two top poker sites in the country — Winamax.fr and PokerStars.fr — have seen the same number reach 2.266 and 1.853 respectively.
Peak Traffic History*
| Date | PKR | Winamax | PokerStars |
| --- | --- | --- | --- |
| Jun. 5 | 70 | 1,775 | 1,330 |
| Jun. 6 | 50 | 1,704 | 1,243 |
| Jun. 7 | 63 | 1,888 | 1,481 |
| Jun. 8 | 85 | 2,313 | 1,818 |
| Jun. 9 | 63 | 2,164 | 1,706 |
| Jun. 10 | 77 | 2,266 | 1,760 |
| Jun. 11 | 60 | 2,133 | 1,548 |
| Jun. 12 | 53 | 1,768 | 1,480 |
| Jun. 13 | 68 | 1,406 | 1,316 |
| Jun. 14 | 58 | 1,992 | 1,539 |
| Jun. 15 | 59 | 2,229 | 1,853 |
| Jun. 16 | 64 | 2,162 | 1,639 |
| Jun. 17 | 52 | 1,974 | 1,667 |
| Jun. 18 | 56 | 2,017 | 1,513 |
*: Data courtesy of PokerScout
The closure of PKR.fr also implies the dismissal of the room's Team Pros, which today is composed of journalist Patty 'BabyTes' Beaumier, 2015 PKR Live London champion Daniel 'danshreddies' O'Callaghan, and 2014 WPT500 Nottingham champion Eleanor 'Elz442' Gudger.
The end of the room's operation in France appears to be a part of an overall strategy for growth set by PKR's new CEO Neil Alexander, who earlier this year took over the room's top chair from Malcolm Graham.
While the latest data about the French market recorded a new alarming low with online poker's traffic being just 54 percent of what it was in 2012, other companies like PokerStars, bwin.party, Unibet, PMU, and the Betclic - Everest Group have confirmed their intention to continue to operate in the country by renewing their licenses to offer gambling games.
Lithuania Plans to Regulate Online Gambling
According to a note from the press office of Lithuania's President of the Republic Dalia Grybauskaitė, the Baltic country plans to regulate online gambling in order to create a safe and secure gambling environment for its 2.9 million citizens.
Earlier this month, Grybauskaitė signed some amendments to the current legislation that should lead to the regulation of online gambling because, as Lithuania's President says, "unregulated online gambling leads to an opaque economy and favors criminal activities."
The President's press office explains that the country intends to regulate the market in full compliance with the current EU regulations, possibly by creating a system of gambling licenses controlled by the Gaming Control Authority. The note also adds that Lithuania's authorities are currently looking at the regulatory systems in place in the other Baltic States of Latvia and Estonia to learn from their experience.
Lithuania's Member of the Parliament Antanas Nesteckis also pointed out that the regulation of the industry could help to increase the country's tax revenues and limit issues related to compulsive gambling.
Austria to Ban Foreign Operators
The University of Graz has been asked by the Austrian government to work on a gambling-related study. Apparently, the government would like to know which measures could be adopted to prevent Austria's citizens from playing on unlicensed gambling sites.
As PokerFuse reports, the Austrian government plans to have the study completed by the end of the summer, when it should become clear whether measures like IP or financial transaction blocking could be implemented.
The news wasn't particularly welcomed by Austria's poker world, as the study may lead to significant limitations in the choice of gaming sites available from the country. According to Austria's current regulation, online gambling is regulated through a monopoly controlled by Win2Day, an online gambling hub authorized by the Ministry of Finance to offer online lotteries, online casino, poker, sports betting, and bingo games.
Want to stay atop all the latest in the poker world? If so, make sure to get PokerNews updates on your social media outlets. Follow us on Twitter and find us on both Facebook and Google+!