Amaya Starts Trading at Nasdaq: Five Things To Know Before You Buy Some Shares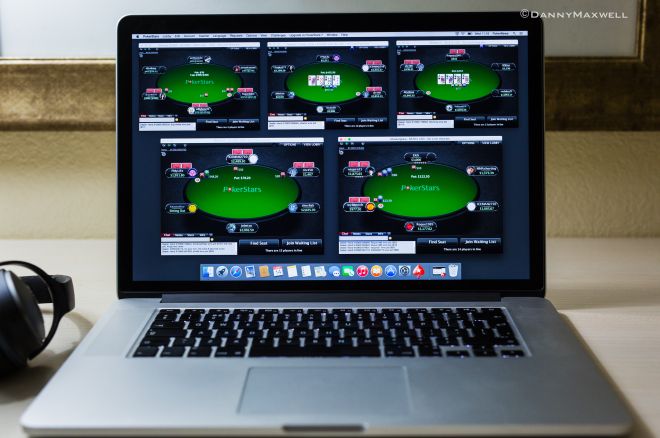 On Monday, June 8, Amaya Inc. common shares started to be traded on the National Association of Securities Dealers Automated Quotation (NASDAQ) under the symbol 'AYA'.
The company's CEO David Baazov called this an "important milestone" that shows the significant progresses made by Amaya since the time of its listing on the Toronto Stocks Exchange five years ago.
"Our listing on Nasdaq is an important milestone for Amaya and a testament to the tremendous progress we have made over our five years as a public company," Baazov stated prior to the listing on the Nasdaq. "We anticipate that the Nasdaq listing will provide greater visibility and better liquidity for our stock and help broaden our shareholder base."
The trading of Amaya's shares at the Nasdaq is indeed a clear sign of the way the company has been able to grow in recent years, and of the solidity of its plans.
However, we have decided to put together some more interesting facts we believe you should know about the past, the present, and the future of the company - especially if you plan to ask your dealer to get you some of Amaya's common shares.
#1. A Quiet Day at The Nasdaq
In spite of what some poker players imagined, the first day on the Nasdaq did not see the value of Amaya's common shares soar to unbelievable heights.
Appearing on the second-largest exchange in the U.S with the opening price of $28.37, the company's shares lost some points throughout the day, closing at $25.99. The image below illustrates the first day of trading of Amaya's common shares at the Nasdaq.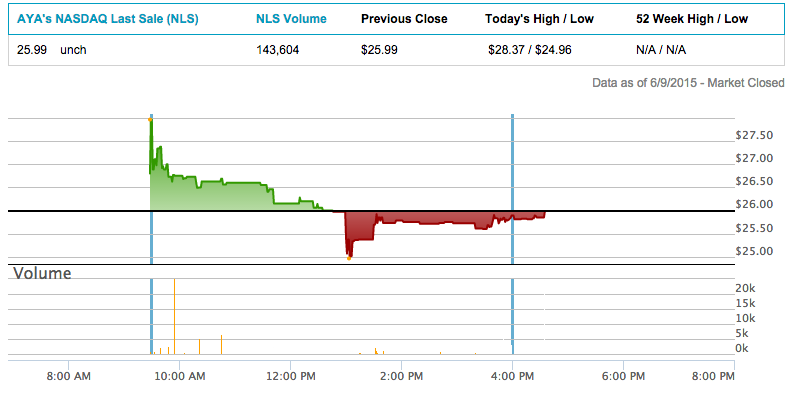 Similarly, the value of Amaya's shares went down by 3.64 percent on the Toronto Stock Exchange after starting yesterday's trading session at C$33.27 and closing at C$31.99 a share.
Despite the small drop, Amaya's shares are still much closer to their 52-week high of C$39.25 a share than to their pre-PokerStars and Full Tilt acquisition value of C$10.54 a share.
#2. The Company is Being Investigated By The AMF
One of the major factors that could influence the course of Amaya's shares on the Nasdaq and on the Toronto's Stock Exchange is the ongoing investigation into the deal signed with the Rational Group in June 2014.
In December 2014, Amaya's headquarters in Montreal was raided by the Royal Canadian Mounted Police and the Financial Markets Authority (AMF). Shortly after the operation began, it emerged that other companies, such as financial services firms Canaccord Genuinity and Manulife Financial, were also part of the same AMF-led investigation.
Canada's authorities explained that the operation was aimed to understand if there had been any wrongdoings in the colossal $4.9 billion deal signed to buy PokerStars and Full Tilt on June 12, 2014.
Although the investigation is still open and there is no way to foresee whether the AMF will find any irregularities or not, in June 2015 Amaya confirmed that the company's CEO Baazov and the Chief Financial Officer Daniel Sebag are named in the investigation.
Officials from Amaya, however, have repeatedly explained that the operation with the Rational Group was conducted according to the rules and that the company has been trying to do its very best to help the AMF to reach the same verdict.
"I believe that any concerns that I or other Amaya officers or directors violated any Canadian securities laws are unfounded, and we are confident that at the end of its investigation, the AMF will come to the same conclusion," Baazov said in a statement on the issue.
#3. PokerStars And The US Are Still In A 'Complicated Relationship'
Although the largest chunk of the company's revenue today comes from legalized markets outside the US, it's no mystery that the return of PokerStars and Full Tilt in the US is one of Amaya's biggest goals.
During a conference call with the group's investors held in August 2014, Baazov expressed his support for the trend leading to the regulation of online gambling throughout the world and expressed his hopes to see his companies able to offer gaming products to American citizens in the near future.
"Amaya and [the] Rational Group support the regulation of online poker and gaming and are committed to working with regulators to create responsible and tax-efficient means to regulate within their jurisdictions," Baazov said.
As for the company's future plans for regulated markets such as the U.S., Baazov confirmed Amaya's intention to bring PokerStars and Full Tilt Poker back to the US - even if he chose not to indicate when that could happen as "we do not have a crystal ball on timing."
However, in March 2015, Baazov's cautious position towards the return of the two online poker sites in the US changed. In a call with Amaya's investors held on March 31 Baazov said that "as it relates to New Jersey I would say that we feel that this is coming […] we would expect to receive and launch in the next quarter."
This was the first time an official from the company has ever explicitly set a date for the return of the poker room to the US. During a subsequent call held in May to illustrate the company's results during the first quarter of 2015, Baazov confirmed the timeline set in March and said that PokerStars is "on track" to launch in New Jersey before the end of fall.
If things are 'on track' in New Jersey, the future looks much less bright in California, a State where Amaya would love to bring its products - but where the opposition against the legalization of online poker appears to be very strong.
In April 2015, as Matthew Kredell reported here on PokerNews, California got an inch closer to legalization when State Assemblyman Adam Gray's online poker framework bill passed through the Assembly Governmental Organization Committee (GO).
This, however, does not mean that online poker is going to be legalized in California any time soon, as in the same article Kredell explains that the approval is not "as monumental as it seems," but it is a procedural move needed to keep the bill alive. Similarly, the Joint Informational Hearing in the GO scheduled in May concluded without any significative progress in relation to online poker legalization.
To add to this already complicated legislative landscape, an anti-PokerStars radio ad campaign paid by the Viejas Band of Kumeyaay Indians launched in California earlier this month. The campaigners strongly request that California citizens fight against the inclusion of "corrupt companies like PokerStars" in online poker legalization. The advertisement includes strong language against PokerStars, referring to the online gaming company as "scam artists and conmen."
As reported on PokerNews on June 6, the ad also mentions the AMF investigation and explains that "PokerStars recently had its parent company headquarters raided as part of an investigation into violation of security laws, but this hasn't stopped PokerStars from lobbying our state legislature to allow them to participate in online poker here in California."
Despite the ad, earlier this year Canada-based investment dealer Dundee Capital Markets reiterated a "buy" recommendation and a C$46.00 target price for Amaya share - mentioning the possibility of poker being regulated in California as one of the main reasons to keep an eye on Amaya.
#4. Amaya Will Probably Buy bwin.party
As if PokerStars and Full Tilt were not enough already, Amaya has set its eyes also on the bwin.party Group, an online gambling and betting giant with a market capitalization of approximately US$1.5 billion.
On May 19, Amaya announced that it has joined the London-listed GVC Holdings in order to conclude an operation that could cost the group approximately CAD $1.7 million. Amaya's interest for bwin.party did not come as a novelty, as the company has been reportedly in negotiation to take over the group since November 2014.
However, to put their hands on the assets (and the player base) currently controlled by the bwin.party group, Amaya and GVC will have to first beat the competition, like gambling giant 888 Holdings.
888 Holdings, which currently is the world's second-biggest online poker site after PokerStars, and which is also active in casino gambling and sports betting, has repeatedly declared its interests in taking control of the bwin.party group.
Martin Harris' column Inside Gaming published on May 22 explains that 888 confirmed to have "submitted a proposal regarding the acquisition of the entire issued and to be issued share capital of bwin.party for consideration comprising cash and 888 shares."
Bwin.Party confirmed 888 Holdings' offer but issued a statement to the media to note how "there can be no certainty that these proposals will result in a transaction being completed."
Although it is not clear how much Amaya and 888 are willing to spend in order to bring bwin.party home (and, more importantly, not to let each other's biggest competitor do that), a pricey bidding war may significantly influence Amaya's financial future.
What is sure, however, is that by taking control of bwin.party Amaya would also find a way to set foot in the US, as partypoker is among the poker rooms authorized to offer online poker games in New Jersey.
#5. The Global Gaming Powerhouse Is Already Happening
Right after he took control of PokerStars and Full Tilt with an operation that surprised many for its bravery and for the risks connected to it - Baazov explained that he had no intention to stop at poker.
The purchase of the legendary Rational Group from Isai and Mark Scheinberg marked only the first step in a process that Baazov made clear from the very beginning: to develop a global gaming powerhouse on the grounds of PokerStars' and Full Tilt's popularity.
The purchase of all the assets of the Oldford Group Limited (the parent company of Rational Group) will lead to the creation of a "global online gaming powerhouse in a large and growing online gaming market, which H2Gambling Capital estimates to grow up to approximately 42 billion dollars by 2018," Baazov said right after the conclusion of the deal.
This was in June 2014, right at the time when Baazov broke down his strategy for growth to explain how his plan would let PokerStars and Full Tilt move from an online poker market worth $4 billion "to a combined global market of the size of approximately $25 billion."
"We intend to support the company growth in real money online casino, sports betting and social gaming," Baazov said back then, encountering mixed reactions from those who believed that a brand and icon like PokerStars should not be associated to anything different than poker.
Today, almost exactly one year later, the mission already looks partially completed. Full Tilt has dropped the legendary 'Poker' word from its name, introduced more casino games than ever before, and also started to rationalize its costs with an operation that probably resulted in Gus Hansen and Viktor Blom losing their sponsorship contracts.
At the same time, PokerStars managed to push out the new PokerStars 7 client, an all-new platform that allowed the company to follow through with Baazov's master plan and give every single PokerStars user immediate access to casino games and a sports betting (currently available only in the UK).
To complete the picture, on March 31 Baazov said that Amaya "[has] also taken the strategic decision to enter the daily fantasy sports category and [is] pursuing parallel tracks of internal development and strategic acquisition. We expect to provide more details on this strategy in the second half of 2015, but see a clear crossover from poker and daily fantasy sports."
"Going forward, Amaya intends to acquire new customers and gain online gaming market share through the continued expansion of the B2C business in other verticals, including sports betting, casino, social gaming, and daily fantasy sports, which we expect will supplement our current growth plans for our core poker business."
With a strong leadership in the online poker vertical and the possibility to bounce users to other booming ones like online casino, online sports betting, and daily fantasy sports, by Baazov's own admission Amaya intends to grow its business through "geographic expansion, new and innovative marketing campaigns, including exciting global celebrity endorsements (read: Neymar Jr., Cristiano Ronaldo, and Yuiko Matsukawa) and promotions, and continued innovation in games and technology to improve the consumer experience and attract new players to the game and our other offerings."
Want to stay atop all the latest in the poker world? If so, make sure to get PokerNews updates on your social media outlets. Follow us on Twitter and find us on both Facebook and Google+!