Cristiano Ronaldo Joins Team PokerStars: "Poker Is My Game, It's Going to Be Fun"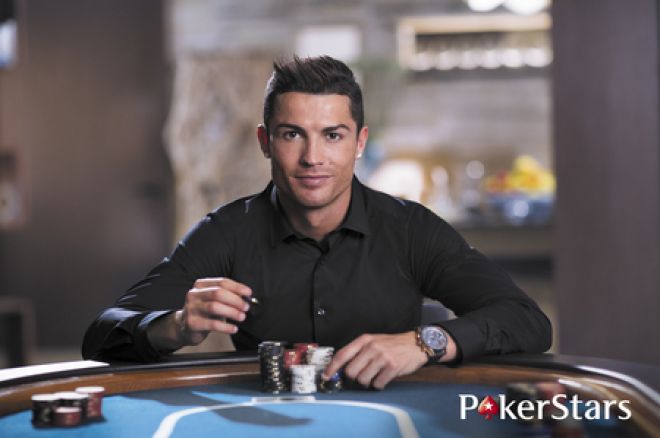 Football's living legend Cristiano Ronaldo is PokerStars' latest signing, according to a post published on the PokerStars Blog on May 27.
Considered by many as the best football player on the planet, the three-time FIFA Balon d'Or (World Player of the Year) winner and two-time Champions League champion from Funchal, Portugal, decided to become a member of Team PokerStars and sign a sponsorship contract for an undisclosed sum.
Although it became public only on Wednesday, Ronaldo's possible signing for PokerStars has been subject of rumours since the beginning of May, when the footballer published a photo of himself playing with a PokerStars-branded deck of cards on his social media channels. When contacted by PokerNews at the time, however, PokerStars said that the photo did not imply any form of deal between them and the player, and the fact that Ronaldo played with PokerStars cards was simply a coincidence.
"I like playing for winning teams, and PokerStars is the perfect partner for me," Ronaldo explained. "As a brand, it is always looking at ways to improve and stay ahead of the curve, and as an athlete that is something I truly respect."
Named by Forbes as the second highest paid athlete in the world in 2014 thanks to a net worth of approximately $80 million, the 30-year-old Real Madrid forward and Portugal's national team captain is considered to be a true marketing machine, with interests ranging from sports to fashion. His previous endorsements include other top brands like Coca-Cola, Motorola, Castrol, Fly Emirates, and Tag Heuer.
"Although football is my world, poker has always been my game," Ronaldo continued. "I'm very excited to join the team. I started playing poker a few years ago, and I love the competition, strategy and fun. I'm looking forward to taking my game to the online and live poker tables and meeting my fans head to head."
In a video posted on his official Facebook page, Ronaldo said that he is "happy and proud to be part of the team."
"I love to play poker, it's a fantastic game that I play with friends and family," he said. "To challenge the best players in the world is a pleasure for me. It's going to be fun."
According to PokerStars, Ronaldo will play online as C.Ronaldo and will also represent the poker room by taking part in several live events, including a special one planned for later this year where his fans will get the opportunity to challenge him at the poker table.
An Unrivalled Social Media Star
Thanks to signing a football legend like Cristiano Ronaldo, PokerStars managed to secure an impressive social reach, as the footballer is a true Internet star with millions of devoted fans.
With 35.5 million followers on Twitter and 103 million subscribers to his official page on Facebook, Ronaldo is sure to give the world's biggest poker site a visibility that no one else in the world could offer.
"Ronaldo is one of the most famous names in the world and PokerStars is thrilled to partner with him," said the interim CEO of PokerStars Michael Hazel. "We look forward to him spreading his love of the game worldwide by sharing his PokerStars experiences with his huge social following and fan base."
"The poker table is not a new arena for athletes, as many have, over the years, sought other ways to satisfy their love for competition, and pursue challenges." Hazel continued.
The same excitement about Ronaldo's signing came also from Amaya's CEO David Baazov, who said that "Ronaldo is part of a new generation of global superstar athletes that work hard, play smart, and encourage their fans to share in their lives. We're proud that Ronaldo — and fellow elite player Neymar Jr. — have chosen to make PokerStars a partner in their journey and to share their love of the game of poker with their legions of fans."
Ronaldo's signing comes only weeks after the same poker room announced the inclusion of Brazil's football legend and Barcelona's striker Neymar Jr. to its team.
Together with Neymar Jr., Ronaldo finds at PokerStars other top sports stars as Brazil's Ronaldo, Olympic gold field hockey captain Fatima Moreira de Melo, and tennis legend Rafa Nadal.
Image courtesy of PokerStars.
Get all the latest PokerNews updates on your social media outlets. Follow us on Twitter and find us both Facebook and Google+!