Randy Lew Films Into the Poker Glacier Video Featuring Game of Thrones' The Mountain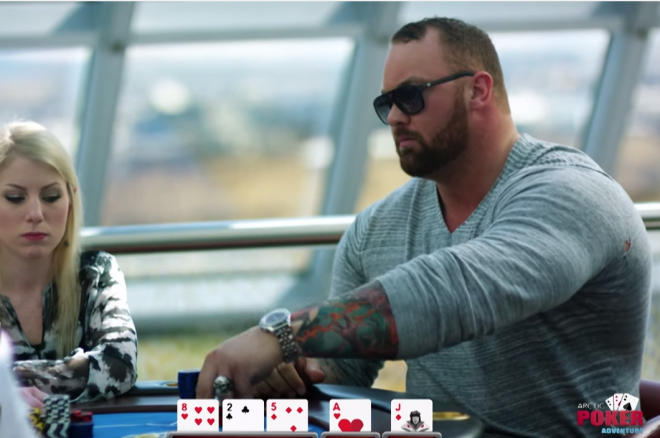 Randy "nanonoko" Lew is one of the most feared online players in the world. Ser Gregor "The Mountain" Clegane, played by Iceland's Hafthor Bjornsson, is one of the most feared characters on HBO's hit show Game of Thrones (GoT). Recently, the behemoth of a many and the scraggy poker pro had the chance to square off against one another in a recently released short video titled Into the Poker Glacier.
The film, which was shot in a single day by director Petur "Peppi" Sigurdsson, was the first to shoot in the ice cave at Langjokull Glacier, the second-largest icecap in Iceland. The concept was basically a James Bond video involving poker, but with a fun twist.
"It wasn't scripted," Sigurdsson told PokerNews. "Randy was there, and we just wanted to go and shoot a fun little video, maybe go to the glacier and do some stuff. Things started brewing in my head. I'd been thinking about doing some stuff with 'The Mountain' and his agent, so thought why don't I put the two things together, combine it, and make something out of it."
So how did Sigurdsson have such access to the GoT star? Easy, he works on the show. Sigurdsson is a noted television producer who has worked in Iceland for past 15 years, and before that in L.A. He currently serves as a unit production manager for the series Fortitude, and holds the same role with the aforementioned GoT, working primarily in Iceland for the show's "North of the Wall" sequences.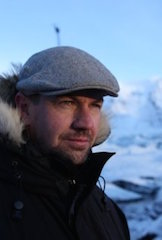 "I was involved when he was trying out for Game of Thrones, plus his agent is my personal trainer," Sigurdsson explains. "Here you say its seven degrees of separation, in Iceland it's two degrees. Everything is a phone call away."
As for Lew, who was in Iceland thanks to his close association Jivaro, he had the chance to get up close and personal with "The Mountain."
"Meeting a celebrity is kind of a star-struck experience," said Lew. "He's really nice. He crushes people on the show, but he's really, really nice. He likes to eat a lot of food, I'll tell you that. When we were eating lunch, he had like double steak sandwiches. I fell asleep and apparently he was eating my food too [laughs]."
Shot in Reykjavík, Iceland, the film captures the Artic Poker Adventure, a poker game featuring some familiar faces, including established poker pro Andrew "Lucky Chewy" Lichtenberger.
"That was really random," Lew said of his fellow poker player. "I was playing the Jivaro poker tournament and I see this guy who was just talking to people. I was like, 'What the hell are you doing here Lucky Chewy?'"
It just so happened Lichtenberger had chosen Iceland for a holiday – and to grind SCOOP – and given the video's unscripted nature, Lew and Sigurdsson jumped at the opportunity to nab a well-known poker figure for a cameo.
While that coincidence was fortuitous, not everything went as smooth. The video depended upon finding a schedule that worked for both Lew and "The Mountain," plus there were a ton of logistics to sort through.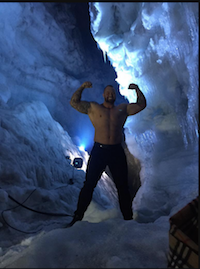 "On a Friday I didn't know if I had everything, and we shot on a Monday," said Sigurdsson. "We barely had the permission for the ice cave because it's just opening up. It opened like a couple days ago. They were just finishing, so we weren't allowed to be in the workers' way. I have pretty good connections with those guys from when we shoot on the glacier [with Game of Thrones]."
Getting to the glacier proved a challenge in and of itself. Without paths, the crew needed to take huge Jeep-like vehicles that crawled up the glacier right on the snow. A failed first attempt cost them time on the day of shooting, but eventually they made arrived at their destination. It was an experience Lew won't soon forget.
"I met Petur, and he had his ideas," Lew said. "This small little project just got blown out of proportion. Suddenly we were on a glacier and everything. It literally snowballed. We had snowmobiles there, buggies and everything. Super jeeps, a helicopter. I did not see that coming basically. I was expecting a little road trip or something. The whole experience was great. It was really one of the coolest trips I've ever been on.
"The pieces of the puzzle just fell together," Sigurdsson added modestly. "It is what it is. It's a fun little video, just a teaser for a poker TV show that we want to get on the air. The Artic Poker Adventure is the working title. Basically it's combining poker and taking poker players out of their element and putting them in adventure situations, like maybe racing buggies on a glacier while side betting on it and doing fun stuff to break it up. Just really get to know the poker players."
For a special bonus video of Lew trying to do a pull-up on "The Mountain's" left arm, click here.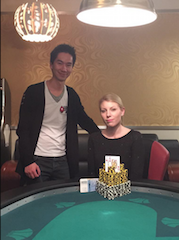 It's that show that brought Sigurdsson to Las Vegas during the 2015 World Series of Poker. Both he and Lew met with an executive from the soon-to-launch Poker Central TV channel.
"I love watching poker. For a fluke reason I started watching poker back in Iceland when they were showing it on cable," said Sigurdsson. "I think if you take it a little bit outside the poker table, that'd make it a little more interesting. I also think for it to be a fun show, you need to get to know the characters and root for somebody."
Sigurdsson went on to describe his own poker experience: "I don't know that much about poker, but I play little home game sometimes. Also, sometimes on the day off from GoT, we play poker. There's a party night and there's a poker table going. I'll be playing with like Kit Harrington, D.B. [Weiss] and David [Benioff], the creators of Game of Thrones, and that's the extent of my poker experience."
"The show can be a reality," Lew added. "We can see Daniel Negreanu doing some side bets in Iceland. It'd be pretty cool. Most likely it'll be a high-stakes cash game, which would be ideal, while seeing the fun side of people."
Check out the Into the Glacier video below:
Want to stay atop all the latest from the 2015 WSOP? If so, make sure to get PokerNews updates on your social media outlets. Follow us on Twitter and find us on both Facebook and Google+!