Online Pro Reid "shootaa" Young Talks WSOP Millionaire Maker & PokerSprout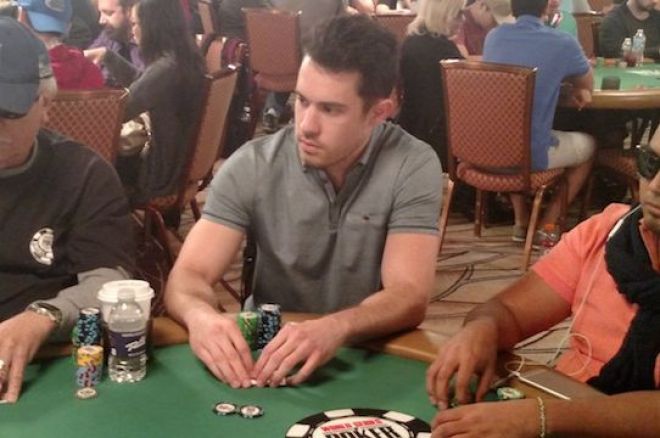 Players came from far and wide to play in the 2015 World Series of Poker Event #16 $1,500 Millionaire Maker, including online pro Reid "shootaa" Young, who flew in late last night so he could play Day 1b.
Young, whose online handle comes from the character Shooter McGavin in the film Happy Gilmore, is participating in his first event of the summer, and while he may not be the most familiar name in the field, he's certainly not new to poker.
Learning Poker
Young grew up in a sparsely populated tobacco-farming town in the eastern part of North Carolina, though he never farmed. In fact, poker has been his only job.
"That strange outcome was largely inspired by my father because he dared to dream to become a pilot; and after generations of our family had farmed for a living, flying was far from the expectation," Young told PokerNews. "He worked his ass off to live his dream. My own worldview has been inspired by little else, and by similar reaches for the seemingly impossible. It was instilled in my brother and me early on that there are no rules to life. Impossible is relative, and I believe that it is impossible to beat someone who will work hard and will not quit, if not impossible, it's going to be damn difficult."
Young learned to play poker when he was 12 years old, which is when his grandfather taught him five-card draw. As the years passed, he began to play Magic the Gathering and chess tournaments in high school, and then when he attended Wake Forest University – where he planned to become an orthopedic surgeon, but ultimately majored in philosophy – he found no-limit hold'em.
"In 2004, it the serendipitous Moneymaker boom was upon me," said Young. "The innocent seeming play with hall mates in my early months of college quickly made me beer money, made my hall mates broke, and forced our poker game to break. The journey to a professional poker player had begun from necessity: I was compelled to find the next level to beat, like my brain would not accept anything other than a challenge from the game."
Young immediately hit the bookstore and bought The Theory of Poker, Doyle Brunson's Super System, and Caro's Book of Poker Tells, and equipped with new knowledge practiced long and hard to increase his skill rate more rapidly than my competitors. That's when the money started pouring in.
"I started at 200 no-limit and played for about a month before moving up to 400 no-limit," Young explained. "I posted so many hands on TwoPlusTwo that mods messaged me to quit posting so often. Of course, I did not slow down my efforts. Even today, I am still that hungry about the game."
Within two years, Young was well-known for playing $1,000-$10,000 buy-in cash games, making more than a quarter million a year, and was writing for CardPlayer Magazine. He also worked for a training site, coached players, and began traveling the world to notable tournament stops.
Teaching Poker and Sprouting Into Bigger and Better Things
"I got into poker training because I quickly found out that I could help people achieve financial freedom through poker," said Reid. "Sharing strategies with a player that causes them to emote an audible 'aha' moment is one of the best feelings, and then to see a person succeed after that moment or a set of those moments over a few poker training sessions felt magical. I knew I wanted to do it more, so I started working for a training site."
In addition to working for an online training site, Young self-published his own poker book and even contributed strategy content to PokerNews. Given his strong connection to online poker, you might assume Young was affected by Black Friday. Indeed he was, but not in the way you might expect.
"Black Friday showed me, so quickly, that poker is not the only avenue for success in life," said Young. "I had been forced to consider other paths. I have just launched a poker training site called PokerSprout to show as many people as possible what I've learned from poker and how it can positively affect their lives. For our team, and now for many others, poker can be a tool, but it should never be a crutch."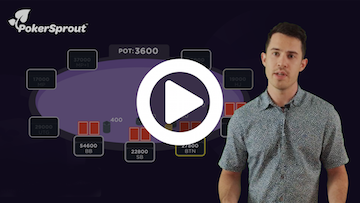 PokerSprout, which Young launched alongside Simon Jonas, uses quick and focused videos to teach students. That's because Young believes, thanks to convincing data, that long and drawn out videos don't hold the attention of even the most dedicated students. Another thing PokerSprout does to differentiate itself is animate videos, which they hope will make learning more fun, entertaining, and memorable.
"PokerSprout will always aim to give members exactly what they want, just in a higher quality way than they can imagine," Young explained. "By speaking, interviewing, surveying, and discussing ideas with our members, we know what teaching topics to prioritize, what to tweak, and what we need to improve. We also back a lot of our content creation ideas on research we have done that is well beyond the realm of poker training, and grounded in improvements in education that might be made in other realms as well. It isn't like we are reinventing the wheel; but, it is like we are making a Rolls Royce, and we will always aim at that ideal. The great part is that because everyone can use the content, our site can cost the same as other training sites at $29 a month when we launch, or a discounted amount for a full year."
PokerSprout will launch in the near future, and in the meantime the site is offering free sample content.
"It's coming soon," Reid concluded, "we are starting off in true PokerSprout style: idealistic, a little quirky, a little goofy, unique, and chiefly to give our members what we were made to give them - what they want.
If Reid is able to make a deep run in the Millionaire Maker, he'll no doubt attract some new students.
Want to stay atop all the latest from the 2015 WSOP? If so, make sure to get PokerNews updates on your social media outlets. Follow us on Twitter and find us on both Facebook and Google+!