Erik Seidel on Keeping Up w/ the Game: "I Don't Even Think I Know How to Play"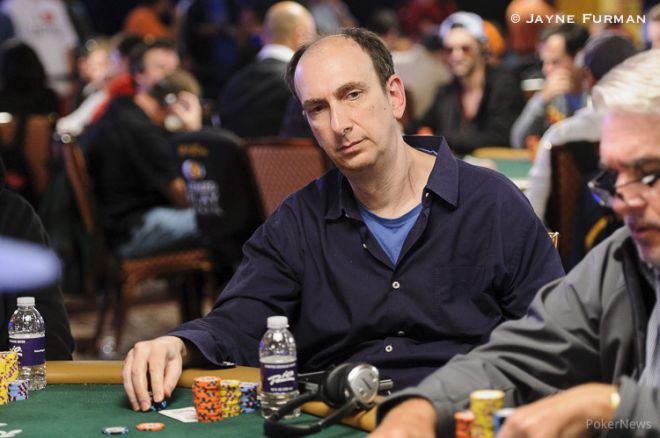 Only one player in the world has exactly eight bracelets. Sure, four players have more than that (do you know who they are?), while just two lag behind with exactly seven (how about them?), but only Erik Seidel, a 2010 Poker Hall of Fame inductee, is truly great with eight.
Seidel is here at the 2015 World Series of Poker, but thus far he's failed to notch a cash, something he's done every year since 1991. However, with five weeks of poker still to be played, there's little doubt he'll keep that streak alive. That said, it's not like Seidel hasn't been crushing it lately, because he has, just in other events.
For instance, at the end of April, Seidel topped a field of 71 entries to win the European Poker Tour €100,000 Super High Roller for €2,015,000, a victory that had some wondering if he perhaps wasn't the greatest player of all time. Strengthening that case, Seidel finished second to Andrew "Lucky Chewy" Lichtenberger in the $25,000 ARIA High Roller IX on Saturday, a finish that earned him $354,000 after a chop.
Seidel, who has $24.4 million in lifetime earnings and currently sits third on poker's all-time money list behind Daniel Negreanu and Antonio Esfandiari, recently sat down with PokerNews for a brief chat during the 2015 WSOP.
PokerNews: What do you do that allows you to continue to compete with some of the best players in the world? Do you actively study the game?
Seidel: You know, I haven't done as much work as I really need to. I feel like I really fell behind in that regard. One of the handicaps that I have, maybe there's some advantage as well, is that I don't really have a whole lot of structure to my game.
Do you think you adapt better than most players?
I'm guessing that has to be true because I don't know how I'm going to play. I don't even think I know how to play really, I just go and try to figure it out while I'm there [laughs]. I think, particularly in no limit, if you know how to play, you're probably doing it wrong because I just think there's a big creative element to it. So much has to do with what the exact situation is rather than trying to impose your own play on somebody else.
In the recent $25K at the ARIA, you and Andrew Lichtenberger worked a chop. Is chopping something you're usually open to do or did you just do it given the tournament last into the early morning hours?
Well, it was late, but no I was very happy to chop with him. Chewy is one of the best players in the world; I think so much of his game. I'm very happy to chop. It was late, and I certainly don't need to play a heads-up match against Chewy for $150K. As it turned out I probably played for more than I should have. I should have chopped the whole thing or played for $5K or something.
ARIA will also be hosting the $500K Super High Roller Bowl. Do you plan to play?
Yeah, I'm definitely planning on playing. I'm really excited about it. I think they're going to put together a really great event. That's been circled on my calendar for awhile, and it'll be a fun one.
What about for the rest of the 2015 WSOP, do you plan to play a full slate?
I think I'll probably play less events this year than I normally do because I want to ready for the $100K and the $500K. As those tournaments approach I'll probably take some days off. I'll miss a lot of days of poker because of that. I'm just not one of these people that really has the energy to play everyday, I get burned out.
Any plans for an Erik Seidel poker book, be it strategy or a biography?
[Laughs]. I don't think it'd be a very good read, I don't really have much to say. I think it'd be a terrible book. If I ever do write one, nobody should buy it.
Over the years we've seen poker players partake in various reality TV endeavors, like Annie Duke on Celebrity Apprentice, Jean-Robert Bellande on Survivor, and both Phil Hellmuth and Daniel Negreanu expressing interesting in doing such shows. Given your high profile and accomplishments in the poker world, any interest in possible doing something like that?
I think those guys are some of the most charismatic people in the game, so TV is going to be a lot more interested in those guys than they're going to be in me [laughs]. It's very lucky we have people like Hellmuth and Daniel, people that are out there. In terms of drawing peoples' interest into the game they're worth a great deal more than I am.
Want to stay atop all the latest in the poker world? If so, make sure to get PokerNews updates on your social media outlets. Follow us on Twitter and find us on both Facebook and Google+!