WSOP Millionaire Maker Continues Phil Hellmuth's "Frustrating" Summer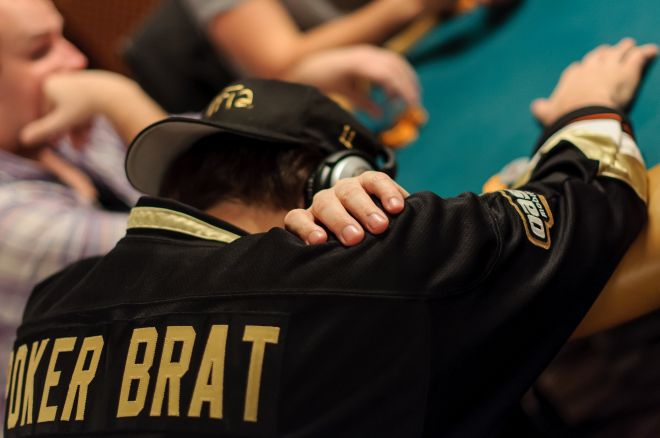 For most players, bagging up a stack at the World Series of Poker is a momentous, exciting event, and step one in what they hope will be the culmination of a dream come true. For Phil Hellmuth, who survived Day 1 of Event #16: $1,500 Millionaire Maker No-Limit Hold'em, it was less than thrilling.
A holder of a record 13 gold bracelets, Hellmuth was presumably a big favorite in a field full of amateurs who lack even a fraction of the experience of the long-time pro. He said that was definitely the case, as he saw plenty of perplexing plays.
"I'm just frustrated," he said. "The play was horrendous. A guy would move all in from Seat 3 and someone in Seat 4 would call with ace-nine of clubs, and ace-nine of clubs would be good somehow. Someone moves all in and the guy in the cutoff moves all in with king-jack suited over the top protecting him, and king-jack suited is the best hand. And I just thought, 'What are they doing?'"
However, Hellmuth was unable to capitalize, as he bagged only 9,400 after the 11-level grind. He ran his starting stack of 7,500 up to about 32,000, but endured a frustrating slide to end the night.
"It just seemed like I didn't win any hands after that," he said. "I had some guy on my left who decided he was going to outplay me every hand. When he finally moved in with ace-eight offsuit with a huge amount of chips for no reason over the top of me, he ran into tens. It came
and he somehow won that too with running
."
Hellmuth was initially pleased to see the player drag the pot, as Hellmuth expected to be able to stack him eventually. Indeed, he said the player continued to shove over him, but Hellmuth couldn't find the right spot to bust him. For the all-time record holder of most WSOP cashes, it was just more of the same so far this summer as he's hit an early slump.
"I have not been running good," he said. "I have zero cashes in nine days. I know that I was unlucky in 90 percent of the tournaments."
For many players, running bad can lead to playing bad. The frustration of not being able to win a pot can creep into the mind, leading to tilt. Avoiding that mindset is crucial, Hellmuth explained.
"You have to be careful not to change too much," he said. "You don't want to adjust too much. If you're playing great, you have to continue to play great. It feels like I'm playing fine, but I'm just not getting there right now."
Hellmuth plans to see if a change of games helps turn things around. On Saturday, Event #17: $10,000 Razz Championship gets underway, and Hellmuth plans to hop in despite qualifying for Day 2 of the Millionaire Maker, which is on Sunday. He said he considered gambling with his short stack late in Day 1a, but he couldn't bring himself to throw his chips away in a bad spot.
Instead, he hopes to run up a stack in the razz tournament and weigh his options from there. If he's able to put together a successful day, he can focus on a game at which he's shown considerable prowess in recent years. He claimed a bracelet in 2011 in the $2,500 Razz event and then nearly nabbed number 14 last year before Ted Forrest bested him heads up in the $1,500 Razz.
"Razz is a great tournament for me," Hellmuth said. "I figure I'll play the razz, and if I do well, then I'll just skip this. But I'd rather skip this than play badly in it."
The structure of the limit events has been a hot topic in recent days, as numerous limit tournaments have run longer than expected, with some reaching the money late on Day 2. Many players have voiced negative opinions about the changes, pointing out that it prevents them from playing other events and kills their hourly rates. Count Hellmuth among those concerned.
"The WSOP has to fix this," he said. "I understand what they tried to do, but it's had a disastrous effect. Almost every player I've talked to hates it. Now, you have to play so many hours, it's just a lot harder. The extra 2,000 chips was a bad idea."
Still, if things go awry in the razz tournament, Hellmuth has no shortage of confidence in his no-limit game Day 2 of the Millionaire Maker. Whether seated with a group of fellow pros or a gaggle of newbies, he plans to be ready.
"I have 12 bracelets in hold'em," he pointed out. "I think the next guy has three. Hold'em just makes sense to me."
Want to stay atop all the latest from the 2015 WSOP? If so, make sure to get PokerNews updates on your social media outlets. Follow us on Twitter and find us on both Facebook and Google+!