German Soccer Star Max Kruse on WSOP Plans, Bayern Munich & More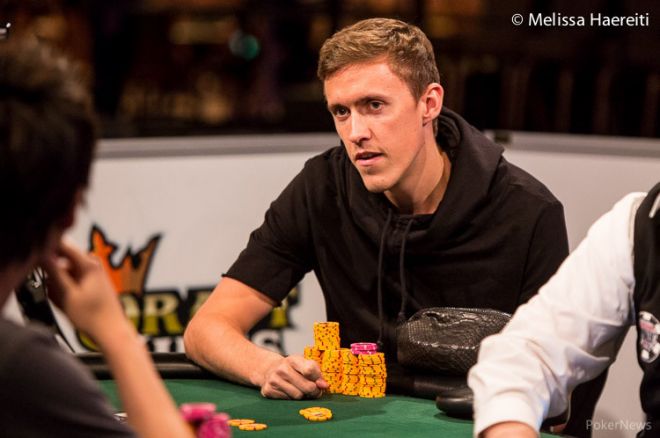 Last year, German professional soccer player Max Kruse went on the run of a lifetime for his first live tournament cash, making the final table of Event #36: $1,500 No-Limit 2-7 Single Draw. There, he finished third for $36,494 in a 241-player tournament eventually won by Steven Wolansky.
This year, Kruse is back and firing away at the 2015 World Series of Poker, fitting as many events as he can into a busy vacation schedule that's part of his yearly "one month to play poker." At the first break of the $10,000 Pot-Limit Omaha Championship, the 27-year-old striker who just signed with Wolfsburg after a 66-game, 23-goal stint with Borussia Mönchengladbach agreed to a quick interview with PokerNews.
PokerNews: How's the tournament going for you so far?
Kruse: It's going well. First two levels, I'm a little over the starting stack at 38,000. It's a long tournament.
Yesterday, we saw you in the $3,000 Six-Max but didn't have a chance to talk to you before the end of the night. Was that your first tournament of the summer?
I played $1,500 Omaha, the $3,000 Omaha, and the $3,000 no-limit. I busted a few hands before the break. I had 15 big blinds left, and I didn't want to come back with 15 big blinds (laughs). I wanted to double up or go home. Now, I'm not too tired to play this today.
Last year, you told us PLO was your favorite game. Is that still the case?
Definitely. Most of the time, I have a lot of fun with PLO. Sometimes, we get bad suckouts, but that's poker and PLO is a fun game because of the ups and downs.
How much time do you have left in Vegas and what do you have planned?
I have to see how this tournament goes. Tomorrow's the $5K turbo, when I bust this tournament I'm going there. I definitely want to play the $25K Omaha. After that, I have to leave on July 2nd or July 3rd.
Last year, you made that deep run in the WSOP and got to the final table. Did that light a fire in you and make you want to play more poker?
Not yet. It was a good experience for me playing at the final table. I was very excited. Maybe later I can play more, when I'm 35-36. We can talk to each other then and maybe I'll have another career as a poker player.
Is winning a bracelet something you think about when you play these tournaments or are you just strictly out here looking to have fun?
No, everyone wants to win, but I know it's difficult. There's 280 players today, and to be the best is very difficult in a sport I don't do professionally. I don't think so, but if it comes, I wouldn't have a problem with it.
And switching gears to your professional life, how's football going for you?
It's going well. I changed clubs to Wolfsburg. It's my first year in Champion's League next season. It's a new season with a new team, and I'm very excited for that. I hope we have a good season and maybe we can attack Bayern Munich, but it'll be very difficult (laughs).
Want to stay atop all the latest from the 2015 WSOP? If so, make sure to get PokerNews updates on your social media outlets. Follow us on Twitter and find us on both Facebook and Google+!