Sulsky Has Fun with Tournament Poker Variance in the $50K Poker Players Championship

Remko Rinkema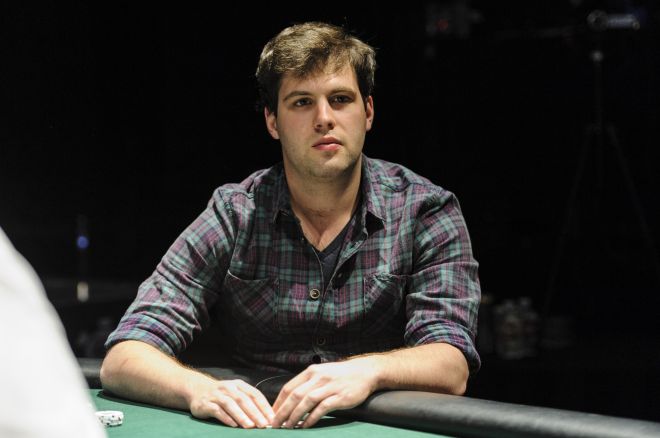 Online poker legend Ben 'Sauce123' Sulsky is a debutant, and one of the lesser known faces, left in the $50,000 Poker Players Championship, as 19 players head into the fourth day of play.
The media coverage Sulsky has received over the years on PokerNews is not small by any means, and neither are the stakes he's used to playing, but stacked up against the familiar faces from countless poker TV broadcasts he almost seems like the new kid on the block.
At a tough table with Jason Mercier, Chris Klodnicki and Mike Gorodinsky, Sulsky looks like the odd one out. With ease, the three aforementioned scoop up their up cards in Stud when folding, and the way they toss out the high and low portion of their Omaha Eight-or-Better hands is almost a work of art in and of itself. Sulsky not so much.
None of it matters though, as Sulsky hangs with the best and most experienced live mixed game players in the world as if he's been there before. His handling might not be on par with the level of smoothness exposed by most players, but his play and focus are.
"There's a lot of me fumbling my cards," Sulsky laughed. "Forgetting to put the dealer button in front of me, and generally me acting like a fool."
Sulsky's soft spoken, chooses his words carefully, and doesn't fall back to the usual answers given by poker players.
The $50k Nothing Special to Sulsky
Many players in the biggest mixed-game event of the year are chasing the gold, fame, and the fortune, but for the US pro, who's now based in Canada to play online, the $50,000 Players Championship doesn't bring up any special feelings, at least not yet.
"It's a fun event and a fun structure because you get to play 10-game with people that tend to have fun at the tables. It's a bit more relaxed, but I have no special feelings attached to it," Sulsky said.
Playing pots online for the size of the event's buy-in, which often happens multiple times per day, definitely trains the mind to think differently, as the adrenaline hasn't even started to flow with the even-keeled Sulsky.
"I think I get almost equally excited whenever I sit down at a poker table, I just try to focus and play well. Once I get really deep in this event I'm sure I'll get more excited, but it won't be anything crazy."
The lack of experience might seem like a big obstacle, but a bright mind learns fast, and Sulsky has more experience playing mixed games than some might think.
"I've been playing some mixed games online this year, and sporadically for the last two to three years. Especially in Badugi I'm a bit more inexperienced because it's played a little bit less online, but I'm working on it. I'm certainly not completely polished in the mixed games," Sulsky admits.
Sulsky complimented his opponents on their play, and mentioned that he was quite fortunate to survive the third day of play. Still, right now he's just two days of tournament poker removed from forever being remembered as a World Series of Poker bracelet winner.
Outrageous Tournament Poker Variance
One of Sulsky's regular opponents online, Doug 'WCGrider' Polk spoke to PokerNews last week and said that he doesn't want to be remembered for his tournament success, but for his online prowess, and we asked Sulsky what it would mean to win this event.
"Of course it would be a huge thrill to win a big live event, and I would be incredibly satisfied, but for me thinking about legacy seems like a trap to inflate my ego, and then I might start doing stupid things. So I don't try to think about things like that at all."
"Winning a bracelet is an exciting thing, and it's always fun to come out on top in a tournament, but the variance is just so outrageous that it's hard to really attribute much of it to skill," Sulsky concluded before walking down the long hallway of the Rio on his way to a good night's rest.
If Sulsky, who currently sits eighth in chips with 740,000, comes out on top in the $50K PPC his name will forever be linked to the result, and a new challenge with Polk might have to be planned in order to shift the focus of their brilliance back to the digital felt.
Want to stay atop all the latest from the 2015 WSOP? If so, make sure to get PokerNews updates on your social media outlets. Follow us on Twitter and find us on both Facebook and Google+!