Vanessa Selbst Kicks Off Her 2015 WSOP By Amassing a Monster Stack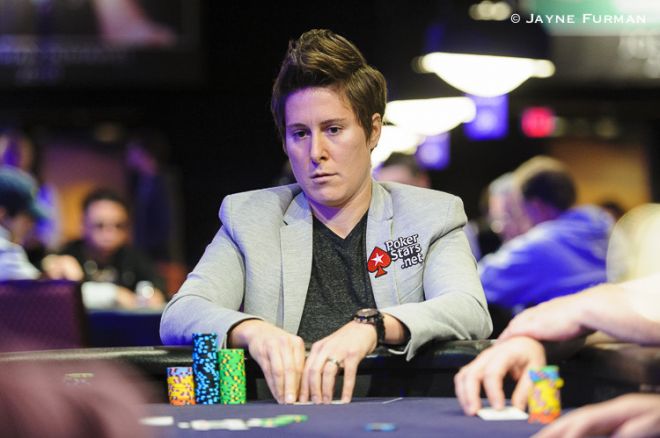 With three bracelets and some $2,102,766 in World Series of Poker earnings lifetime, Vanessa Selbst is no stranger to success at the WSOP. Yet the top earning female player in poker history found herself in less than familiar territory at the dinner break of the 2015 WSOP Event #28: MONSTER STACK $1,500 No-Limit Hold'em on Sunday.
Selbst owns WSOP braclelets from a $25,000 buy-in Mixed Max No-Limit Hold'em event in 2014, a $2,500 buy-in 10-Game Mix Six-Handed event in 2012, and a $1,500 buy-in Pot-Limit Omaha event in 2008. However, this was her first time playing a deep-stacked low buy-in event at the WSOP, and, therefore, her first time being among the leaders with a 350,000-chip stack as the money bubble burst.
"I've never played a deep stack low buy-in structure like this," she told PokerNews. "It definitely gives me an advantage, but it's also a really long time to have to play.
"Right when I registered, I showed up on time and I was regretting it right from the start. But now it's fun, now we're in the money and there's a lot more chips in play than most tournaments."
With Selbst' monster stack, some players might want to play the big stack bully going forward, but she says it's all situational.
"I'm just playing poker," she said. "The situations that come up, come up. There's no game plan in terms of pushing people around. Some people at the table are obviously more bluffable than others. I just mostly play my hands and put the pressure on if I have to, but nothing too crazy."
And as far as attacking a 7,000-plus player event with a deep five-day structure goes, Selbst say she approaches it like any other event.
"It's just day by day," she said. "You play your hands the best you can. Different situations come up depending on where you are at in the tournament, but really it's like any other tournament, just a little bit longer.
"Obviously the big difference between this and a $100,000 buy-in tournament is the level of the competition. The way that you're going to play a $100k is a lot different and if you're not doing that, you're doing something wrong. I don't think any poker player is going to play a $100k the same way they would play a Monster Stack."
It's that difference in the level of competition where Selbst says she hopes to find an edge.
"I think a lot of amateurs don't play postflop all that well" she said. "They think they play postflop a lot better than they do, so there's a lot of edge to be had, which is really nice."
Speaking of $100,000 buy-in events, Selbst, who arrived in Las Vegas to start her 2015 WSOP just a few days ago, said she will be playing the $111,111 High Roller for ONE DROP coming up at the end of June. She doesn't have plans to right now, but she also said she may play the $500,000 buy-in Super High Roller Bowl at ARIA Las Vegas at the beginning of July.
"If I bink this one maybe I'll throw myself in," she said. "I don't know, we'll see how it goes."
As far as the rest of the schedule is concerned, it's another thing she's taking day by day.
"I don't really plan," she said. "I just kind of take it day by day and sometimes play some poker and sometimes don't, depending on how I feel. I don't really have a set plan and I play most of the games, so I can kind of play whatever I'm feeling like that day - or not."
For now, she's just managing expectations and her monster stack in the Monster Stack.
"There's still like 700 people left. That's bigger than the starting field of a lot of tournaments I play," she said. "So I'm not feeling like I'm too excited yet. I'm just playing poker and we'll see what happens."
Want to stay atop all the latest from the 2015 WSOP? If so, make sure to get PokerNews updates on your social media outlets. Follow us on Twitter and find us on both Facebook and Google+!