Main Event Chip Leader Tom "Butters" Kearney: "Nobody Grinds As Hard As I Do"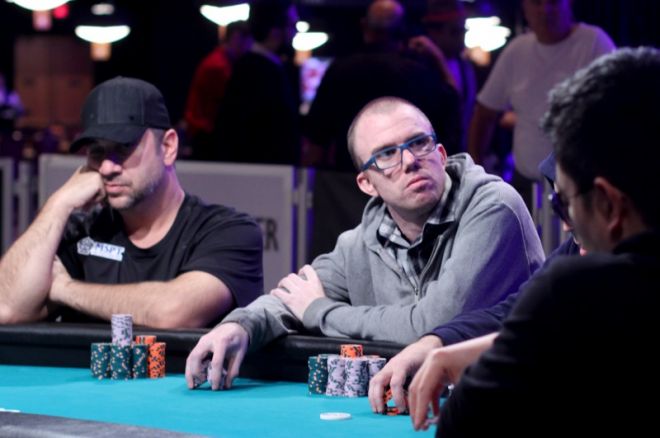 His Twitter description simply reads, "Poker."
That's fitting because poker dominates the life of Tom "Butters" Kearney all day, every day. He once played some of the biggest cash games in the world before Black Friday left him with "very little." The years since have been dedicated to single-mindedly rebuilding his once plentiful bankroll. He had a good laugh at the exhausted players expressing relief at the end of 13-hour days in the 2015 World Series of Poker Main Event.
"Since then, I've grinded 15-16 hours a day pretty much every day," Kearney said, estimating that he pays $20,000 in rake per month. "I was stuck rebuilding a roll from $25 heads-up sit-n-gos. Nobody grinds as hard as I do. I'm the No. 1 raker by quite a bit on WSOP.com."
Kearney has taken the grind to the live felt, and found himself the chip leader with 27 players left after Day 6 of the Main Event. He was short-stacked for much of the tournament, but things picked up big time for him on Day 6, when he played his first huge pot of the entire tournament late in Level 29 (50,000/100,000/10,000).
According to the live updates, Hans Joaquim Hein opened for 225,000 in early position, and Kearney three-bet to 615,000 from the button. Randall Clinger woke up with a jam in the big blind for 1.45 million. Hein shipped as well for 3.85 million, and Kearney snapped with the
, covering both. Clinger had the
, while Hein had the
.
The board gave Kearney a sweat with the
giving Clinger a four-flush, but a harmless
completed the board, giving Kearney the double knockout.
"I was squeezing in those spots a lot," Kearney explained. "I knew he was capable of shoving light-ish on me. When he tabled his hand, it was just a cooler."
Showing down aces in the biggest pot of the summer? Par for the course, if one listens to Kearney's opponents and railbirds on WSOP.com.
Inspired by Jason Somerville, Kearney took to streaming some of his online poker sessions, usually playing roughly 20 tables — a mix between $1/$2 and $2/$4 pot-limit Omaha and no-limit hold'em cash games and whatever tournaments he can find. He did so in an attempt to get a rakeback deal, knowing how valuable that would be to the highest-volume grinder on the site. In doing so, Kearney has garnered a reputation as an extraordinarily tight player — those who play against him and watch his streams sometimes joke that his style is "no set, no bet."
Kearney cracked a sly smile when asked about that.
"Yeah, it's kind of funny, I really want some of these hands to get televised," he said. "That [tight reputation] will get ripped apart really, really fast. A lot of people think I'm much nittier than I actually am. It allows me to get away with certain lines."
Six years ago, already well established in the poker world, Kearney moved to Las Vegas.
"I was just kind of bored in the middle of nowhere, New Hampshire," he said. "There was nothing to do at 10 p.m. Out here, it's cheap to live, there's fun stuff to do, and everyone understands the poker thing."
At that time, he was playing in games as big as $300/$600 limit and $50/$100 no-limit. A combination of Black Friday and being "young and dumb with money" put Kearney in the position of having to grind as hard as he has to try to rebuild.
Now, in first place in the Main Event with just three tables remaining, Kearney could potentially get it all back and then some. He isn't a player who lets the game get him too high or too low, staying reserved for the most part, but he does allow that being in this position feels great.
And if he can finish the job, he might have a future that doesn't involve 16-hour work days.
Want to stay atop all the latest from the 2015 WSOP? If so, make sure to get PokerNews updates on your social media outlets. Follow us on Twitter and find us on both Facebook and Google+!