WCW Wrestler Disco Inferno Talks Poker, Daily Deepstack, and More at 2015 WSOP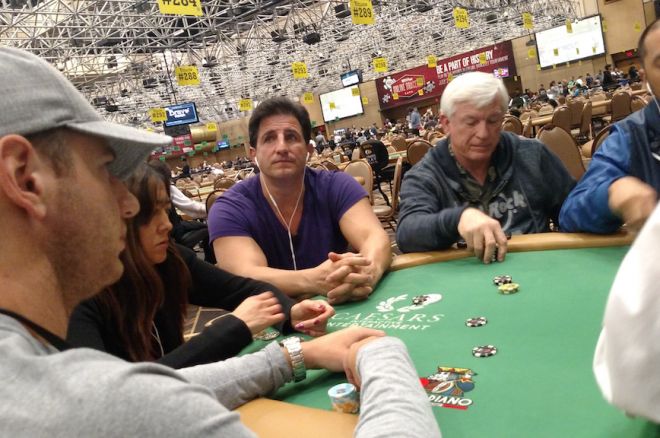 You never know who you'll see walking around the World Series of Poker during Main Event time. For instance, last year Breaking Bad star Aaron Paul was spotted on the rail sweating his buddy. On Sunday, during Day 1a of the Main Event, another celebrity, albeit from a different genre, was spotted playing the daily Deepstack.
When you hear the name "Disco Inferno" you probably think of the 1976 song by The Trammps from the album of the same name. However, if you grew up in the late 1990s, there's a good chance you recognize that name from World Championship Wrestling (WCW).
Disco Inferno, whose real name is Glenn Gilbertti, was a wrestler who enjoyed a six-year tenure with WCW, during which time his gimmick mimicked John Travolta's character from Saturday Night Fever. The Disco Inferno character was designed to annoy fans, and proved to be quite polarizing as both fans and haters emerged.
During his time with WCW, Disco Inferno was a one-time Cruiserweight Champion, two-time Television Champion, and even one the World Tag Team Championship alongside Boogie Knights partner Alex Wright.
Gilbertti's WCW days came to an end a long time ago – the company was absorbed by rival WWF in 2001 – but that doesn't mean wrestling isn't still a part of his life. In fact, Gilbertti, who relocated to Las Vegas eight years ago, still competes on the local circuit, and occasionally travels the country for events. In the meantime, he keeps himself busy working full time at Sapphire Gentlemen's Club and playing poker in his free time.
PokerNews caught up with Gilbertti, who was at the 2015 WSOP for the first time this summer.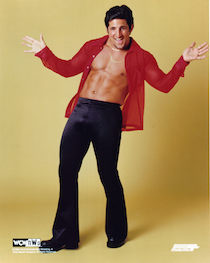 PokerNews: Thanks for taking the time to chat with us. We understand you played the Daily Deepstack today. How'd it go?
Gilbertti: I bought in late, and so I got 15,000 in chips and it was 1,100 a round. I lost a straight flush draw in a 9,000 pot and then didn't get another hand.
Do you get the chance to play a lot of poker?
I play recreationally over at the Wynn. When I do I'll play the $1-$3 and $2-$5 when the games are good. Every now and then, I'd say three or four times a month. I play on my days off, I've been traveling so I haven't had time to come down here [to the WSOP] basically because I work.
I work for Sapphire. I've been there for like eight years, great job, I love it. I still wrestle every now and then. I wrestle for the local stuff, and I travel when it's worth it still. Maybe 15 times a year still. I stay in good enough shape to do it, so as long as I keep getting paid to do it, I'll always do it.
When and how did you learn to play poker?
We just started around the TV boom on ESPN back in the day. The friendly game around Monday Night Football, you know. It progressed and everyone was having games. You know how addictive it got; poker blew up so everybody got caught up in it. I played a lot when I moved out here eight years ago, but the last three years it's more recreationally than anything.
Any wrestlers out there who can hold their own at poker, aside from yourself of course?
I know in TNA, Austin Aries is supposed to be pretty good. When I was in TNA in 2008 I think, we were playing after the shows. Then I left and I heard they kept playing, like A.J. [Styles] would play, but I don't know because I haven't been back there in awhile. I don't know a lot of guys that play. It's just me basically out here that I know of.
For more on Gilbertti, or more specifically his Disco Inferno character, check out this highlight reel from his WCW days:
Want to stay atop all the latest from the 2015 WSOP? If so, make sure to get PokerNews updates on your social media outlets. Follow us on Twitter and find us on both Facebook and Google+!