Playing Poker with Breaking Bad Star Aaron Paul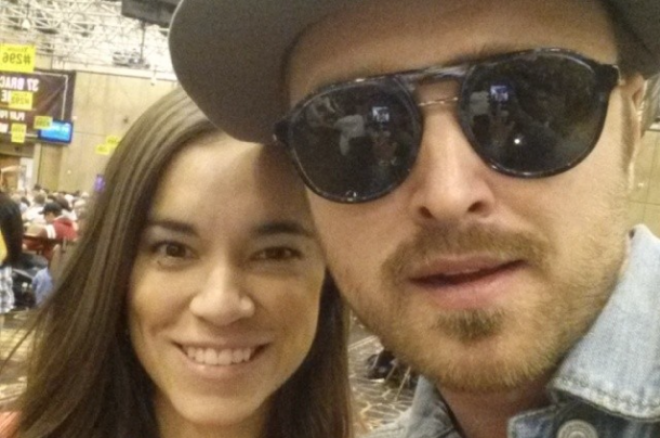 "Welcome to the table," he said to me when I sat down. I added "bitch" to the end of his sentence in my head because I half expected him to say it himself.
A couple weeks ago, I had the distinct honor of sharing the same poker table with the one and only Aaron Paul, most famous from the hit television drama Breaking Bad.
Online videos and his posts on Twitter and Facebook made Paul seem like one of the nicest, most down-to-Earth celebrities out there right now, and he certainly didn't disappoint. Dressed in a simple black t-shirt, with his sunglasses hanging at the v-neck, and a black baseball cap, he certainly did his best to remain inconspicuous. But his unique, deep, velvety voice gave him away everytime he spoke.
We played together for just over an hour, sharing small talk occasionally between hands. He played very tight. Whether that it his usual game, or he was just card dead that day, I do not know. What I do know is that the only hand he showed down was two red aces. Even though he was a huge favorite against his opponent's pocket fives, he looked as nervous as a guy who was all in on the final table bubble of the World Series of Poker Main Event. When he raked the chips in, he gave the classic line, "I mean aces get cracked all the time you know!"
Paul's famous face has been popping up quite a bit in casinos recently. At the WSOP Main Event in July, Paul was railing a friend of his, and gladly stopped to take a few photos with some of the PokerNews staff and many others. Since then, he has been spotted grinding the low buy-in tournaments at The Bicycle Casino. His love for the game is clearly evident, and it's truly amazing to see a man who has likely made millions over the past few years sweat out the river card of a $500 tournament just like any of us small league poker players.
One of my favorite things about poker is that anyone can play with anyone, as long as you have the money to put down to get into the game. It's the reason the Main Event is so popular in Las Vegas. For $10,000, you can rub elbows with superstars like Phil Ivey, Phil Hellmuth, Doyle Brunson, and Daniel Negreanu — the list goes on and on. No other sporting event is like that.
Normally, it's the famous poker players on TV that you have the amazing experience with, but sometimes you get to meet a worldwide celebrity or star athlete, and connect with them on a level you never thought possible. It was an experience I will cherish for the rest of my life, and one I would have never had were it not for those 52 cards and this beautiful game.
*Lead photo courtesy of PokerNews' Pamela Maldonado from the 2014 WSOP.
Get all the latest PokerNews updates on your social media outlets. Follow us on Twitter and find us on both Facebook and Google+!