Daniel Stacey Wins 2015 UKIPT Isle of Man Main Event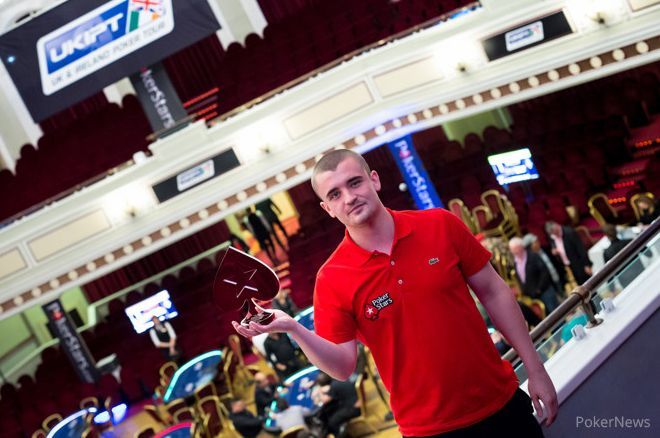 The final table of the 2015 UKIPT Isle of Man Main Event was a rather quick one, as Daniel Stacey had the title, the trophy, and the £24,170 in prize money in his hands after less than eight hours of play.
Final Table Results
| Position | Player | Country | Prize |
| --- | --- | --- | --- |
| 1 | Daniel Stacey | United Kingdom | £24,170* |
| 2 | Paren Arzoomanian | United Kingdom | £19,000* |
| 3 | Michael Fletcher | United Kingdom | £12,560 |
| 4 | Rodger Reynolds | United Kingdom | £10,170 |
| 5 | John Lawson | Isle of Man | £8,020 |
| 6 | Christopher Swinden | Isle of Man | £6,120 |
| 7 | James Walsh | Ireland | £4,500 |
| 8 | Elliott Hayes | United Kingdom | £3,307 |
*Denote a heads-up deal.
Despite starting out fourth in chips, Elliott Hayes was the first to go. He first ran into Paren Arzoomanian's full house with what was presumably rivered trips, and he busted not much later when he got it in with pocket sixes against jacks on an eight-high board. No luck for Hayes came on the turn or river, and he had to settle for £3,307.
James Walsh, who started out as the shortest stack, followed Hayes out the door. He moved in with ace-jack from the button and found a caller in Arzoomanian with pocket eights. The board was full of blanks, and Walsh collected £4,500 for his seventh-place finish.
Arzoomanian started out as the chip leader. Having busted Walsh, his confidence must have been at an all-time high. A period of pure domination began where he played just about every hand and won all of them. He four-bet twice and got folds both times, and he was cruising as the chip leader. Players at the table all tried their luck at him, but most of them failed.
Stacey was about the only one also collecting chips, especially when he busted Christopher Swinden. Swinden, a chef at a nearby hotel here on the Isle of Man, fell when he made a stop-and-go play in a three-bet pot with middle pair. Stacey had flopped top pair with top kicker and saw his hand hold up. Swinden picked up £8,020.
Local hero John Lawson was the next to go. The fan favorite had gotten away with some nice moves, but eventually couldn't fade running ace-six into Arzoomanian's ace-queen. A standing ovation erupted, and, for at least a minute, most of those in the tournament room clapped their hands in applause.
It was just Brits from that moment on, and Rodger Reynolds was the one of that bunch who was next to go. Reynolds was short stacked long enough and a dedicated rail with Paul Newey and Senh Ung couldn't prevent him from running ace-three into Stacey's pocket sevens. A board full of blanks later and Reynolds was off to the payout desk to collect £10,170 for his fourth-place finish.
The three-handed situation didn't last long, as Michael Fletcher was soon out of chips as well. He got it in with ace-ten suited against Arzoomanian's pocket sixes.
"I've been good at these so far" he said, but it wasn't to be this time. A six hit the flop and the river to give Arzoomanian quads. Fletcher took home £12,560 for his third-place finish.
After three-and-a-half hours, just two players remained. Arzoomanian had a commanding chip lead, but Stacey doubled after just a few hands of play. Stacey flopped a set and got it in on the turn that gave Arzoomanian two pair. Stacey faded what he needed to on the river and doubled up, but was still behind. Despite the uneven chip stacks, Arzoomanian suggested an even chop for £19,000 each and to play for the rest (£5,170). Stacey was quick to agree.
What could've been a quick match lasted another four hours and 15 minutes. Stacey doubled to even with sixes against ace-king, and he was right back in it. The two changed places many times, and more than once Arzoomanian claimed to be rivered in big pots.
The steady match was eventually won by Stacey. Arzoomanian doubled with sixes against ace-king and was getting close to even, but not much later the last hand was played. Arzoomanian got it in as a decent favorite with a straight against Stacey's top two pair. If he could just fade a nine or ten on the river, he would be the chip leader by a mile, but it wasn't meant to be.
"If you put a nine on the river, I will love you forever!" Stacey said to the dealer. The nine of diamonds popped up, giving Stacey the winning full house and the title. Arzoomanian had to settle for second place, but will still have a nice story to tell at the PokerStars office he returns to on Monday.
Thanks for following the 2015 UKIPT Isle of Man Main Event coverage right here on PokerNews. The next stop of the UKIPT will be in Edinburgh from Nov. 19-22, and you can find more information about the tour by clicking here.
Get all the latest PokerNews updates on your social media outlets. Follow us on Twitter and find us on both Facebook and Google+!