Chaffetz Drops Speaker of House Bid & Arizona AG Mark Brnovich Speaks Out Against RAWA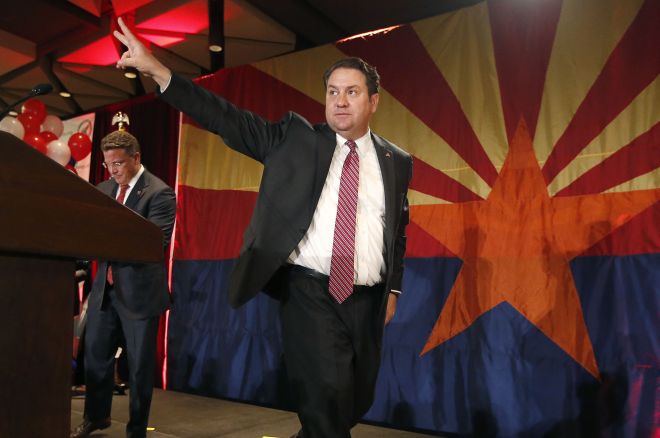 Last week, Utah Rep. Jason Chaffetz, sponsor of anti-online poker bill H.R. 707, abandon his bid for Speaker of the House, a development that was applauded by advocates for the game, including the Poker Players Alliance (PPA).
"[Chaffetz]" would have been quite a formidable opponent had he attained the Speaker's gavel," explained the PPA's Rich Muny. "Thank you to those who took the time to let their congressmen know that Chaffetz's anti-poker position is wrong for America."
In other Chaffetz news, the National Fraternal Order of Police, an organization with more than 330,000 members, sent him and Representative Elijah Cummings expressing their opposition to RAWA.
A Federal prohibition of online gaming would make our communities less safe, not more so.
"The FOP has been closely following the debate between regulating or attempting to prohibit Internet gaming," the letter states. "Our members have followed the success of regulation in a number of States with the legal online gaming marketplaces and as a result we remain resolute that regulation and associated technologies provide the necessary safeguards to protect vulnerable populations like children and problem gamblers, enforce state decisions on what gambling is permissible within their borders, and crack down on fraud and other consumer abuses."
It continued: "They say sunlight is the best disinfectant, and we agree – a Federal prohibition of online gaming would make our communities less safe, not more so. It is clear that the market demand exists – Americans spend nearly three billion dollars annually on offshore gaming sites that offer no safeguards and are out of the reach of law enforcement. Banning Internet gaming wholesale in the United States would further empower these illegal, offshore sites and leave law enforcement in our States and nationwide without the tools to protect our citizens."
To view the letter in full, click here.
Arizona Attorney General Speak Out Against RAWA
Chaffetz's decision to drop out of the running for Speaker of the House was small victory for online poker supporters, but soon after a new threat emerged.
"PPA has learned that proponents of a national prohibition on online poker are asking state attorneys general to send a letter to Congress supporting the so-called Restoration of America's Wire Act (H.R. 707 and S. 1668)," Muny continued. "The last time the poker banners tried this, just fifteen attorneys general (out of fifty) signed on. We are well positioned to keep the number low this time as well, so long as we all do our part."
One Attorney General who sent a letter, albeit to oppose the Restoration of America's Wire Act, is Arizona's Mark Brnovich, who earlier this week sent a letter to U.S. Senator Jeff Flake.
"I believe that the best place to determine gambling policy – prohibition, regulation or something in between – is at the state level – where historically such decisions have been made," Brnovich stated in the letter, which you can view by clicking here.
Brnovich, who previously served as the Director of the Arizona Department of Gaming, continued: "With the current proliferation of gambling over the Internet, including the rise of Daily Fantasy Sports games (DFS), states must consider both the legality and possible regulation of such activities. Recently, some states have moved to petition the federal government to step in with national laws to address these issues, which I believe is a mistake."
Brnovich went on to cite precedent via numerous cases that point to the issue of gambling being a state issue.
"To be sure, there are problems with S. 1668 that extend beyond the principle of federalism. For example, the bill might not effectively address DFS, as it contains a sports exception; the bill could hamper the ability of states to offer lottery and other games on the Internet – which many are now safely providing, to generate revenues for public needs like education, property tax reform and advanced consumer protections; and the bill does nothing to help individual states address such challenges as Internet sweepstakes, which have evolved through state sweepstakes laws.
"You and I agree that the principle of federalism should be a major factor in any assessment of federal legislation," Brnovich concluded. "We know that not every problem warrants a federal solution. Internet gambling is a matter for the states."
Be sure to acknowledge Brnovich for his work against RAWA on Twitter @GeneralBrnovich. You can also let Senator Flake know your position by reaching him @JeffFlake.
*Lead photo courtesy of ktar.com.
Want to stay atop all the latest in the poker world? If so, make sure to get PokerNews updates on your social media outlets. Follow us on Twitter and find us on both Facebook and Google+!