Armed with Secret Coach, McKeehen Ready for "Whole New Tournament" at WSOP Final Table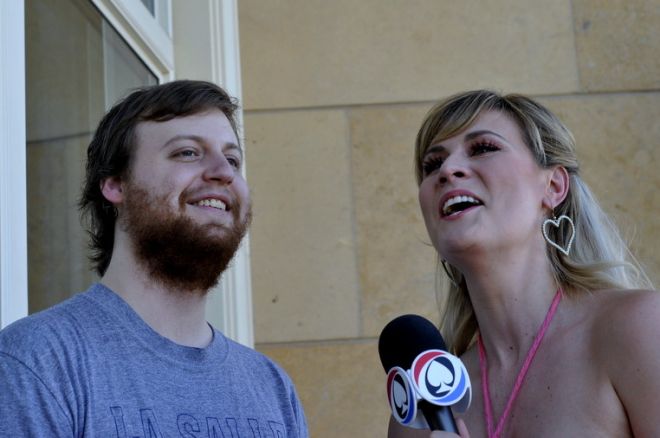 Being chip leader of the 2015 World Series of Poker November Nine means Joe McKeehen is the envy of the poker world, the toast of friends and peers, and the favorite to take down the most prestigious crown in poker along with a life-changing score of $7,680,021.
If he's feeling any pressure however, the man hasn't let on it. He told PokerNews he's spent much of time since Alexander Turyansky fell in 10th place just relaxing at home and avoiding stress. If his Twitter feed is any judge, the most stressful moments for McKeehen the past few months have been following his beloved Philadelphia sports teams, with the early-season struggles of the Philadelphia Eagles seeming to grate particularly hard.
McKeehen, though, has good reason to be confident. He has the résumé, sporting just short of $2 million in live cashes without factoring in his November Nine payout. And he certainly has the chips, as he'll tote a stack of more than 63 million into the final table, more than double nearest competitor Ofer Zvi Stern's 29.8 million. McKeehen said in July he felt the pressure was on his competitors and he recently reiterated that stance.
"It's just one little nine-man tournament at this point," he said. "It's up to them to react to me. Everything's going to go through me at the final table, I'm pretty sure."
Holding a huge chip lead and bulldozing through the last few levels in July with an ultra-aggressive preflop strategy, McKeehen's rivals have undoubtedly zeroed in on him, preparing themselves to combat what appeared to be an unstoppable force. Players have famously sought high-quality poker coaching from some of the biggest names in the industry to prep for the November Nine, oftentimes showing up with completely revamped games.
That's an eventuality McKeehen's ready for, and one of the reasons he has avoided hatching opponent-specific schemes to this point.
"I haven't done anything super-specific towards any person," he said of his preparation to date. "Everyone's getting coaching and changing their games, so I don't know if that would help. The way I'm viewing it is as a whole separate tournament, where everyone's a new player. It's kind of just part of the challenge."
Even a player as experienced and skilled as McKeehen has room for improvement, and he revealed that he has enlisted the help of a coach of his own. The identity of that coach, he wouldn't divulge.
"I'd rather not say," McKeehen said when asked to name the mystery coach. "I've known him for years, and we sought each other out."
McKeehen also remained mum when asked the nature of his planned preparation.
"I'm still trying to plan everything out," he said. "I'm going to let my coach take care of that. My plan is to live him for a couple of weeks beforehand."
One thing McKeehen expects he'll immediately have to adjust is his preflop approach to the table. With arguably the biggest bubble in poker looming and possessing a monstrous stack with plenty of reserves should he double anyone up, McKeehen estimated in July that he was opening around 70 percent of the hands folded to him. That paid dividends as he continually swept up blinds and turned rags to riches in scoring the biggest — and most devastating to many — elimination of the final two tables when he sent Daniel Negreanu packing by making a straight with the
.
When the nine-handed final table convenes, McKeehen expects to encounter considerably more resistance. For one thing, he acknowledged it's just tougher to run over a nine-handed table.
Second, he pointed out the pay-jump scale was much bigger as the tournament was whittled down to the November Nine. Indeed, the difference between 11th and 10th was about $230,000, and the jump from ninth to seventh is almost $30,000 less than that at around $200,000. And the roughly $245,000 difference between 10th and ninth is nearly 60 percent of the $425,000 gap between ninth and sixth. Thus, McKeehen expects opponents to be far less fearful of elimination. If he can weather the early storm, he sees brighter horizons ahead.
"Hopefully, I'll be able to push everyone around when it gets short again," he said.
McKeehen hasn't completely rested on his laurels, opting to venture out to a few World Poker Tour and World Series of Poker Circuit events on the East Coast. He hasn't had any success, though, booking zero cashes the few times he's taken to the felt. Far from worried, he attributed to the minor slump to simple variance.
"I'm saving my good variance for Vegas," he said. "I'm not worried."
McKeehen will join the other eight members of the November Nine inside the Penn & Teller Theatre at the Rio All-Suite Hotel & Casino in Las Vegas to play for poker's most prestigious title. Be sure to stay tuned to PokerNews for continued WSOP coverage.
Want to stay atop all the latest in the poker world? If so, make sure to get PokerNews updates on your social media outlets. Follow us on Twitter and find us on both Facebook and Google+!