Domink Nitsche at 2015 WSOPE: Poker's Youngest 3-Time Bracelet Winner Makes a Run at Home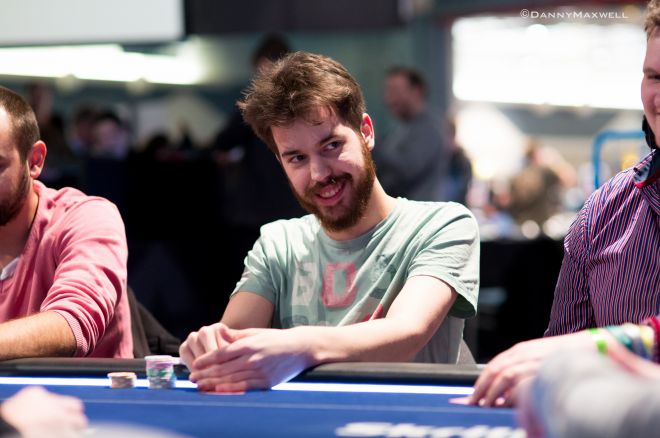 As play moved forward on Day 2 of the 2015 World Series of Poker Europe Main Event, 888 Poker Ambassador Dominik Nitsche found himself in a rather familiar position: building a stack of chips and competing for a WSOP bracelet.
In 2014, Nitsche won the $10,000 No-Limit Hold'em 2014 WSOP National Championship in Atlantic City just before the WSOP kicked off in Las Vegas. Then he captured his third WSOP bracelet winning one of several $1,000 No-Limit Hold'em events on the schedule. At just 23-years-old, he had become the youngest three-time WSOP bracelet winner in the game's history and a star with a very bright future.
Of course, he had been there before, winning his first WSOP bracelet in a $1,000 No-Limit Hold'em event at the 2012 WSOP and came close to an even bigger win, finishing third at the 2013 WSOP Europe Main Event in Enghien-les-Bains, France, the last time the WSOP traveled to this side of the Atlantic.
For Nitsche, it appears there's just something special going on at the World Series.
"I just get really lucky at the Series," he told PokerNews during a break on Day 2. "You could also ask me about the EPT where I never win. But no, it's just a combination of so many factors, but the most important I think, is that it comes down to a lot of luck. I cannot control which tournament I am going to win. Sometimes it happens in America, other times in Europe. I've had a few deep runs everywhere in the World and I just hope I can keep it up."
I put in a lot of time studying the game, so now I feel quite comfortable playing pretty much anyone at any stakes.
He certainly seems to be doing that and more in the 2015 WSOPE Main Event, which features a tournament structure near and dear to Nitsche's heart.
"The thing with this tournament is that the structure is just amazing," he said. "It's 90-minute levels. So, even if you show up a bit late on Day 1 like I had to, for reasons I do not want to discuss, the structure is so good. You can just chip up a little bit and now here I am like nine or ten hours into the tournament and I have tripled my stack.
"I love the fact that we're so deep. I have played a lot of deepstack cash games online, so it is very comfortable for me to not have to just put my chips in and hope for the best. I like to see flops and turns, deep stacked No-Limit Hold'em is really my best game. I also get very lucky as well. I have made three full houses today, so that really helps."
Thanks to a promotion on 888 Poker, it may be helping more than just him. Winning a series of online tournaments, one 888 player earned themselves a five-percent stake in Nitsche's 2015 WSOPE Main Event effort.
"So far it's looking like the guy might actually get some money," he said. "When we first came up with this thing I was like, '90 percent of the time guys, I'm not going to give him any money.' But I'm just happy right now that I'm building a stack and it would be great if I can make a run at it."
Promotions and big stacks aside, Nitsche is also happy to be able to play the game he loves back home in Germany, even if it makes for some tough competition.
"It's pretty awesome to have a big tournament in Germany," he said. "It's nice to speak German again and it's just nice to be back home. Berlin for me is not too special, I don't have a real connection here, but there are just so many Germans here that I haven't seen for years, it's nice to be back and catch up with people I have known from the past.
"The thing is, for quite some time, the Germans have been considered the best of the best. There is a lot of really good players from Germany, but I think it really just comes down to the fact that there are 82 million people living in Germany and some of them are going to turn out to be quite good poker players. It's just a numbers game."
While he's focused on a deep run here, Nitsche says no matter what happens in the Main Event, his future is on the felt.
"Even if this one doesn't work out I still have the High Roller," he said. "Hopefully it doesn't come to that, but there's always another tournament to play. And if things don't work out there, I'll be on the first flight to Malta."
And in the downtime between big events, you can always find him on 888 Poker.
"I play on 888 everyday," he said. "I play a lot of Push-Fold on the site, from 25/50 all the way up to that crazy 500/1,000 game. It's what I have been focusing on since Vegas. I put in a lot of time studying the game, so now I feel quite comfortable playing pretty much anyone at any stakes in Push-Fold. There's a lot of money to be made.
"There's also a lot of great tournaments on the site. Before Vegas I was playing qualifiers for the WSOP everyday, and the WSOP Europe satellites were a bit smaller, but satellites are one of my best games, so I was very excited to be able to qualify for this and I actually won this seat."
As the 2015 WSOP Europe rolls on, be sure to stay tuned to PokerNews for continued coverage.
Want to stay atop all the latest in the poker world? If so, make sure to get PokerNews updates on your social media outlets. Follow us on Twitter and find us on both Facebook and Google+!