2015 WSOP Europe 888 Hand of the Day: Roberto Romanello's Six-Bet Shove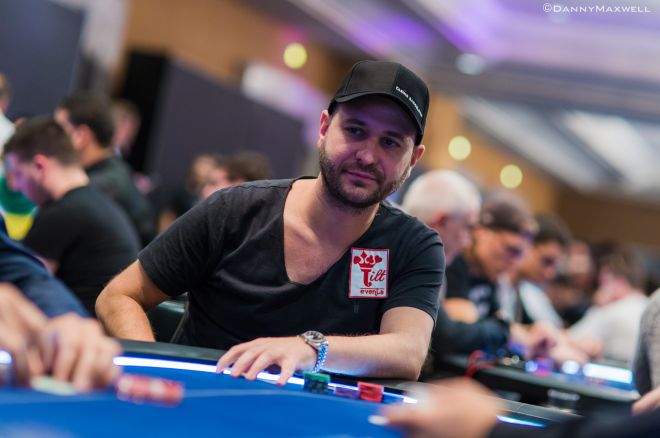 The 2015 World Series of Poker Europe continued in Berlin, Germany, Tuesday with Day 2 of the 2015 WSOP €10,450 Europe Main Event.
PokerNews was on hand for all the action and will be in Berlin for the duration of the 17-day series. As a part of our coverage, that is brought to you by 888poker, we will be bringing readers a special "888 Hand of the Day" every single day throughout the entire WSOP Europe schedule.
Some 186 of the tournament's 313 entries started the Day 2 with top Welsh pro Roberto Romanello above average, but by taking advantage of one player at his at his table displaying classic signs of tilt, Romanello quickly moved up near the top of the leader board and picked up the 888 Hand of the Day.
"When I first sat down to play there was a player at my table acting a little strange," he told PokerNews. "The very first hand he opened to 4,000 at 250/500 blinds. He got shoved on, said, 'oh, I've misclicked,' and called it off with sevens against queens. He lost the pot to a short stack and just seemed a bit tilted after that. Then he lost the next three hands he raised. He just couldn't win a pot and seemed like he was on edge."
This player opened up with a raise again only to see a three-bet to his immediate left. Romanello looked down at big slick and decided it was time to take advantage, firing in a four-bet.
"He tank five-bet and I knew he was on tilt, but it was half his stack," he said. "I was thinking either he's got a monster or he's got nothing."
The three-bettor folded and Romanello sat with his decision for a moment.
"He just seemed uncomfortable," he said. "He hadn't won a pot, and I thought he was just trying to get his chips back and get some momentum going."
Romanello six-bet shoved and after thinking about it for a moment, his tilting opponent folded.
"Usually they are always calling in that spot, when they put in half their stack," he said. "Plus he'd lost five pots in a row by that point and was super tilted. That's what made me go with it. Sometimes I might even fold there, you know, but the way the action had gone, the way he was titled, I went with my hand. If I was wrong, I was just hoping to see kings and I have that one over. Just as long as he doesn't have aces and I at least have some equity there."
Early on in a deep stacked tournament like the 2015 WSOPE Main Event, this isn't really the kind of pot Romanello says he likes to play, but he had a read and felt he had to follow it.
"I don't really want to race off in a 60k pot this early on," he said. "This is a six-day tournament, one of the best tournaments you get to play. I believe I have an edge when I play and I want to use that edge. I don't really want to race. But sometimes you have to make these plays. For me, it was nice. I picked up like 30,000 chips with no showdown and was straight up to over 100,000 in the first hand I'd played today."
Going forward, with 888 Hand of the Day honors and a big stack in tow, Romanello says one should expect a little more aggression from him.
"Now that I'm chipped up, I will get a bit more aggressive," he said. "I don't want to do anything stupid, but I'll pick my spots. I want to put my foot on the gas just to put some pressure on some players. Hopefully they will make some mistakes playing big pots against me and I can capitalize and go into Day 3 looking super healthy."
As the 2015 WSOP Europe rolls on, be sure to stay tuned to PokerNews for continued coverage, including regular 888 Hand of the Day articles.
Want to stay atop all the latest in the poker world? If so, make sure to get PokerNews updates on your social media outlets. Follow us on Twitter and find us on both Facebook and Google+!