Alex Dreyfus Announces "The Cube" As Details About the Global Poker League Emerge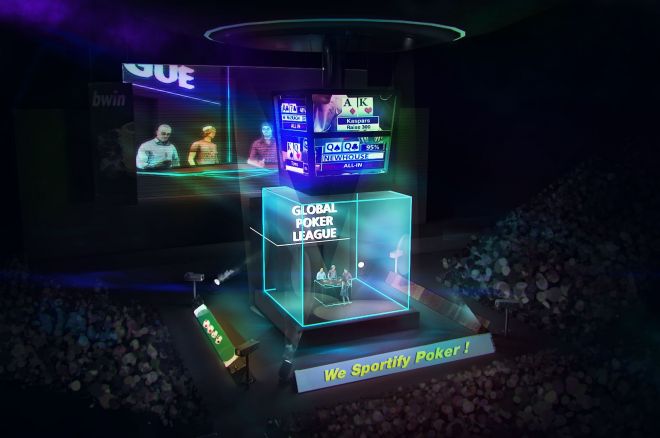 The first-ever Global Poker League (GPL) will kick off during the first quarter of 2016, when 12 franchise teams will compete for at least 14 consecutive weeks in a series of events that organizers believe "could change the way we see poker today."
According to a press release issued on Tuesday by Mediarex Sports & Entertainment (MSE), the parent company of the Global Poker Index (GPI) and the HendonMob, the event will contribute to innovate the game and "set the wheels in motion to shift towards the company's goal of 'sportifying poker,' positioning the game as a form of entertainment."
"The league and its innovative format all form part of CEO Alexandre Dreyfus' vision to 'sportify' poker in a bid for the Global Poker Index to become the equivalent of the NASCAR, NFL, NBA, ATP, or PGA for poker," the presser states.
We need to create a poker product that focuses on the fans, not only on the players. We need to create poker fans and keep them engaged.
Talking to PokerNews, Dreyfus explained that his intention is to innovate the game of poker by turning it into an event able to appeal to a larger public.
"During the past 12 months, I have been traveling a lot to visit different events and understand how things work in other domains," Dreyfus explained. "I have seen how engaging e-sports events can be and how people react to them — so my question has been, can we do in poker what others are already doing in other industries?"
Sure that poker has all the elements needed to become a mass phenomenon, Dreyfus explained that the upcoming GPL will be a competition that plans to innovate the game till the point to create something entirely new, something that will make it more engaging and that promises to attract more fans than ever before.
"We wanted to think out of the box and to create products that focus on fans, not on players," Dreyfus said. "For years, the industry focused too much on players and customers; now we believe it's time to shift the paradigm and think more about what can we do to create more 'poker fans' and keep them interested in the game."
GPL to Introduce Poker's First Arena: "The Cube"
One of the most remarkable innovations set to be introduced by the GPL is "The Cube", "a portable, 20-foot- one-way soundproof cube that will offer spectators the first-ever immersive poker event in the world."
Built exclusively for the GPL and openly inspired by other well-known sports arenas like the UFC's Octagon, The Cube will allow the organization to create an all-new way to present a poker game.
While the players will be locked inside the glass cage to play their poker game, all the fans outside The Cube will have the possibility to live the event by "seeing the players' hole cards, listen to players' hand discussions while they're still in each hand, and get a huge amount of live data about the hand in play."
Essentially, as Dreyfus explains, "on-site fans will be able to get the same level of immersion they have when they watch a poker show, but with an actual seat next to the live action."
The GPL will break some codes of current game play to ensure fast-paced, engaging poker action.
To make the event even more engaging, Dreyfus plans to introduce some more innovative elements to speed up the game and make sure the action is always fast-paced in order to keep the audience excited.
"The GPL will break some codes of current game play," Dreyfus continued. "We will launch duel matches of 30-40 minutes, triggered by a clock, with a table featuring digital cards and real chips using RFID technology. This way, the players can keep playing with their chip tricks, but also play four times more hands per hour than current live poker.
"In addition to being able to see the hole cards as one would on TV, the live audiences will also enjoy a game played at a much faster pace. Audiences will also be able to witness player's emotions first hand as games will now be played standing, providing a more dynamic approach to gameplay."
When asked if he really believes if poker players will enjoy playing in events where they won't have the opportunity to sit even for a single second, Dreyfus explained that many of those who have already expressed interest in joining the 2016 GPL said to be "enthusiastic about the idea."
12 Teams, 12 Cities, Two Conferences
As confirmed by Dreyfus, the first season of the GPL will include 12 franchise teams, each one of them representing a different city. The teams will be split into two separate conferences, the Americas and EurAsia.
According to MSE's press release, expected teams for the Americas are New York, Los Angeles, San Francisco, Las Vegas, Toronto, and Sao Paolo. The EurAsia conference will likely have teams that include the cities of London, Paris, Prague, Barcelona, Moscow, and Hong Kong.
Each team part of the GPL will include five players, three of which will be drafted during a GPL Draft Day where team owners will compete to secure the best names of the top 1,000 GPI-ranked players. The other two players left will be selected as "Wild Cards."
We don't plan to compete with the others in the industry. We are developing a product that will integrate with what is there today, and will also contribute to the growth of the game.
"This selection is of particular importance as it underlines how the GPL plans to help the industry, not to compete with those brands that are already in it," Dreyfus said. "To become draftable, the players will have to take part in the events organized by the European Poker Tour, the World Poker Tour, the World Series of Poker, and so on — we don't plan to compete with anyone. We plan to create something different that has deep roots in the industry as we know it today."
Also, as previously anticipated by Dreyfus to PokerNews, none of the events will take place in a casino.
"I can't announce the specific names yet, but we plan to bring the GPL and The Cube to iconic venues across the globe," Dreyfus said. "The World Championship Final, planned for summer 2016, will be staged at one of the most renowned sport and entertainment venues in the USA.
"All matches in the Global Poker League season will be live streamed online, with a number also due to air on TV, in real time, with exclusive pre-match analysis featuring a panel of experts."
An Ambitious Bet Worth Millions
If successful, a concept like the GPL could change the game of poker and, consequently, repay the investments made by MSE with very generous profits. That may also be the reason why MSE was able to secure $4.9 million in Series A funds from venture capital in China and Sport Marketing executives from Europe earlier this year, and is currently "working on strategic partnerships for its upcoming launch of the Global Poker League."
"According to recent research from Repucom, there are more than 100 million casual poker fans across the globe, with 51 million based in the USA," a note from MSE explains. "The potential for growth is exponential, with double this also reflecting an interest in poker."
"Brining the public is not my biggest concern," Dreyfus explained. "We've had surveys; we've run tests. We run a survey on the HendonMob and, from what we gathered, I know I can be optimistic about that. Just think about this: If people pay to watch video games, why wouldn't they pay to follow a spectacular poker game?"
For how the parallel seems to be a reasonable one, no one has ever asked anyone to pay to watch people playing poker, and it may take more than a glass cage to convince people to open their wallets and rail for people playing a game of cards.
"There is no reason this shouldn't work for poker," Dreyfus assured. "You just have to make sure you do not offer the poker we know today. You need to offer something different from the WSOP, the WPT, or the EPT. You need to offer the GPL.
"To achieve our goal, we created The Cube, and we will keep people entertained with light shows, music, stories, and fast-paced action. We are working on very specific stuff, and I can promise that we are trying to think out of the box."
To help raise awareness, MSE has also teamed up with IMG, a global leader in sports, events, media, and fashion, that operates in more than 25 countries.
Want to stay atop all the latest in the poker world? If so, make sure to get PokerNews updates on your social media outlets. Follow us on Twitter and find us on both Facebook and Google+!