Global Poker Index Parent Company Raises $4.9 Million to Keep 'Sportifying Poker'
On July 14, Mediarex Sports & Entertainment (MSE) the parent company of the Global Poker Index announced they raised $4.9 million in Series A funding from private investors.
"[MSE] secured $4.9 million in Series A funding from a round of private investors including a first-tier private equity fund in Beijing, and angel investors from telecom, sports marketing, and financial sectors in Asia and Europe in its bid to Sportify Poker," the company stated in a note sent to the media on Tuesday.
"The investment will enable MSE to lay down the framework to develop the sport of poker by aggregating the game's currently fragmented audience which includes more than 100 million people around the world."
The list of investors who have participated in the funding round includes an unnamed private equity fund from Beijing, as well as individuals like Hong Kong businessman and poker player Dr. Stanley Choi, investment banker Donald Tang, France's telecom tycoon and co-owner of LeMonde Xavier Niel, and Chief Commercial Officer at Perform Group, John Gleasure.
I believe there will be a 'snowball effect': once things will start working, more investors will come.
Talking to PokerNews shortly after the announcement, MSE CEO Alex Dreyfus explained that one of the most remarkable facts that emerged during the funding round was how many international investors view poker as a sport and not as a card game.
"Most of them, they already see it as a sport," Dreyfus explained."During the last six months, I did meet with a lot of investors from all over the world, from China to U.S. and Europe - and the majority of them understood the product that I want to create and were keen to invest. The only issue, for some, is that we are at an early stage right now. But I believe there will be a 'snowball effect': once things will start working, more investors will come."
According to the French entrepreneur, the funding round is vital for his company to "sportify poker" and launch what Dreyfus has called "the most ambitious project" he has worked on in years: the Global Poker League (GPL).
As revealed right here on PokerNews, the GPL aims to become poker's first professional league, with a season full of events involving players selected through the GPI rankings.
"Poker is an individual sport, such as tennis or golf," Dreyfus said. "So, if tennis has the Davis Cup and golf has the Ryder Cup, why shouldn't we have our poker league?"
"Poker is an old game, but a young industry," Dreyfus continued. "It's a game that continues to grow. Poker's global growth from 2012 and 2013 was 17%, as well as a 9.4% increase in 2014 live competition entries. Digital interest in the game continues to grow as well ­ up 12% in 2013, 25% in 2014 and 31% in the first half of 2015. It's a large audience and the best way to aggregate it is to promote poker as a sport."
In his mind, however, his approach to the game is far less innovative than one might think - as he openly admits.
"In a way, you could say that we are trying to do something similar to what has been done to boxing, a very fragmented industry with many governing bodies, different series, belts, etc. Yet, even when it looked like everything in that industry had been already done, the UFC came about. They took a sport everyone knew, and they repackaged it changing completely the way it was marketed. As a result, they ended up with 'their own sport'."
If tennis has the Davis Cup and golf has the Ryder Cup, why shouldn't we have our poker league?
Similarly to what the UFC did to boxing, Dreyfus aims to take the game of poker and repackage it in a sexier and more engaging way by creating exciting content around players and events. Which, obviously, can only happen with the right liquidity to invest.
"In UFC, they control the image of the players who participate in their events; they work on the players and for the players to build a story, a narrative based on them. Somehow, we want to do something similar," Dreyfus stated. "We will spend millions to do that and to invest in the image of the players that will be part of our League. This will all be done to create that kind of engagement that we believe will make the competition interesting to watch and, consequently, drive more people to the poker world.
"Today there are 100 million people between poker fans and individuals that are somehow engaged in the game, and this means that there's surely even more people that we could bring into it," Dreyfus continued. "If you think about most of the poker celebrities, they are all players that are sponsored today or have been sponsored in the past. They may be good players, but there are a lot of good players out there. These, however, became true 'stars of the game' also thanks to their sponsors and the marketing teams that worked for them."
"In my opinion," Dreyfus continued, "this doesn't exist anymore today - and when you miss this, you can't create the right engagement since you miss the right platform for it. With the GPL, we want to create this platform."
According to the GPI's press release, the company will launch the first-ever GPL, labelled poker's first professional league "in early 2016 in the U.S. and European markets."
The funding round, however, will not only help the GPI to consolidate its efforts in promoting poker as a sport, but it will also aid the company in its expansion into Asia, a market that many see as crucial for the future of poker's industry.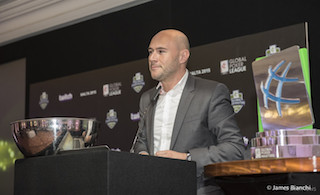 "China will likely be the center of the next poker boom and this time the boom looks to be powered by eSports, the video game, media and sports industries," Dreyfus added. "Thanks to our new investors we'll be able to reach new strategic partnerships in China to help develop the sport of poker there, creating a domino effect that has globally positive effects."
Questioned about the controversial approach that Chinese authorities have towards the game, Dreyfus explained that he believes his way to promote poker, which is to "take the gambling factor out of the game," is in line with the country's legislation.
"There's no problem in China today," Dreyfus continued. "If you think about it as a problem, it means that you think about it as gambling. Our format is different: the way we structure our events and the way we promote the game doesn't involve gambling. This allows us to promote poker at a global level, and I believe that what we do will benefit everyone in the industry - us, the operators, the tournament organizers and, of course, the players."
Want to stay atop all the latest from the 2015 WSOP? If so, make sure to get PokerNews updates on your social media outlets. Follow us on Twitter and find us on both Facebook and Google+!